FREE to be part of a live audience of LET'S MAKE A DEAL!
We will attend a live taping of Let's Make A Deal. Audience members are eligible to win prizes. You must dress up in a costume in order to attend.
You are guaranteed to win the item listed below at this show.
- A gift certificate worth in value $25 to $50 from Restaurant.com (only if we have a group of 10+ attendees.)
More details to follow.
UPDATE 5: We will meet at 10 a.m. at the studio to attend the morning taping. We will also attend the afternoon taping. Each attendee may receive $100 Restaurant.com gift certificate for attending both taping if we have at least 10 attendees. More details will follow here.
UPDATE 4: How to get selected to win!
On 06/15/13, I went on the afternoon taping of this show and learned a few things. The most important selection criterion appeared to be contestant's high energy level. Costume is not so important. (I sat next to a guy who dressed up as an ordinary nerd--like when I was in high school--and he was selected in the morning taping. He sat for our afternoon taping but wasn't going to be selected again.)
While we were queuing to enter the studio, a couple of staff members came out to interview each person in the queue. The questions were, "how old are you?", "what do you do for a living?", "are you excited?", "who did you come with?", "why should Wayne Brady select you?" and "please tell us something interesting (different) about you."
Best answers appeared to have one commonality: energy. There was a gal in a bumble bee outfit in front of me who exuded bubbly high energy. She constantly cheered, screamed and gave coherent answers. Her answers were not necessarily interesting but she was the 1st contestant selected. There was a man who sat inside the studio in front of me who got up and danced at every break. He was selected as 2nd or 3rd contestant.
Announcer even said to the audience all contestants have been pre-selected through interview process. To those whom they pre-selected, they continue to observe them throughout the taping to make sure they maintained high energy and are good candidates to be called up.
2nd most important criterion appeared to be the delivery of your responses. They don't want anyone to stutter or freak out when that person is in front of the camera. So they look for strong and natural delivery of your responses. Wit is a plus but not a requirement.
One gal had lots of energy and her response to why she should be selected was that she needs a car that can run over 55 mph as her current car couldn't. It was funny but she was not selected. I think it may be because the show is not a charity show but a fun show. They don't want people to say they need the money to survive or pay medical bills of an ill family member. Basically no sobbing stories.
People with cute outfits got called. But many people had on cute outfits. (There were 2 people in queue who did not wear a costume and I didn't see them again.) Just don't wear anything with any logo or copyrighted material. I had on 2 tattooed arm sleeves with "Dodgers" and "Angels" on them. I ditched my group and sat in the front 1st row. However they noticed my sleeves showed "Dodgers" and "Angels" and asked me to remove them. I thought my tattoos were a plus so I agreed to turn the sleeves so the words won't show. However when I raised my arms they showed. About 10 minutes later they asked me to sit in the very back row. They said every seat is a good seat but they chose more contestants from the middle front rows.
One contestant won a car, others vacations, cash and such. Another contestant could have won a car if she chose curtain #1 instead of #3. She was not offered an opportunity to switch curtains like Monty Hall used to do in the old days.
So there's a good chance you can win something if you practice your responses to the above questions and can summon your highest energy for 4-5 hours.  
UPDATE 3: Dress Code
DRESS CODE AND COSTUME INFORMATION: We encourage all potential contestants to dress in costume. Costumes should be fun, creative, and neat. The more original and creative the costume, the better chance you'll have of catching Wayne's attention and maybe winning some cash or prizes! It's your chance to show off your costume ideas on television. We love seeing everyone's unique ideas.

Please do not wear costumes with recognizable cartoon, television, movie, or other copyrighted characters, or include any items that have designer names, corporate or sports team names or logos, copyrighted images, celebrity names or images (living or deceased), cartoon character images. If you do wear such clothing, and are selected to be a contestant, you may be required to remove it, turn it inside out, or put on additional clothing to cover it.
UPDATE 2: This event date is soon approaching and each attendee is required to wear a costume. By 06/15/13, please indicate the costume you (and your guest) will wear to the show on the below message board. If you cannot indicate your costume by this date, I must move you to the waitlist. Thanks.
UPDATE 1: Each of us have to dress up in a costume in order to be part of the studio audience. If any person is not in a costume, there's good chance that person will be turned away and may not sit through the taping. So please think of a costume to wear. If you cannot wear a costume, please de-rsvp.
The taping of Price Is Right (July 3rd) does not require a costume so you may want to attend that show and potentially win lots of prizes. May be... A NEW CAR!
You can bring your friends but you must rsvp everyone here in order to reserve a ticket for each person. Each person must be 18+ years old and NOT be a person who potentially can cause any harm to anyone.
Arrive at Sunset Bronson Studios by 12-noon. Live taping is from 12:30 p.m. to 5 p.m. More details to follow.
Let's Make a Deal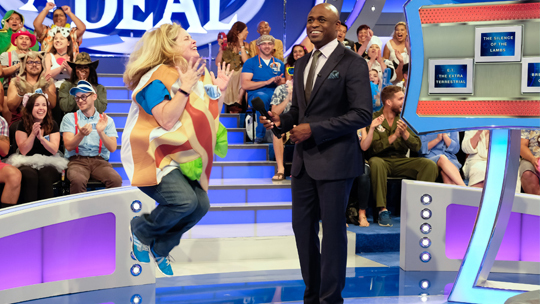 Over $1,600,000 in cash and prizes already given away this season! That's an average of $80,000 in cash and prizes per day. With only 210 people in the audience, Let's Make A Deal has the best odds in town to win! DON'T MISS OUT. Come make a deal with Wayne Brady in Los Angeles!
Get creative with your costume and have some fun! It's your chance to show off your costume ideas on television. We love seeing everyone's unique ideas. See our Photo Gallery below for costume thoughts.

Be sure to follow Let's Make A Deal on Twitter @LetsMakeDealCBS to find out helpful hints to what may happen at your specific taping. Producers Tweet what Wayne will ask for in some of the Quickie Deals!
What are Quickie Deals???? See below...
ABOUT "Quickie Deals"....
Audience members...bring random items in your pockets! Wayne may ask for one and if you have it - you win CASH!!
Please remember, as an audience member, you may not reveal that you have the item until you are approached and asked for it by one of our hosts. In other words, please don't tell or show anyone the item before you are asked for it.
If an audience member does reveal an item before being asked to do so, he/she may be disqualified from receiving the prize at producer's sole discretion.