Springtime in Washington means the annual return of the Cherry Blossoms. These beautiful trees first arrived in DC in 1912 as a gift from Japan. Although the largest group of trees can be found around the Tidal Basin near the Jefferson Memorial, there are several lesser known groves located around town. This bike route offers a sneak peak at some of these hidden treasures (and hopefully avoids the crowds which are typical this time of year).
24 miles
We will be starting from the Gravelly Point Park, but will meet at Best Buy first to carpool up. For a map to Gravelly Point Park, http://maps.google.com/maps?q=@38.864640,-77.040710
Washington Sailing Marina. The route follows popular Capital Crescent Trail out to the Cherry Blossom grove located in the Kenwood neighborhood. From here, the route uses the back streets of Bethesda and Northwest Washington's exclusive neighborhoods over to Embassy Row. Here, the Embassy of Japan has a small collection of trees (which actually do appear to be "lost" these days). The route then follows the Rock Creek Trail down to the main blossom grove located around the Tidal Basin and West Potomac Park. The route then crosses the Potomac River to offer a grand view of the blossoms from the Virginia Shore.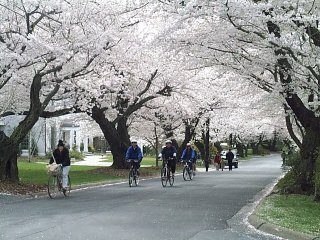 Kenwood's Blossom Trees
There are a few short hills along this route, with the steepest being Dorset Ave as you leave Kenwood. Although most of the route is paved, there is a very short unpaved section on Glen Cove Parkway. The last 2 miles follows the unpaved C&O Towpath, but there is a paved alternative. There are also two short sections where traffic is a bit heavy (however, optional sidewalk is available).
This is a CASUAL ride - What to bring:
CASH to help pay for gas and for snacks along the way
Water bottle or two - try freezing one so it'll be cold and ready to use when the first one is empty
HELMET HELMET HELMET  (Need we stress this again?  Wear a helmet)
If you don't have a bag for your bike we recommend getting a small one for the handlebars - Wal-Mart has Bell handlebar bags for about $10.00  Use it to store your keys, license, money, camera, phone, snacks, etc.
Snacks - powerbars, trail mix, whatever you like...Maybe even a sandwich...Please bring enough food to keep from getting too hungry.  There are not a lot of places to eat along the way.
I will send out cell phone numbers the day before the ride.