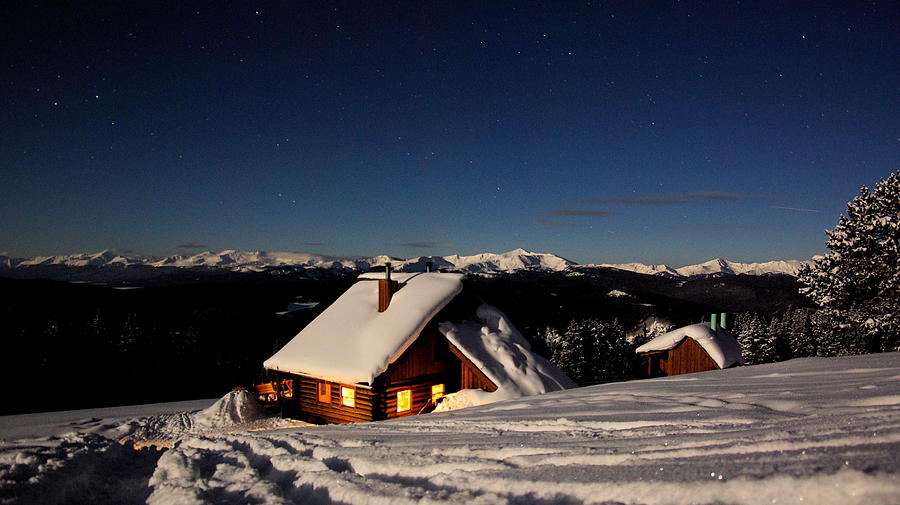 We have been organizing huts trips for several years now.  We have ski toured extensively in the backcountry, from short day trips to extended wilderness trips.  Every year we book all the beds in a few huts.  So far, we have a couple of amazing trips booked for 2014.
10th Mountain manages a system of 30 backcountry huts in the Colorado Rocky Mountains, connected by 350 miles of suggested routes. They provide a unique opportunity for backcountry skiing, mountain biking, or hiking while staying in safe, comfortable shelter.
The name honors the men of 10th Mountain Division of the U.S. Army, who trained during World War II at Camp Hale in central Colorado. Hut visitors share the special spirit of these individuals, especially their pursuit of excellence, self reliance, and love of the outdoors. We hope you find our website useful, but most of all we hope you enjoy the huts!
So, this trip is a two day trip for the Jackal & Fowler/Hilliard Huts.  We will cover a lot of miles on this trip and also enjoy backcountry skiing at both huts.
Click here for more information on Jackal.
Click here for more information on Fowler/Hilliard.
The Jackal Hut is located about 15 miles north of the city of Leadville. Jackal Hut provides good backcountry skiing in the hut area and terrific views of several 14,000-foot peaks.
The main winter route into the Jackal Hut follows FS 755 which climbs very steeply out of South Camp Hale. Although this route is only 4.7 miles it gains over 2500 ft of elevation so be prepared for steep climb.
Fowler/Hilliard Hut sits at timberline about 1/2 mile northeast of the summit of Resolution Mountain. The south windows give you marvelous views towards the Jackal Hut and some of the highest peaks in Colorado. Resolution Mountain is the only alpine terrain close to the hut. Skiing from the summit, you can find runs at almost all points of the compass.
Jackal to Fowler/Hilliard via Pearl Creek is a basic ski-through route between two huts. It uses marked 10th Mountain suggested routes and includes scenic timberline travel.  The route is about 8 miles with an elevation gain of 2078 ft.
It is another 6.5 miles out to the trailhead.
Additional Information:
The cost of this trip is $81 per person for a two night stay.
All of the huts are equipped with propane stoves and solar lights as well as kitchen utensils.
Please post your question here, so everyone can benefit from the answers.  Also, please keep checking back here, the availability may change as we get closer to departure.
Spots are VERY limited and we expect we will sell out fast.
If you RSVP here, please also contact us via email, patch and jules @ gmail com.  We will arrange for payment.
Prompt payment is expected to secure your spot.
You can travel on skis, snowshoes, or a split-board.  Follow this link to a suggested gear list.  Follow this link for additional information.
See you in the backcountry.  
Patch and Jules