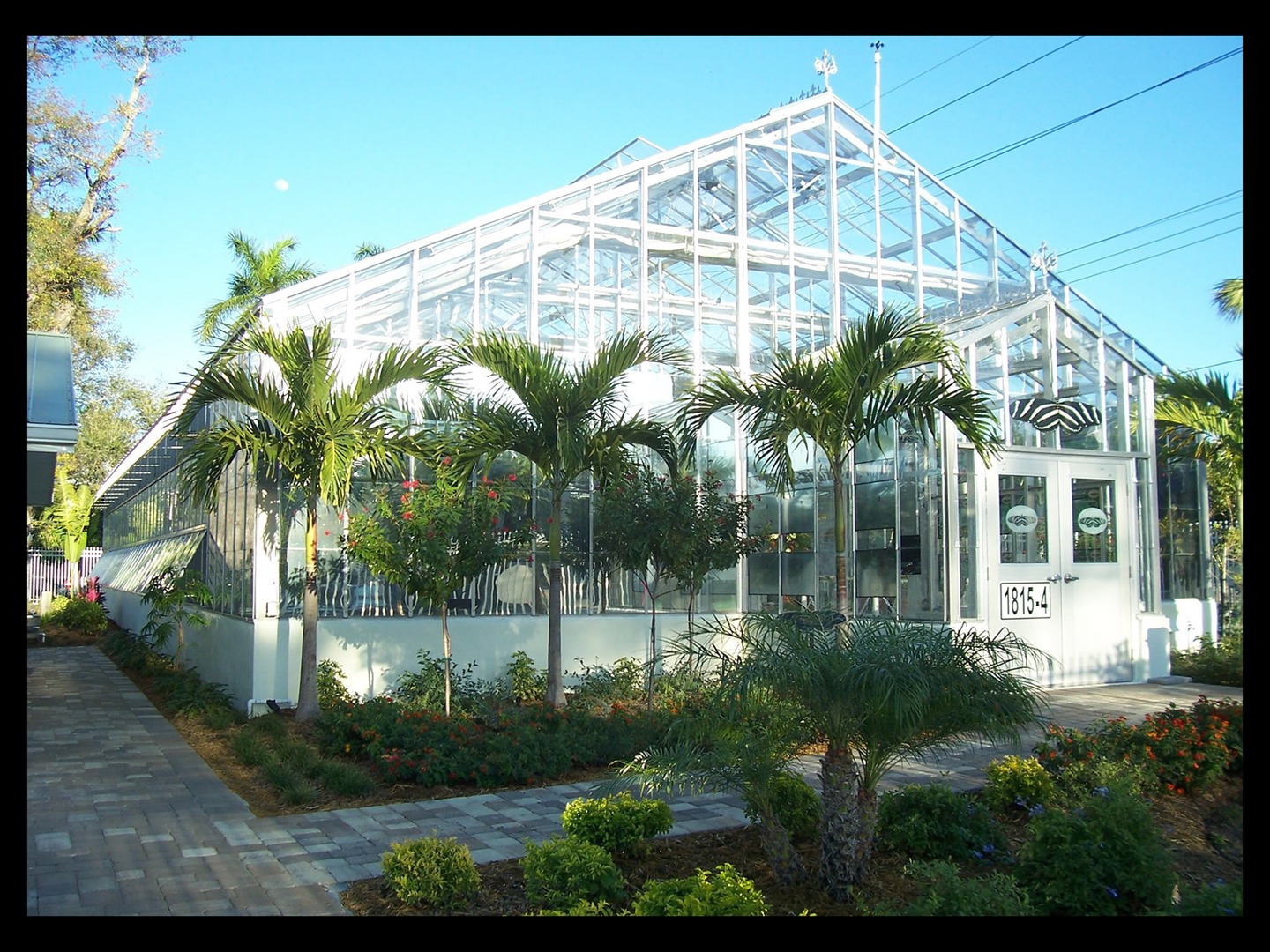 Admission to the lushly planted butterfly conservatory in this establishment normally costs $12 per person, but on February 2 we'll get in for free. Club members can stroll through the greenhouse at any time between 10 AM and 5 PM, and watch a wide variety of beautiful butterflies flitting from flower to flower around us. Also located in separate buildings within The Butterfly Estates are a gift shop, a tea parlor, and a restaurant. A free, secure, gated parking lot is located right on the property.

The 3,614-square-foot area of the glass conservatory offers plenty of growing room for the caterpillars and flying room for the butterflies. All the species live naturally in southwest Florida, so we'll see a few outside the conservatory as well as hundreds within its walls. We'll learn which garden plants attract the butterflies with their nectar, and which specific plants the various species lay their eggs on so that their caterpillars can eat and grow to become adult butterflies.
The greenhouse is beautifully landscaped with many plants for butterflies, along with palm trees, bromeliads and other lovely greenery. The natural look is enhanced with splashing waterfalls and lovely streams flowing languidly into a peaceful pond. There we'll see a large long-finned butterfly koi swimming with scores of small orange mollies and other pond fish.
Manager Sandra Drake (below) and her docents will answer all our questions about the fascinating life cycles of butterflies. We'll be shown small exhibit cages to get close-up looks at various species of butterfly eggs, caterpillars, chrysalids (cocoons), and butterflies emerging from their pupal stage. If she has the time, she'll give small groups of us a guided tour around the conservatory to highlight features we shouldn't miss. We'll learn how to attract butterflies into our own gardens. Sandra will have available for sale a variety of plants favored by butterflies and their caterpillars that you can take home to start your own butterfly garden.

Because our club members can arrive and leave at any time during the day and Peter won't be distributing name tags, we'll have to recognize members by the photos in their profiles. But all members who are there at the time can meet at 1 PM in the restaurant, called the ZCrepes Cafe. There we can all have lunch as we discuss what we've seen in the conservatory, and make plans for future club events.
Members might also enjoy spending time in the Gift Shop admiring the many butterfly-themed items for sale, and in the Gardner's Park Tea House enjoying soups, salads, sandwiches, desserts, and organically grown teas. Note that members of our garden club can get a 10% discount on all our purchases at all these businesses, including the ZCrepes Cafe, and at admission to the butterfly conservatory (after today's free admission) by showing our garden club membership cards. Remember to bring your cards. For a complete list of all the garden centers and other organizations that offer our members discounts and other perquisites, click on this green link for details of all membership Perks. The link also appears in the left-hand column on every page of the web site.

If you enjoy visiting The Butterfly Estates as much as we do, consider becoming members of this worthy organization as well. It's the educational facility of the Florida Native Butterfly Society, a non-profit organization dedicated to the protection and preservation of local butterfly species. It creates appropriate educational programs and research projects that are helping butterfly populations flourish throughout our state. Annual memberships for individuals cost $24, and family memberships cost $60, good for up to seven individuals of your choice. You can join on the organization's web site by clicking this green link: The Butterfly Estates.
To let us know if you will or won't attend today's excursion, you can reply on line at the RSVP link near the upper right corner of the screen. Any friends you invite to come along on this club trip will also get free admission. Please add the number of friends you're inviting when you RSVP.
Those who want to identify local Florida butterflies even before attending this event can see 32 captioned photos on our club's web site. Click on this green link to reach the photo album titled Butterflies breeding in Peter and Suzanne's screened enclosure. As with the 39 other albums on the site, clicking on each photo will enlarge it to full-screen size. But you'll enjoy much more watching (up-close and personal) each butterfly flutter by in the conservatory of The Butterfly Estates. We look forward to seeing you there.