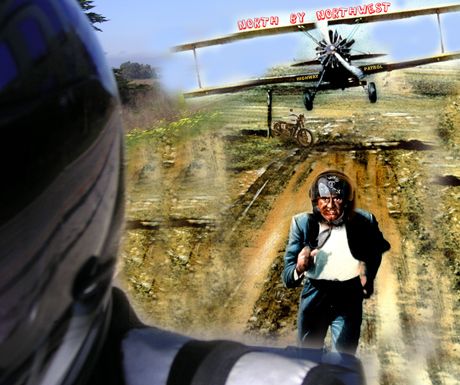 North-by-Northwest: Back-roads of Marin & Sonoma Counties
Rain will cancel.  Not recommended for newbies.   This is a make up ride for the one that was cancelled due to rain :-)
 



• When: Sunday 2/9/14, Arrive by 9 AM,  KSU 9:30 AM 
• Where: Meet at  Starbucks, Strawberry Village



800 Redwood Hwy, Mill Valley, CA 94941 (415)[masked]



(between In-N-Out Burger and Safeway. Park in the FRONT parking lot facing Hwy 101, NOT the back side of the shopping center.  Fill up @ Strawberry Chevron)
~ PRE RIDE: South Bay / Peninsula contingent can meet me at  Rest Stop on 280N North of 92 at 7:55 AM, KSU 8 AM ... location = http://tinyurl.com/280RestStop 
• Pace: Not too slow.  Not too fast.  Just right.  
• Gear: Head to toe. 
• Motorcycle: Yes, please bring it with you ;-) 
• Route: ~  145 (+/-) miles of Marin County / Sonoma / North Bay.  Mostly smooth technical roads, with a few bumps thrown in for fun.  Lunch in Occidental.  Ride will end near San Rafael around 4:00 pm. 
Tentative route below - subject to change.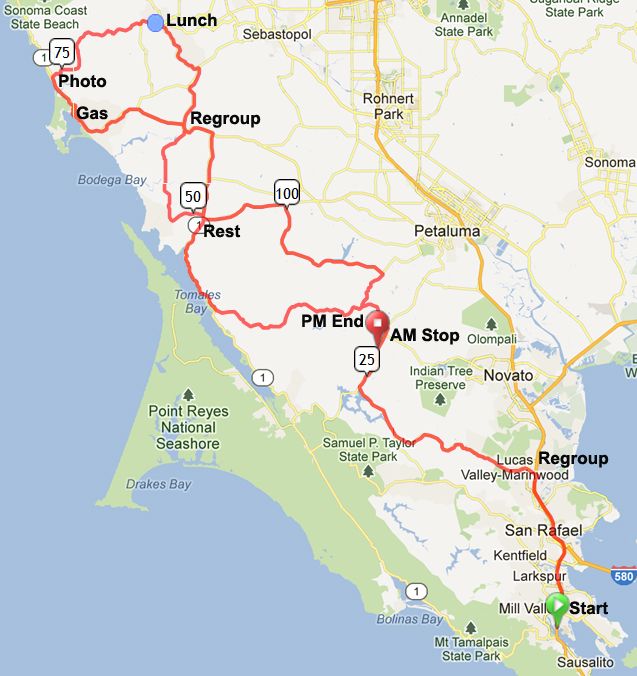 Words of Wisdom:
~ Please review Liability Release statement at THIS LINK
 ~ Proper gear, a working machine and gas in the tank is highly recommended.



~ Ride within your comfort zone and leave room for bad karma.



~ I may pass slower traffic when it's safe. You don't have to. Remember, someone will wait for you at turns, so just relax and have fun.



~ I maintain the Pace according to road conditions with safety of all riders in mind. Be mindful of others in the group. Let faster riders get ahead of you by moving to the right and signaling them to pass you. And if you want to pass the rider(s) who are in front of you, make sure to do so safely and without startling them.







~ If you know the area and would like to sweep for the group (AM shift, PM shift or both), please let me know.



~ Good stuff to read before going on group rides (CLICK).



~ Keep an eye for the rider(s) behind you so they won't take a wrong turn. If they get lost, you'll buy their lunch








---