Announcing a new Meetup for London Haunts and Horrors!
What
:
Dinner at the Grenadier
When
: Sunday, August 14, 2011 5:30 PM
Price
: GBP2.00 per person
Where
: the Grenadier
18 Wilton Row
London SW1X 7NR
02072 353074
Join us for dinner at the Grenadier Pub. We met here several months ago and had a lovely time. This is a very atmospheric pub with an interesting ghost story which you can read below.
Great food and awesome Bloody Mary's! I will post a menu a bit closer to the time.
Wilton Row is a tucked away mews where time well and truly stands still.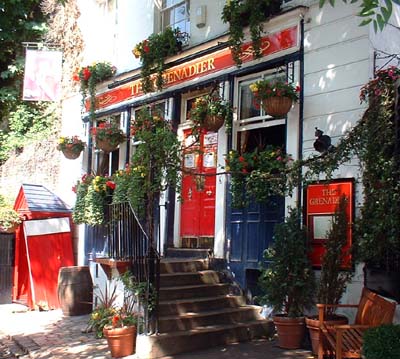 The Grenadier is a tiny pub which has long enjoyed a reputation as one of the most haunted pubs in London. On one of its walls yellowed newspapers tell of the pubs haunted history, and a small crucifix hangs on a wall of the cellar to ward of harmful spirits or energies.
Wilton mews is a delightful hidden nook, that is tucked away from the rush of modern London, and has a decidedly country village air about it. Colourful cottages line the cobblestones, and nestling within its tranquil serenity is one of London's most enchanting pubs, The Grenadier. Reputedly, the pub's upper floors were once used as the officers' mess of a nearby barracks, whilst its cellar was pressed into service as a drinking a gambling lair for the common soldiers.
Here, a young subaltern is said to have once been caught cheating at cards, and his comrades punished him with such a savage beating that he died from his injuries. A solemn, silent spectre has been seen moving slowly across the low-ceilinged rooms. Objects either disappear or else are mysteriously moved overnight. Unseen hands rattle tables and chairs, and a strange, icy chill has been known to hang in the air, sometimes for days on end. Footsteps have been heard pacing anxiously around empty rooms, whilst every so often a low sighing moan has been heard emanating from the depths of the cellar. On one occasion a Chief Superintendent from New Scotland Yard was enjoying a drink in the pub, when wisps of smoke began to waft around him. His curiosity aroused, he reached towards the apparent source of the smoke, and with a cry of pain, pulled his hand quickly back as an invisible cigarette burnt it.
Check it out!