Backpack: Kinsman Ridge (2d-1n) Advanced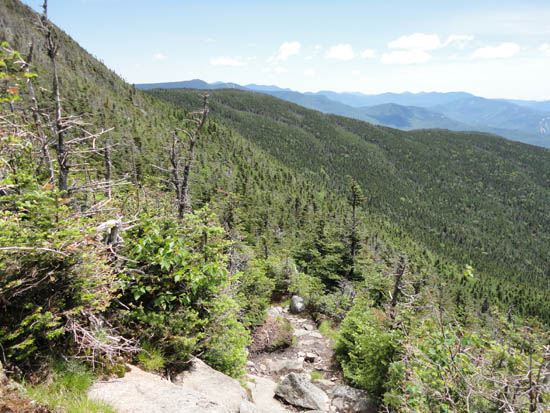 WHITE MOUNTAIN Section of the (AT)
THE KINSMAN RIDGE. Summits crossed on trip. Cannon Mountain and the "Cannon Balls"; North Kinsman, South Kinsman, Mt. Wolf

Comments:
Though I have not traveled this route in 20 years and I was completely green when I did traverse portion of this ridge. I have heard many different opinions on this traverse and I will leave it up to each backpacker to decide the level of skill needed. based on what they find for research. I know it travels through some old growth forests and the trail on the Cannon Mtn end of the trail and get rugged and steep at times. Which we can go around if the group so desires this by the time we get to that section of the trail. But I think it makes it that much more interesting trip having challenges along the way. I plan on keeping miles maxed at 9 miles for this reason and there is still plenty of bailout trail options along this route.

Cost: US $10.00

Refund Notes:
Cancel 10 day prior to the trip you can receive a refund via Paypal.


RSVP Fee's:
Partially is a donation to the groups operating cost for the year! Typically $5.00 for below treeline adventures and above treeline will be $10.00 per day.
Also in any cost will be a PayPal fee's also other associated fees like shelter cost and such.
If you're a Organizer?
Please contact me, if you would like to attend. We are willing to waive the donation portion of the fee for being a continued Volunteering Active Organizer of this Meetup group.
Why we Charge a Fee? It only gets real truly interested participants to sign up for the trip. Our turnover rates are way too high backpacking trips posted without the fee. High turnover = More work for the organizer. Bit frustrating with greater than 60% at times, cancellation rate or No Shows. When its free people sometime's just don't care. Money separates the bullshit from real folks, looking for that experience outdoors. I really hate to do it.. But many folks have been losing out on the opportunity due to no shows or last minute cancellations.  Benefits, we have much more interested folks for the trip. Smaller Group size and we can be more flexible in the itinerary along the trip.
You can always contact me for more information or to complain. Jay Briscoe
Pet's:  Limited space only! With permission from the Organizer.

Your dog should have responsible human along on the trip. They should understand the physical demands of the hike and have experience and be fit enough to follow. They should also know trail regulations for that hike. It is not the organizers responsibility. Have good etiquette while on the trail.  Have a leash for when you feel frisky. Have some First aid preparedness in case you slip and fall, or try to play with that porcupine again.  Have the food and water available for carbohydrate loading when needed. Provide you some sleeping shelter & blanket to keep you warm and insulated from the ground. Maybe even some doggy clothing like jacket or booties for those cold hikes.
If your owner doesn't want to carry you gear cause they are lazy don't let them make you carry more than 25% of your body weight.. It's not fair..! Remember your toy cause the days are long and the nights can be longer. Remember the sofa is a pretty safe and warm place too..
Trip Planning:
I did my research using the Appalachian Mountain Club's "White Mountain Guide", trail maps, and the Internet. You need to become self-reliant by becoming familiar with the route, terrain, and potential hazards since you are ultimately responsible for your own safety.
Map: AMC map #4 Moosilauke - Kinsman
The Plan:
Saturday, We'll meet at the Cannon Mountain Parking lot for the tram to leave end-of-hike car spots, then drive to Kinsman Notch where the AT cross's and park in the lot near the Kinsman Ridge Trail head.
Day #1
Start in at Kinsman Notch and travel Via the Kinsman Ridge trail for about 7.5 Miles crossing over Mt Wolf to the Eliza Brook Shelter. Camp for the night.
Day #2
Sunday, Head out Early north on the Kinsman Ridge Trail crossing over South Kinsman and North Kinsman. Staying on the Kinsman Ridge trail crossing the Cannon Balls and then finally the summit of Cannon Mountain. Catch the Tram down to the cars in the parking lot. Ooop's I mean hike the final leg down the face of Cannon Mtn about 2 miles to cold beer in the cars.
Stats:
Day #1 7.5 Miles
Day #2 8.6 Miles if we choose to hike over Cannon Mountian
Option B - would bring the miles down to 7.0 if we exited at Lafayette Campground.
Total # +/- 16 miles, about 5,721' vertical climbing; plan on an average 1.50mph est@11 hours of total hiking time.
Links to more Info:
http://amicus.smugmug.com/Hiking/2010/Wolf-traverse-6-26-10/12707699_TMqWtP#!i=[masked]&k=hgt2mrM
http://whitemtnews.wordpress.com/tag/kinsman-ridge-traverse/
http://www.vftt.org/forums/showthread.php?7087-Kinsman-Ridge-One-Day-Traverse
Gear:
On top of a 20 Degree Sleeping Bag You must have the basic backpacking equipment.
Some stuff, can be borrowed from others. I recommend a comment on the threads below your selected trip for available gear and carpooling etc..
Look to the gear list listed at our group page.
Click "More"
Click "Files"
Click "Gear List – Spring & Fall Backpacking
Full Gear List Link:
http://files.meetup.com/1688204/Gear%20List%20-
%20Fall%20%26%20Spring%20Backpacking.pdf

Basic Gear List " 1st timer" Link:
http://files.meetup.com/1688204/Basic%20BackpackingGearList08-20-13.pdf



Waiver: Read..!!!

Be Warned..!

Mountaineering, Skiing – Alpine or Back Country, Rock & Ice Climbing by its very nature is an extremely hazardous activity.
Falling off any part of a climbing route or bouldering challenge or other associated activity's, hiking or backpacking to a destination could result in injury or death. Weather, it be Trail conditions, or be it a slip on a trail or falling objects like rocks, climbing gear or tree's from above, or avalanche can all incur injuries' and/or death. You are always attending at your own risk!
Any information on this Meetup group page is for the basic understanding of what could be encountered. We do not guaranty any type of accuracy on this information. You should always, seek your own additional resources of information for any Meetup. You as an active member! Perhaps? lacking any of the following, experienced knowledge, professional training, good judgment, moral caricature or a conscious. We or anyone on any Meetup-Mountaineers cannot be held responsible in anyway.
When arriving at any Meetup you should always use your own best judgment. Weather or not the conditions " both physical or mental" are in your best interests. The judgment, Is this a place you should or shouldn't be?
If you get hurt! Don't even think about blaming someone else. You made all the decisions and where warned. Stepping out of bed and driving to the meeting location. Too walk up to the activity and participate is on you. We are not guides or leaders in any event held. Just the organizers of finding a meeting location that people with similar interests can meet and socialize and participate in doing activities in which we have chosen an interest in performing..
It's always your right to back out at any time and live the good life at home in front of the television for the day….
That said have fun! Play safely! And take the responsibility of your own actions.
The Organizers…