Announcing a new Meetup for NYC Bachata Meet Up!
What: Bachata Meet Up Goes to Cancun for the All Star Latin Dance Weekend Dec 4-6
When: December 4,[masked]:00 AM
Price: $145.00 Prices Go Up Nov 13
Where:
Gran Melia Convention Center Beach & Spa Resort
Gran Meli? Cancun Kukulcan Boulevard,km 16.5
CANCUN
Hey Bachata Meet Up Members,

Join over 19 Bachata Meet Ups from across the United States as we meet in Cancun for the All Star Latin Dance Weekend. Get ready for tons of Bachata, Salsa, Pool Parties and exclusive discounts as Meet Up Members...

All I have to say is this is going to be one amazing trip! Many Bachata Meet Up members have told me they are going on this trip and we have an exclusive discount from LatinDanceVacation.com & the Stuck On Salsa Crew. They supported us for our 1st Annual DC Bachata Congress & International Dance Convention so its time to go to Cancun and give a little back... But going to Cancun is all about you having an AMAZING TIME! DJ Gringuito will be spinning Bachata and you will get to party and dance with some of the best in the World!

PRICES ARE $165 EVERYWHERE ELSE... BUT PAY ONLY $145 ON BACHATAMEETUP.COM OR LATINDANCEVACATION.COM

PRICES GO UP NOVEMBER 14TH!

Plus, for only $75 a day you get an amazing All Inclusive Resort!

To book your room CLICK HERE
http://www.youtube.com/v/VSUOut5QrvA&hl=en&fs=1&color1=0xe1600f&color2=0xfebd01


Stuck on Salsa Productions, Nickii Jammzz and Island Touch Dance Academy announce the ultimate salsa vacation:

The All-Star Salsa Weekend 2009, held at the all-inclusive Gran Melia Convention Center Beach & Spa Resort in Cancun Mexico, December 4-6, 2009.

This event will have all of the fun activities that you have come to expect from an All-Star Salsa event, activities like:

* Salsa Beach Parties
* Salsa Pool Parties
* Workshops with All-Star Instructors
* Nightly Salsa Parties
* Salsa Performances
* Salsa "Pajama" party
* Salsa "All White" party

All-inclusive resort prices start at $75.00 per/person. Salsa Full Pass is $150.00

All-Star Salsa Weekend Special rates are valid 3 days before and 3 days after event dates, subject to availability For

All-Star Lineup

The All-Star Salsa Weekend will feature an "All-Star" lineup of instructors and performers.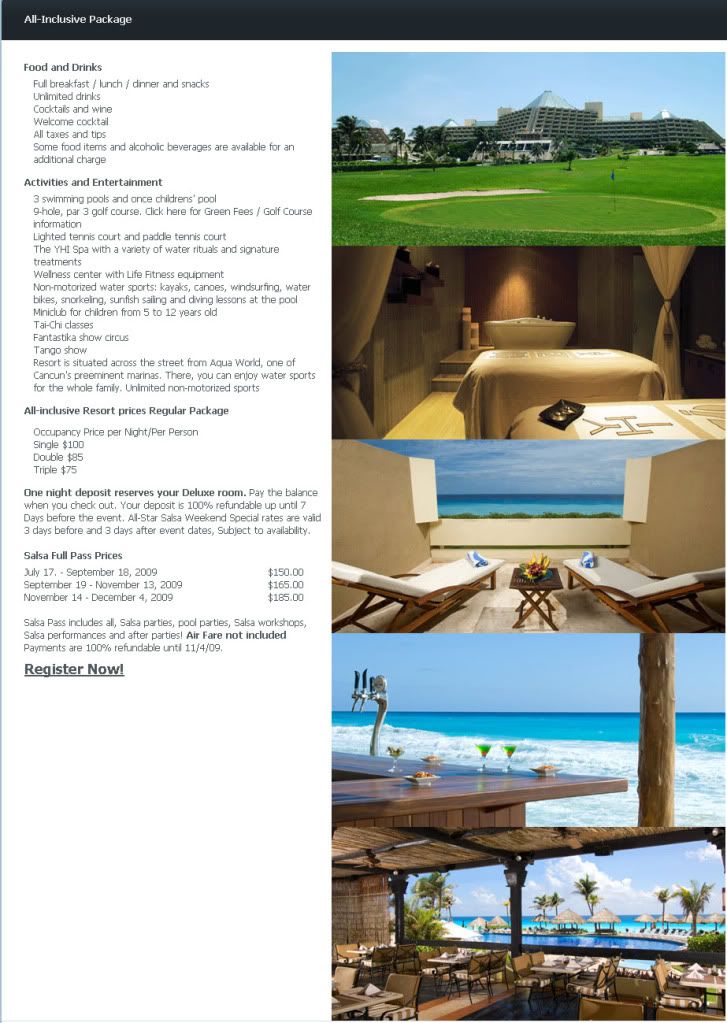 Check Out this 5 Star Review of the Resort

With a recent investment of over 40 million dollars in expansions and renovations, the Gran Meli? Canc?n Convention Center Beach & Spa Resort is one of Mexico?s most breathtaking luxury resorts. Located just 15 minutes from the destination?s International Airport, and 5 minutes from the Hotel Zone?s most popular shopping, nightlife, restaurants and many attractions, we are much favored by this ideal site cushioned from commerce and congestion between the crystalline Caribbean Sea and ?Azure? Nichupt? lagoon on 100,000 sq. ft. of terrace landscaping along 1,500 foot stretch of soft white sand beach. Opened in November 1989, the Gran Meli? Canc?n was constructed with an avant-garde architecture inspired by the Mayan culture on an exclusive oceanfront location. Designed by the architect Emile Nadal. The main materials used for its construction are: mahogany wood, glass and marble.

The nine-story contemporary hotel with a Mayan temple-style architecture echoes the glory of Mexico?s Mayan heritage, yet reinterprets it as transparent glass atriums where the sunlight illuminates lush tropical gardens featuring palms, ferns, hanging plants and bougainvillea. This stunning oasis of nature is accompanied by the relaxing sounds of fountains and waterfalls, creating an awesome masterpiece. Terraced guest accommodations include 630 Deluxe Rooms, 67 Jr. spacious Suites, 1 Ambassador Suite, 1 Governor Suite, 1 Presidential Suite boasting floor to ceiling window walls, awesome sunrise or sunset views, distinctive d?cor, tasteful furnishings, modern conveniences, amenities aplenty and room service around the clock. Royal Service: The soaring North Tower of the Gran Melia Cancun Convention Center, Beach & Spa Resort, is the Royal Service area, which is part of ?The Leading Hotels of the World?. With a total of 132 rooms, this area is devoted to exemplifying Melia?s renowned European approach to Grand Tourism Style Hospitality. In this exclusive private tower, only registered guests may gain admittance to their plush accommodations, enjoying the following upgraded personalized services: ? Private Check-In ? Private Check-out ? Reading Lounge ? Luxurious bath and body amenities ? Daily Continental Breakfast Buffet (for Groups we will assigned an area) ? Afternoon snacks ? Evening Hor?s d?uevres (for Groups we will assigned an area) ? Late night desserts (for Groups we will assigned an area) ? Premium Bar Service (for Groups we will assigned an area) ? Telephone with double lines ? Butler Service ? Pillow menu ? Shoe shine service ? Pressing service (2 pieces per person) ?

Wake-up call with coffee, tea or fresh juice The hotel offers 5 Restaurants and 5 Bars, Valet service, dry cleaning and laundry, public relations desk, concierge services, baby sitters, cribs, extra beds, courtesy parking, TV. Channels in Spanish/English with cable, internal water purification system, handicapped facilities (2 rooms), currency exchange, marina and water sports, social activities and more.
Learn more here:
http://www.meetup.com/NYC-Bachata-Meet-Up/calendar/11710109/