Announcing a new Meetup for North Bay Mobile Drive-In!
What
:
THE INCREDIBLES (2004)
When
: Saturday, September 4,[masked]:30 PM
Where
: Old Hamilton Theater Building
520 Palm Drive
Novato, CA 94949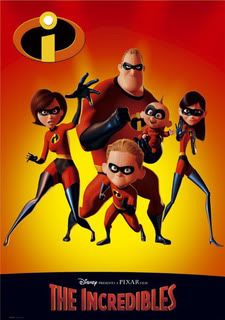 THE INCREDIBLES
A little bit more recent and lighter hearted fare is our next feature, THE INCREDIBLES, our FIRST all-animated presentation and one of the best Pixar works in recent years (my favorite of all their films)... This smart, vibrant homage to the superhero and spy genres will be presented in RAZOR sharp HD and will look absolutely spectacular, so be sure to attend this one!!
If the last few days are any indication, Summer finally here with the potential for warmer evenings! Also, there will be EXTRA hot dogs and popcorn this time, so there will be plenty at the concession stand for everyone -- Be sure not to miss this all-ages blast!
We're looking forward to seeing you! And as always, these shows are FREE admission to everyone - and EVERY donation, no matter how small, helps us keep these shows going into the future!
THE FILM:
THE INCREDIBLES (2004)
Mr. Incredible (A.K.A. Bob Parr), and his wife Helen (A.K.A. Elastigirl), are the world's greatest famous crime-fighting superheroes in Metroville. Always saving lives and battling evil on a daily basis. But fifteen years later, they have been forced to adopt civilian identities and retreat to the suburbs where they have no choice but to retire of being a superhero and force to live a "normal life" with their three children Violet, Dash and Jack-Jack (who were secretly born with superpowers). Itching to get back into action, Bob gets his chance when a mysterious communication summons him to a remote island for a top secret assignment. He soon discovers that it will take a super family effort to rescue the world from total destruction.
RSVP to this Meetup:
http://www.meetup.com/North-Bay-Mobile-Drive-In/calendar/14530617/