OC Girlfriends (a.k.a. "OCG") is a social group for motivated, fun, positive women who want to build friendships and socialize with other women. Think of it as a larger group of "Sex and The City" girlfriends that enjoy group dinners, happy hours, movie/game nights, weekend getaways, spa days, wine/beer tastings, festivals/fairs, accessory swaps, brunch/luncheons and many other fun events!


++Most members are in their 30's or 40s...however we have members from their late 20''s - to some in their 50's & 60's too! If you have a good attitude, are friendly & outgoing and most importantly, are 'young at heart' then this is the group for you!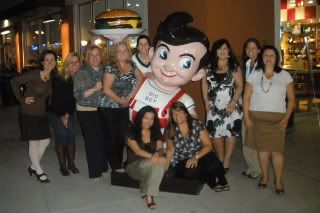 *NOTE - OCG is about cultivating female friendships and is not a target for soliciting goods, services, or promoting personal businesses through events! We do not post home-based business parties (candles, tupperware, etc.) and anyone requesting to join the group with a 'business and/or marketing intent' will be denied. We do welcome advertising to our members as a sponsor for our group, so if you're interested in sponsoring our group, please feel free to contact me via email or through the "Sponsor" button on the left side of our homepage. Thank you for your cooperation and understanding of this policy.*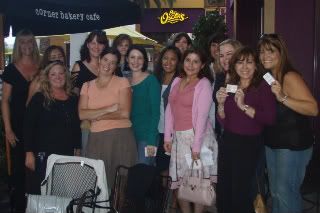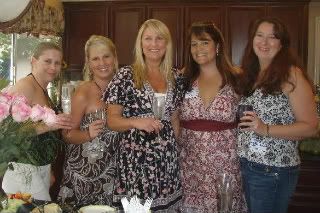 RULES TO PLAY BY.....
As a member of O.C. Girlfriends we do have a few requests / requirements of our members:
Have fun and participate! We are so fortunate to have GREAT girls in this group and trust me, if you come out you will meet some terrific women! Everyone was new at one time so we all know what it's like to be the 'newbie' but don't let that keep you from coming out to an event. Everyone is super-friendly and welcoming!
Primary Photo:
You must have a clear primary photo of your face posted on your profile at all times (not an avatar - flower, animal, etc) no exceptions. We have to be able to identify you at our events. If you remove your photo after joining, we will give you one chance to re-post a photo, or you may be removed from the group.
RSVP'ing for Events:
Please RSVP 'Yes' for an event only if you're sure you're able to attend. Space is limited to some events-especially dinners, Christmas/Holiday luncheons, Teas, home events, etc. - therefore these events fill up quickly. To that end, if you have (2) or more 'No Shows' (meaning you RSVP'd 'Yes' but never 'Confirmed' for the event or showed up), you will automatically be moved to the 'Wait List' for future events. In addition, we ask that you not RSVP 'Yes' but add a comment such as 'more of a maybe'. If you do, your RSVP will be removed, or you will be moved to the wait list. No Exceptions.
Of course, we realize things come up and plans sometimes change, but please be sure to change your RSVP as soon as this happens and avoid doing so at the last minute. If you RSVP for an event, then change your RSVP within 30 minutes prior or after the start time of the event, you will be counted as a 'No Show'.
**NOTE:
If you consistently 'no-show' to events for which you had RSVP'D 'Going' - it will be noted for future events and the organizer may either remove your RSVP / Move you to the 'Waiting List' to allow someone else to attend. In addition, you may be removed from the group entirely if you have more than 3 'no shows'.**
Wait List:
When you RSVP to a "Full" event: Please remember to check the details on the event page. If there is a 'Waiting List' available, you will automatically be placed on it upon RSVP'ing. There will be occasions/events where there will not be a 'Waiting List' option. In the event you are 'wait listed' and a spot becomes available, you will automatically be moved to 'Going'. Once you receive notification that you have been moved to 'Going', you will still be required to 'Confirm' your RSVP for this event.
Please note, that if your plans have changed or you fail to 'Confirm' for the event upon receiving a request for confirmation email, you may have your RSVP removed at the event organizer's discretion.
++ It is YOUR responsibility to check your email / 'Confirm' for events in a timely manner/prior to the deadline.
Confirming Your RSVP:
Lastly, about (1) week prior to the event, the event organizer will send an email to those who RSVP'd Yes requesting that you 'Confirm' for that event. Please take a moment at that time to go to the event page, click on the green 'I'm Going/Change RSVP' button and add in comments section: 'Confirmed' OR go to the event page and add a comment stating that you are confirmed. This step is important as most times we need an accurate headcount for reserved table. If you are unable to attend once that email is sent out, please kindly change your RSVP to 'Not Going', it frees up space for another member that may currently be on the 'Waiting List' for that event
You will be given 3 chances to Confirm your RSVP (meaning the event organizer will send at least 2 emails and a page comment requesting that you confirm) and it is your responsibility to check your email/respond/update your rsvp.
Pre-Paid Events:
Please note that some events are pay-in-advance through either Paypal or by check - mailed directly to the event organizer. Payment due dates will be specified on the posting and it is your responsibility to pay by the date or lose your RSVP. Once you have paid, please make sure that your name appears on the paid list within two days. If you have paid and do not see your name on the list, contact the organizer of the event immediately.
Meetup Planning/Event Ideas:
If you would like to plan an event and are not an organizer, please contact Liane, the Organizer. I would love to discuss the details with you. Not all events will be approved. Posting of events will depend upon event date/time, purpose of the event, compatibility with the Group member's interests.
Please refer to the note at the top of this page: If you sign up as a member of OCG with the intent of hosting any event which personally promotes you, your business, etc., you may be allowed to post an event as an 'Event Host' one time (at the Organizer's discretion) if it is deemed to be appropriate and of interest to our members. (*This DOES NOT include home-based businesses*) However, we will not allow members to continue to post similar events unless the member is interested in sponsoring our group. This meetup group is not free and dues are paid for solely by the Organizer, voluntary meetup dues and with help of our generous sponsors. It is not to be used as a means to advertise one's business.
Lastly, we want this group to be about quality not quantity. Therefore, we expect members to be active and actually attend events. If you don't attend events and are inactive in the group for more than 6 months you may be removed as a member. Additionally, if you fail to respond to emails, greetings requesting communication/'Confirm', or it is noted by Meetup.com that your unavailable via meetup due to being 'unreachable via email', you will be removed from the group.
So, Show up!! Don't be shy, Come out, introduce yourself and most of all....have FUN!!!
Take a look at our calendar - we are sure you will find something that will pique your interest. See you soon
Risks and Disclaimers:
When you sign up for MeetUp.com, all members of Meetup must agree to their Terms of Service . Section 5.2 specifically releases the Organizer and Assistant Organizers from any liability related to incidents that occur at Meetup gatherings.
OC Girlfriends Waiver of Liability summarized as follows:
> YOU AGREE THAT ALL ACTIVITIES ARE RISKY.
> YOU ACKNOWLEDGE THAT WE ARE NOT PROFESSIONALS.
> YOU ASSUME RESPONSIBILITY FOR YOURSELF AND YOUR SAFETY.
> BY ACCEPTING MEMBERSHIP, YOU AGREE TO OUR WAIVER OF LIABILITY (posted on Message Board)
> IF YOU DO NOT WISH TO AGREE TO THE WAIVER, YOU MAY RESIGN AS A MEMBER.
>AS A PRIVATE GROUP, WE RESERVE THE RIGHT TO REFUSE/TERMINATE MEMBERSHIP TO ANYONE AT OUR DISCRETION.