If you are part of a couple, please make separate individual accounts for each member of your relationship. NO 'COUPLES' ACCOUNTS.
Click on the Join us! button in the upper right to get started.
Welcome to Poly-Under-40, we're proud to be the most active polyamory organization in North America.  Poly-Under-40 is as social network for young adults exploring polyamory or living our individual poly styles. If you are a young adult looking for a friendly, supporting social group where you can learn about the poly lovestyle, meet other young polyamorists, or talk about your own multi-partner relationships, then we would love to meet you.
Poly-Under-40 was founded because we believe that it is extremely beneficial for young people living non-monogamous lives to have a peer group with similar life situations with whom they can socialize and discuss this critical aspect of their unconventional lives.
Heres how we define ourselves,
Polyamory: Having multiple intimate loving relationship with the full knowledge and consent of everyone involved.
Under 40: Do you remember the 70's? Neither do we!
Chicago: The best city in the world.
We host social events and discussion meetings in downtown Chicago and nearby surrounding areas (those accessible by public transit).
Want to learn more about Polyamory?
Click on the Join us! button in the upper right to get started.
What we are not:
This group is not a place for cheating or hookups.
Our events will never involved any sexual activity.
PS- Some advice regarding accounts:
To learn more about the Chicago Polyamory Community visit one of our special interest polyamory groups below....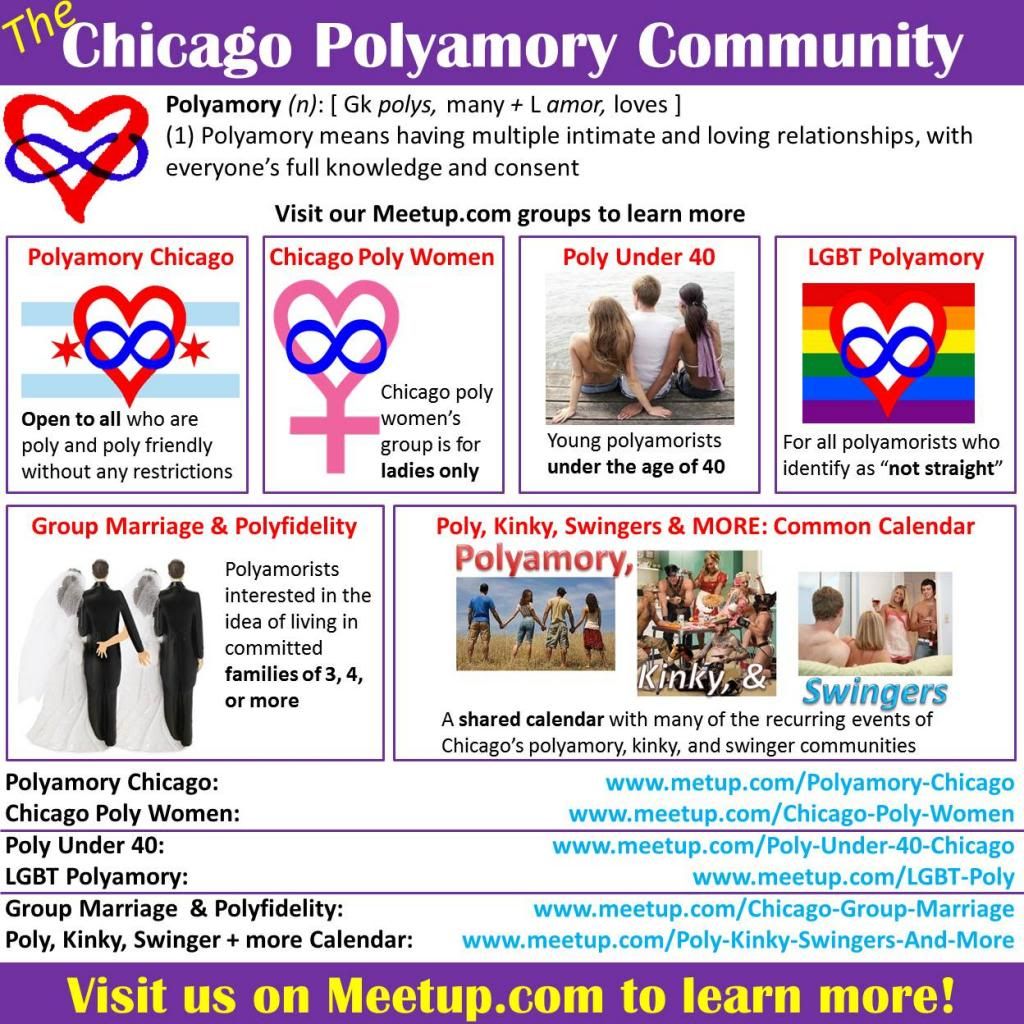 If you would like to help promote PU40, just add the following text to one of your online profiles (e.g. OKCupid, Facebook, Fetlife)

---
"Polyamory" is the relationship style of having multiple loving, but non-exclusive, relationships. To learn more about the Chicago polyamory community check out Poly-Under-40, a meetup group for the young and polyamorous and polycurious here in Chicago: www.meetup.com/Poly-Under-40-Chicago