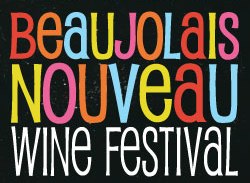 If you only go to one wine/dining event this year
- make it this one!   La Fête du Beaujolais Nouveau (web page)

I went to this event last year - let's just say there is so much food and wine flowing all night that you will wonder why the tickets aren't double the price!  This event sells out every year so BUY YOUR TICKET NOW!!! You won't be able to decide to go at the last minute.   Please sign up for this meetup event AFTER YOU HAVE PURCHASED YOUR TICKET!!!!  You must have a ticket to enter the event - the meetup will not be getting a ticket for you!!!

(Note:  I purchased the regular $70 admission ticket where there is no guaranteed table seating.   If we have enough people and we get there early we can try to find an open table and take turns saving the seats.  Early arrival is important as the best selection of food and wine is at the beginning of the event.  That is why we want to head over there by 5 pm.

La Fête du Beaujolais Nouveau
Portland's 12th Annual Beaujolais Nouveau will be held on Friday, November 22, 2013 at the Heathman in downtown Portland (1001 SW Broadway).
Presented by the French-American Chamber of Commerce and the Alliance Française of Portland with partners, the Heathman Hotel and the Heathman Restaurant & Bar, the event is the largest on the West Coast, drawing[masked] each year.
Vin primeur and Gourmet Buffet: Guests will enjoy the 2013 vintage, le vin primeur, of Beaujolais nouveau wines from Georges Duboeuf and Joseph Drouhin, wines from Terroirs Originels, as well as wine from premium Oregon and Washington wineries including WillaKenzie Estate Winery and Pacific Rim Winemakers (Riesling Rules). Tastings of Pernod Absinthe, Hardy Cognac, European-style cider from Virtue Cider and assorted Perrier will be enjoyed as well. Guests will also enjoy a multi-room gourmet buffet that will include Sylvie grass-fed beef, roasted pig, lamb, Hama Hama oysters, charcuterie, premium ham (Specialities Inc.), imported French cheese (Lactalis / Petersons), assorted fresh breads from Grand Central Bakery, and tantalizing desserts from St. Honoré Bakery.
Entertainment: Live music will open with Heather Keizur with French classics and continue with the popular Bobby Torres band. Event Emcee Sally Ramirez, Assistant News Director at KGW News Channel 8, will guide the revelers during the night's activities including raffles, the "wall of wine" and more. Visit photos from previous years' event to get a flavor or check out online videos from KGW's Live@7 segment.
Reservations: Tickets are $70 for regular guest ticket (all-inclusive of buffets and all drinks), and $55 for a limited number of first-time revelers in the Young Professionals category (ages 21-35). A total of six VIP reserved tables (each seating 8 in a special roped-off section) are also available for $1250. New this year: a limited number of reserved seats at a Table d'amis in a private dining room at the event; reserved seats at the Table d'amis are each $120.
BUY YOUR TICKET BEFORE YOU SIGN UP FOR THIS MEETUP:
Reservations can be made online
by clicking here or by calling
503.223.8388.
Sponsors and Event Partners:
Merci to Georges Duboeuf, TV5MONDE, The Heathman Hotel, The Heathman Restaurant & Bar. Merci to in-kind sponsors: Perrier / Nestlé Waters USA, A. Hardy USA Ltd. (Hardy Cognac), Virtue Cider, Specialities Inc., Lactalis USA, WillaKenzie Estate, Pacific Rim / Riesling Rules, Terroirs Originels, The Oregonian, Grand Central Bakery, St Honoré Bakery, Nicky USA, Inc., Gérard & Dominique Seafoods, Hama Hama Oysters, Penn Cove Mussels, Darigold Cheese, Les Boulangers Associés, The Peterson Company and Smitten Artisan Truffles.