Most In-demand eBook Formats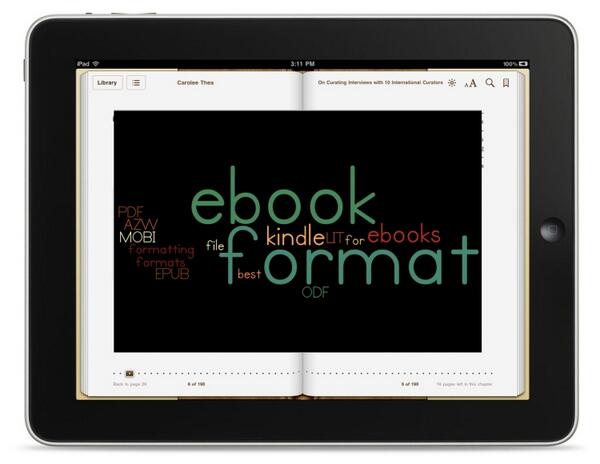 1. EPUB
The
ePub format
is an open format that was designed by Open eBook Forum and was developed by International Digital Publishing Forum. It is based on XHTML and XML. It was designed with the intention to be work as both source file format and the end user format. There are number of software that can open this eBook format like ePUB Reader Firefox add on QuickReader, Adobe Digital Editions. There are some devices in the game too that can open this particular format like iPhone, iPad, Sony Readers, iPod Touch, Kobo Reader and many more.
2. AZW
This is a product from Amazon and it is designed particularly for Amazon Kindle. It is actually a MOBI format that makes use of high compression option. Kindle apps have also been designed for devices other than Kindle reader. This particular format is also compatible with smart phones like iPhone, Android phones, and BlackBerry, tablets like iPad, Windows 8 tablets and Android tablets, and computers like Mac and normal PCs.
3. LIT
This particular format is developed by
Microsoft Reader software
. It is a native of Windows Mobile devices and Pocket PC and can is also available on PCs. However, the content written in in LIT format was abolished in November, 201 and downloading the Microsoft Reader Software was stopped by the end of August 2012. But it is not like that people cannot use this format now. User can use this format but they cannot add more content to it anymore.
4. PDF
This is defined as Portable Document Format and it was created by Adobe for their Acrobat products. This is known as one of the popular e-book formats because lots of devices support this particular format. Examples of PDF viewers include
Adobe Reader
, Nitro PDF reader, Foxit Reader, Xpdf, PDF-XChange Viewer and a lot more. Most of these software that support PDF are available for free. The only negative point is that the content in PDF are usually scaled for A4 or letter size which becomes unreadable when it is reduced to get fit on the smaller screen.
5. ODF
ODF stands for Open Document Format. It is basically an XML-based file format and it is the default format for Open Office. Open office is an open source productivity suite that works as an alternative to Microsoft Office.
6. MOBI
MOBI was originally made as an extension of Palm Doc. This particular format is mainly used by the . It can be opened as the reading software for the pocket users that you can install very easily on a variety of smartphones. There are some limitations with this MOBI format too. For example, Size of the image is not scalable with the size of the font. Tables are displayed differently on different devices. It is open for third party readers like Kindle, Mac, Stanza and many more.
Being an eBook reader you should know that these formats are protected by Digital rights Management wrapper. This DRM is used as an anti-piracy tool for protecting authors and it also prevent you to open the eBook file even if the format is compatible with the reader.
Author:
Thomas wilson is a author of this post who works at Suntecdigital.com an
eBook services
provider . They are popular to professionally eBook production from a wide range of content format like pdf, printed copy, word, paperback etc. in a reasonable manner in the shortest possible time.