With posts like this I will supply an image, a word, a video, a something.
Do with it what you will. Write something, draw something, do something.
This is the spark, ignite something with it. Enjoy! =)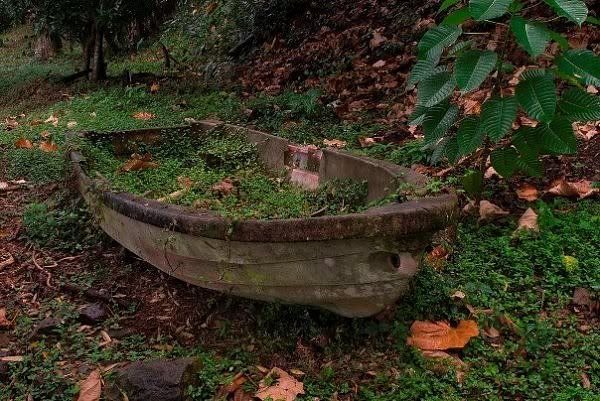 Edited by Terri Maloney on Jul 26, 2009 1:49 PM
Post #: 2
The love I lost is like this boat
Once is was so intense it made me float!
so full of life, feeling happy and free
but somewhere allong the line it was not to be
Now my heart sits thrown away feeling empty and old
I realize now to start afresh and bold
And I will find that love again just like new
and we will be together again. you our bat and me.

Post #: 3
i wanted to write boat, lol sorry!

Post #: 7
I suspect that Noel (but, Not) Void has yet the will, the fortitude, AND the stride...

Post #: 8
Oh, and as Freud would say, "Sometimes, a typo is just a typo."
Post #: 9
Years later, Joel returned to the spot where he and his friend had posed for the photo (to the left). He didn't aimlessly stumble upon it; he returned there purposefully.

The beach, as he remembered it, was gone, now. Steve and he had walked a few miles before breakfast, varying their pace between "exercise" and "strolling". When the former, Joel was pleased he could keep up with Steve; when the latter, he would "make fists with his toes" (as suggested to Bruce Willis's character in the beginning of "Die Hard") and relish the sensation of the moist sand giving way to his little piggies.

Joel smiled reminiscently. It had been a beautiful day. Joel's wife, Lois, had gone with them that day. She had taken the picture. Then the trio met up with Steve's wife, Rosie, and they all went out for breakfast. That was years ago, Joel recalled, BEFORE the economy washed out to sea with the tide. Money to maintain the beaches was not a priority; and, so, the beaches were no longer maintained. Not by the state. Not by anyone.

Joel continued to walk, looking for some clue that he had actually returned to the right spot. And, then he saw what he was sure was proof positive. "The boat!"

It was, indeed, the boat he remembered. It was badly decayed and covered with plant life. Geez, it was practically in the middle of a forest, now! he thought to himself. And, all that "stuff" about global warming, Joel mused. You would have thought the "before" and "after" pictures would have been reversed. "I guess Sarah was right, after all. Who woulda thought?"