Spray Park is one of my favorite day hikes at Mt. Rainier. It's a fairly easy hike, and there is a big payoff. I'll never forget the first time I went there. After hiking a few miles through the forest, a meadow (Spray Park) appeared. That meadow was totally covered with wildflowers, and Mt. Rainier towered over everything. Wow!
New host: Chuck has a conflict, so John H. is now the host. You can contact him by leaving a comment or you can send him a private message by clicking on his name and clicking the "Send Email" button on his profile page. Of course, you can also contact Chuck if necessary.
Round trip: 7.5 miles
Elevation gain: 1600 ft
Max elevation: 6400 ft
Difficulty: Moderate+
I suggest we leave early, or it will be difficult to find a parking spot near Mowich Lake. If you come late, it's not unusual to park on the road a couple of miles from the trailhead.
GPS:[masked],[masked]
Driving Directions:
From the P&R, go east on SR 512 to Sumner. Drive 13 miles east on State Route 410 to Buckley. Turn right (south) onto SR 165 and proceed through Carbonado. Just beyond the Carbon River Gorge bridge, bear right onto Mowich Lake Road. Follow the road about 17 miles to its end; the trailhead is at the far end of the Mowich Lake Campground.
John's cell:[masked]
More information:
http://www.wta.org/go-hiking/hikes/spray-park
http://www.nps.gov/mora/planyourvisit/spray-park.htm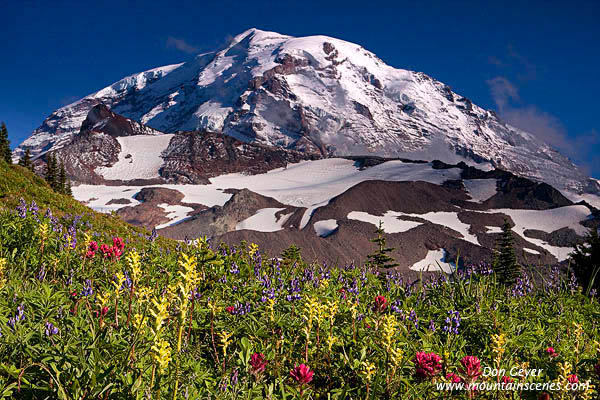 Disclaimer: Trailside is not a professional guide service.  Our leaders function, as facilitators only, to enhance your outdoor experience.  Reports of trail and weather conditions are based on best available information, are subject to change, and are no guarantee of fitness for any particular purpose or appropriate for a certain fitness level. You may join us on this hike at your own risk.  Keep in mind that hiking involves risks and weather changes quickly in the mountains.  You are responsible for your own safety and the more prepared you are, the better the chance you will remain safe.
Signing up for any Trailside organized event indicates that you have read, understand, and agree to the terms of this disclaimer and hold harmless all Trailside Organizers and Leaders in the event of injury or loss.