Time-frame for today's hike: 8a-5p
Meetup at 512 P&R: 8:00 [depart 8:15]
ETA at Tolmie Peak TH: 9:45/10
Current forecast [Mowich-Carbon]: High of 70 [Mowich Lk] High of 64 [Tolmie Peak]. 0% chance of rain. [updated 7/24]
RT Mileage: 7.5
Elevation Gain: 1,100 ft
Highest Point: 5,939 ft [Tolmie Peak]
Configuration: Out-and-back
Facilities: Privy at Mowich Lake; no water available [unless you filter it]
Pass: National Parks Pass|Senior Pass [America the Beautiful Interagency Pass also accepted]
Interested in the ATB Pass? Go here:
http://www.discovernw.org/store_america-the-beautiful-2012-national-parks-and-federal-recreational-lands-annual-pass_17260.html
Strain Level: Moderate-Difficult
Map: Green Trails Mount Rainier West No. 269
Features: Lakes, Wildflowers, Meadows, Mountain Views, Summits, Ridges/passes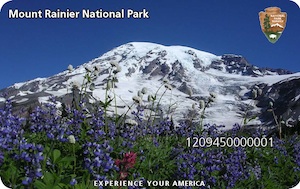 Tolmie Peak is a day-hiker's special. It's about the right distance, offers the right touch of outdoor magic at its destination, and has been ruled off-limits to overnighters. 

The trail meanders about 1.75 miles to Ipsut Pass [elevation 5100 ft] where more ambitious hikers can continue north along Ipsut Creek to the Carbon River and the Wonderland Trail. Pause a moment at Ipsut Pass to enjoy the view of the Carbon River Valley to the north.

Stay left and walk just 0.8 mile to Eunice Lake, which offers grand views of Tolmie Peak and its lookout tower, not to mention a little molehill to the east known as Tahoma. Cinch down your knapsack and head on up the trail, climbing steeply another mile to Tolmie Peak, where the panorama is worth every one of the steps it took to get here. An old fire lookout cabin still stands atop the ridge knoll west of the true summit of Tolmie Peak. These high, lonesome watch stations have been replaced by satellites and computers, but at times you might still find a volunteer at the lookout cabin. If so, take the time to check out the historic old work room. Save some time for soaking your tired feet in chilly Eunice Lake on the return trip back to the car!
Driving Directions:
From Puyallup, drive 13 miles east on State Route 410 to Buckley. Turn right (south) onto SR 165 and proceed through Carbonado. Just beyond the Carbon River Gorge bridge, bear right onto Mowich Lake Road. Follow the gravel road about 17 miles to its end and find the trailhead on the left (north) side of the road, near Mowich Lake. The final 17 miles of SR 165 to Mowich Lake is GRAVEL. Expect excessive dusty conditions.
Please bring: plenty of water [2+Qts], lunch/energy snacks, 10 Essentials, emergency contact number[s], trekking poles, sun preventatives, hat w/ brim, bug repellent, sturdy/comfortable footwear [I don't recommend tennis shoes/sneakers/sandals for hiking-but they're fine for post-hike activities] + bag and a change of shoes/socks, binoculars, and your camera.
The 10 Essentials [and then some..]  Go here:
http://www.rei.com/learn/expert-advice/ten-essentials.html

TIDBITS:
Dogs allowed? No
Drivers: please have your National Parks Pass with you for parking at the trailhead!
Carpooling recommended
Passengers: Please have $15 ready for your driver to help with fuel costs
We'll probably be making a stop for refreshment [or ice cream] after the hike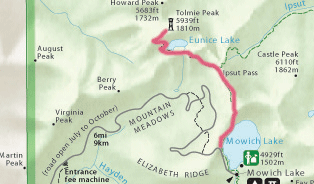 Mike's cell: [masked]
I will need at least ONE or TWO additional drivers [besides myself] for this hike!
Disclaimer: Trailside is not a professional guide service.  Our leaders function, as facilitators only, to enhance your outdoor experience.  Reports of trail and weather conditions are based on best available information, are subject to change, and are no guarantee of fitness for any particular purpose or appropriate for a certain fitness level. You may join us on this hike at your own risk.  Keep in mind that hiking involves risks and weather changes quickly in the mountains.  You are responsible for your own safety and the more prepared you are, the better the chance you will remain safe.
Signing up for any Trailside organized event indicates that you have read, understand, and agree to the terms of this disclaimer and hold harmless all Trailside Organizers and Leaders in the event of injury or loss.
Some reminders: [IMPORTANT]
1] If you are going to be late and cannot make it by departure time [check the top of this posting], you must meet us at the trailhead or cancel [make sure your RSVP reflects this!]. If you try to contact the Organizer AFTER the group has departed, please understand there are laws prohibiting cell phone usage while driving and you will need to leave a voicemail. This also may be the case if the Organizer is out of their cell phone service area. Rule of thumb: It is best to go online ASAP and update your RSVP, or leave a message on the Organizer's voicemail with a reason for absence [being proactive may prevent you from getting a no-show]
2] Please anticipate splitting up into 2 groups if over 12.
3] PLEASE change your RSVP at least 2 hours prior to meeting up if you cannot make it and/or have other plans. If we don't see you or hear from you, it will result in a NO-SHOW. 3 no-shows in a years' time-span could mean termination of membership, so please don't risk it--make sure you communicate!
THANK YOU :-)