What is an Outdoor Video Education Demonstration (OVED)?
An OVED is a demonstration that uses a TV or projector to display a video outside. This type of event is generally held in high traffic areas, such as concerts, busy streets, fairs... Audio may be also heard provided the equipment is setup to accommodate it.
Here's a picture of an OVED using a projector to display video: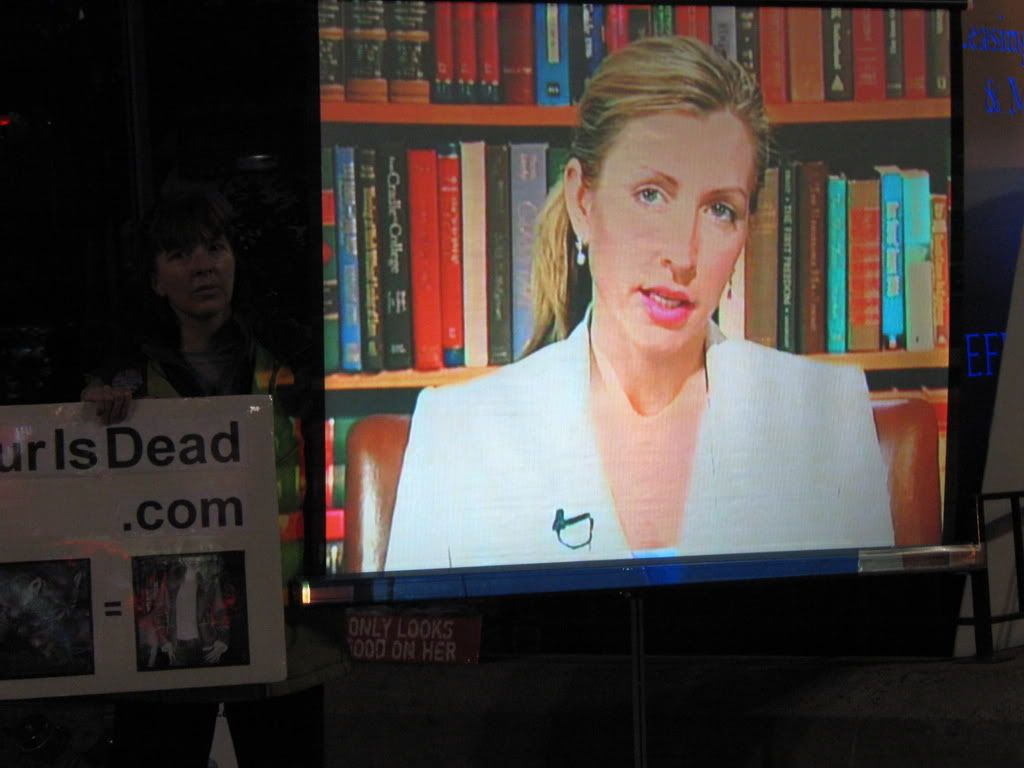 What makes this Effective?
People seem to have an innate desire to watch moving images, especially TV. The OVED both video and sound, so even if a person were not able to see the picture they would still hear the audio. And a person walking down the street wearing headphones would likely see the image or a crowd of people surrounding the OVED and be curious as to what they were watching.
To see a video of an outdoor demonstration using a projector click
here
and
here
.
Equipment Required
Projector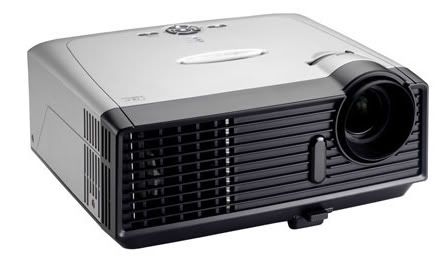 Specifications
Brightness: 2000 lumen's (minimum, brighter is much better)
Image Type: DLP or LCD
Resolution: 1024 x 768 (XGA) or greater
Price: $500-$1000
Types of Screens
This type of screen is one of the most critical aspects to having your video display properly. The screen needs to be able to reflect enough light to be bright enough for people to see. Here are some pointers:
The surface needs to be matte or slightly reflective. An overly reflective surface will cause the image to be extremely blurry.

The surface needs to be white.

A brick wall or brown cardboard will not work!

For the image to be seen well it must sufficiently dark or it will be washed out with the light

The surface should be flat. Bumpy surfaces distort the image.
Fabric:
We noticed that a professional screen like the one shown in the top picture is not required to run a demonstration. Simple store bought materials attached to PVC poles will will do the job just fine. The screen below was shown under bright downtown street lights and the material was wrinkled. This would otherwise be as bright and good quality as the top image.
Fabric tends to wave in the wind causing the image to wave as well. When choosing a fabric it will be helpful to know how you will brace it to reduce movement.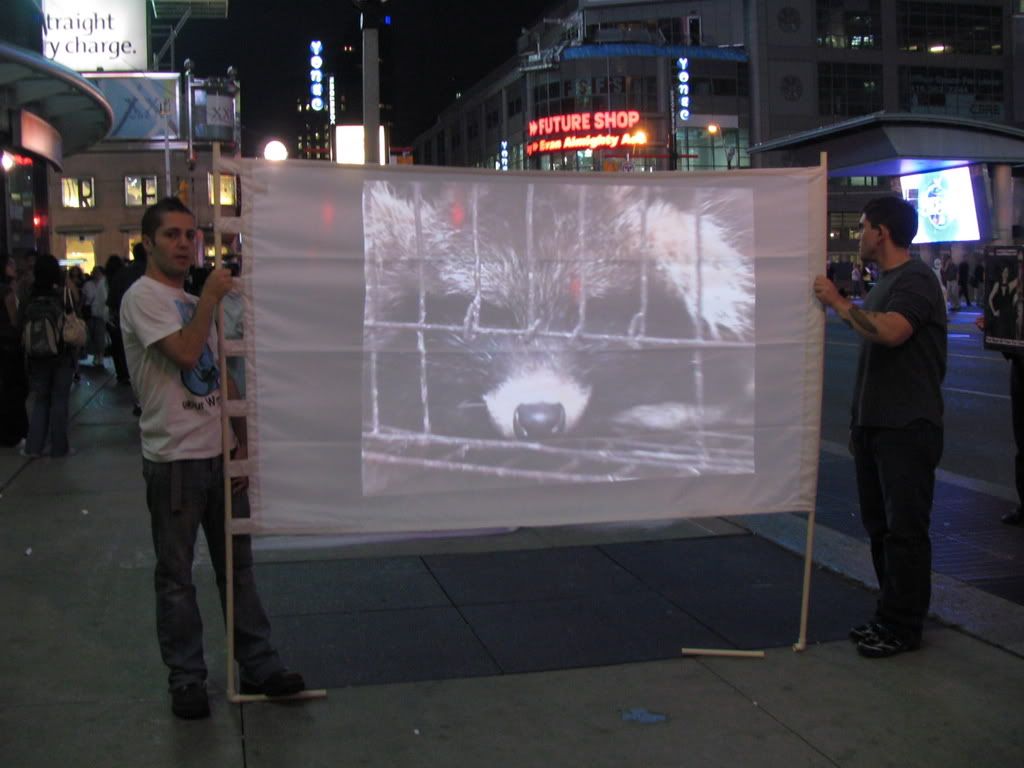 Some tips on choosing a good fabric:
Choose the color white

Relatively strong material that does not stretch

Cotton, polyester, and plastic work nice

Make sure the material does not crease for wrinkle

Test the materials out before using them

Shiny/reflective materials improve the brightness
Some screens will reflect an image on both sides which can allow people to see it from both directions.
Screen with stand:
Stand screens like the one below can be extremely effective. They are very bright, and have the benefit of being portable. They can be expensive to purchase and in windy conditions will take two people to hold it from blowing over.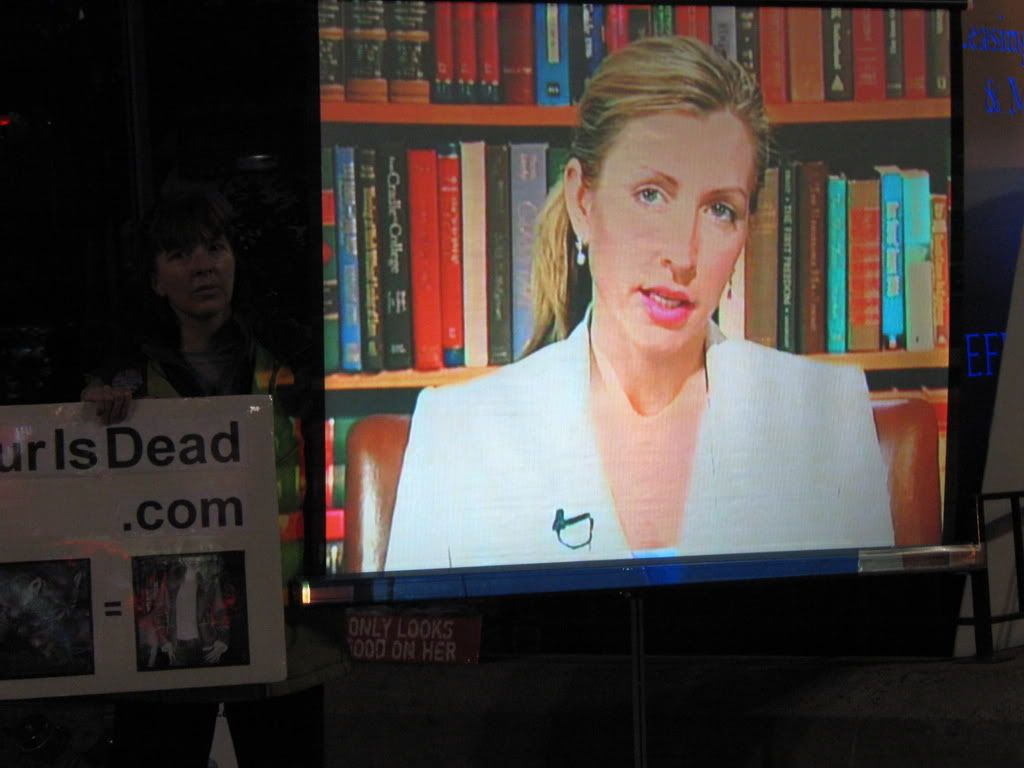 Board Screen:
White cardboard or white corrugated board work excellent for screens. They are rigid and can work in all weather conditions if they are made of plastic.
Battery
Specifications
Type: Deep Cycle (A car battery will NOT work - IT MUST BE
DEEP CYCLE
!)
Amp Hours: 100 ah (Minimum)
Reserve Minutes: 200 (Minimum)
Price: $125
12V to 120V Power Converter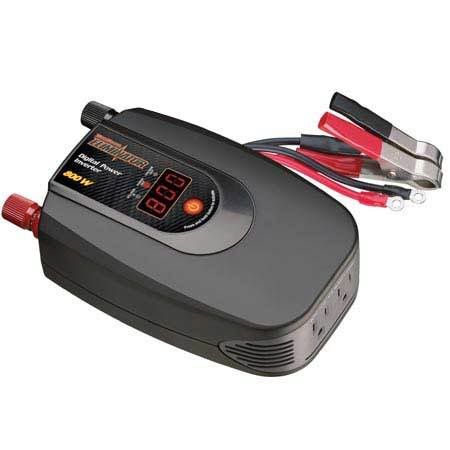 Specifications
Power: 800 Watts (minimum)
Price: $100
DVD Player
Specifications
Video Output: Component (Best), S-Video (Good), Composite (Low Quality) - Make sure your DVD player has these output terminals or it won't work!
Price: $50 - $100
DVD to Projection Connection Cables
Choose the cable that you will be using to make the connection.
Component
Price: $25-$50
S-Video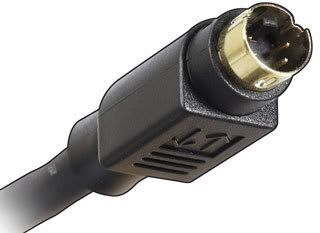 Price: $15
Composite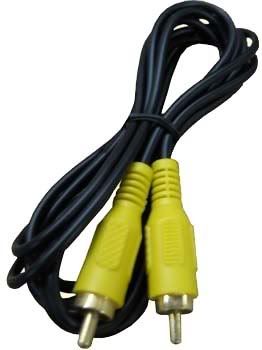 Price: $10
Battery Charger
Specifications
Automatic

Capable of charging 'Deep Cycle' batteries

10 Amps minimum
Price: $50-$100
Megaphone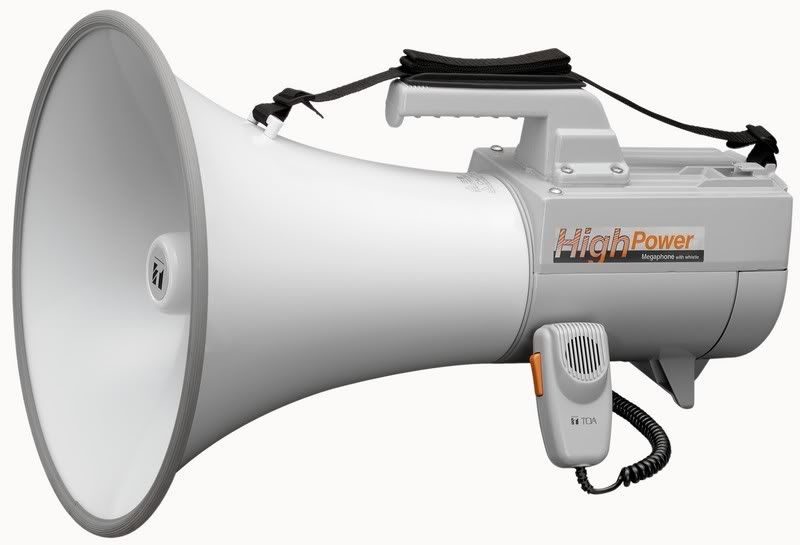 Specifications
Effective Range: 1000 ft (minimum)
Power: 20 Watts (minimum)
Input:
MUST HAVE AN AUXILIARY INPUT
!!!
DVD to Megaphone Connection Cable
Price: $10
Trolley
Holds the equipment and makes it portable. The megaphone, battery, and power converter go on the bottom. The Projector, and DVD player go on top. The charger stays at home in the garage where it can safely charge the battery when needed.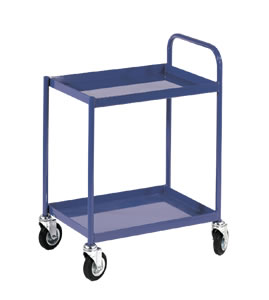 Price: $50- $150
Use your imagination. You could use any type of device that is portable and has wheels. Make sure that it is strong enough to hold a 20-40lb battery.
Further considerations
The projector needs to be placed 2 feet away from the screen for every 1 foot of diagonal of picture size. You will need to calculate for this. Keep in mind that you do not want the projector to be placed in an area that people will walk through it.
* More information is on the way!