This entire year has become one of fascination with Solar Cooking and, in particular, researching different Solar Cooker designs on-line for me.
Can't begin to tell you how much pleasure I have drawn from revisiting all of the different - and vastly innovative means folks have come up with so far to permit us to enjoy further exploiting this most awesome "gift" of the universe - sunshine! (Shoot, it has even led me into toying around with solar energy on a very small scale). I've read we enjoy over 263 sunny days a year here in SoCal, but would be surprised if that isn't a little short - particularly if you live around 25 or 30 miles or so inland as my family does here in East County.
I still believe one of the most effective and inspiring designs I've seen for a reflector cooker to date is the
ASSC
by our member Jim La Joie - but I continue to research and mentally "toy" with other designs as well. For me the "jaw-dropper" about Jim's design is found in how easy it is to allow for change in the sun angle by simply adjusting the reflectors rather than "tilting" the whole box.
I've already kind of "homed in" on a pair of currently commercial products that serve different purposes/"types" of Solar Cooking which, no doubt, will soon find their way into our back yard - but our ASSC(s) will always go with us for camping, picnics, etc., while continuing their use out in the back yard.
Today, my on-line "research" led me back to the
Solar Cookers World Network
site, where I found an article on an exciting emerging technology our kids and grandkids will no doubt pursue in coming years - it is based on a design by MIT professor David Wilson and involves using latent heat storage so folks will be able to continue to "Solar Cook" long after the sun goes down. Barbequelovers.com put up an article on it entitled:
A Solar Grill Prototype for a Greener Tomorrow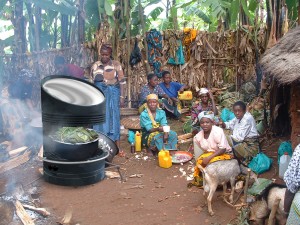 Now, why is old -=dave=- telling us all of this? Just so I could post the following line....
The future of Solar Cooking is bright indeed!
<pun intended>
(OK, put away the torches and pitchforks now).....