Denver Happy Hour Members:   LAST CALL FOR TICKETS.  We will cut off ticket sales this evening.
Our patio wine party is TOMORROW on Tuesday May 8, 2012! Gotta Crush! Wine Party with Don Sebastiani and Son's Highly Rated Wines with Special Guest Regional Manager Ryan Waltz
Cherry Creek North Patio Location at Second Home at the JW Marriott on the Patio. Beautiful weather is expected according to weather.com  If there is a sprinkle, we will be inside.

Wines and Food Pairing Posted! See below, on eventbrite and the meetup. Highly rated wines from Sonoma, Paso Robles including B-Side 92 point Cabernet Sauvignon and other highly rates wines from their portfolio including a special selection from a vineyard in New Zealand.

80% of the tickets have been purchased and we have more 2 ladies signed up for every guy.  Please invite your male friends! NOTE: THIS IS A WINE TASTING SOCIAL MIXER FOR YOUNG PROFESSIONALS. THIS EVENT IS NOT A BUSINESS NETWORKING EVENT. THANKS

100 attendees expected and we will cap the event at 100.

Mark Your Calendars for Upcoming Signature Event, see below
Payment Link:
http://uncorked-crush.eventbrite.com/
We will not sell tickets at the door.  The event will be at capacity/sold out.
UncorkedDenver.com has the top winemakers visiting with wine parties at top venues in 2012.  We have cool events planned into Summer.  See the "mark your calendar" section below.
Regards,
Stacey
Scroll down below for all the good stuff on the wine party and upcoming events!
--------------------------------------------------------------------------------------------------------------------------------------------------------------------
What : Gotta Crush Wine Party! with Don Sebastiani and Son's Highly Rated Wines with Special Guest Regional Manager Ryan Waltz
Where: Second Home at the JW Marriott (Cherry Creek North) 150 Clayton Lane   Denver, CO 80206   Parking is free in the lot by the mall.   There is a free valet with a validation at the restaurant only if you sit down for dinner afterward. Please make sure to bring a few dollars to tip your valet.
When: Tuesday May 8, 2012 at 6:00 PM  Please be prompt as we will be serving each wine and appetizer paired
Winery Link: http://www.donandsons.com/
Learn about making wine and the crush: http://www.donandsons.com/films/film-crush.php
Don Sebastiani and Son's is now going on five, generations, their family has been living and making wine in the Sonoma and Napa valleys. With respect to our homegrown roots, we have a vested interest in the sustainability of our environment for future generations of our family and the community.
Crowd: Young/Mid Professionals mid/late 20's through 40's
Cost: $28.99 includes tax and tip (Wine Party Only)  Please note, an RSVP on the meetup is not a ticket.
Please go to Payment Link:
http://uncorked-crush.eventbrite.com/
Dress: Business/Dressy Casual to Business/Dress to Impress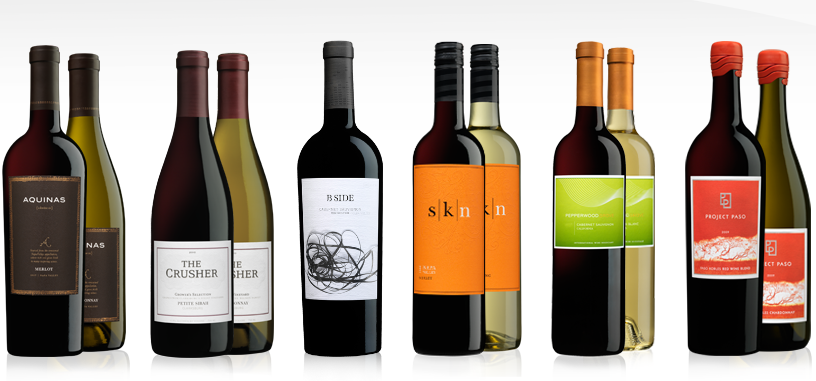 Wines and Food pairing:
Farmer's Market Sauvignon Blanc 2010, Marlborough, New Zealand. A refreshing and delicious white with lemon grass and citric aromas, a medium weight and flavors of ripe tangy fruit.  (reception wine-no pairing)

Aquinas Chardonnay Napa Valley 2010 with Smoked Trout Salad
This golden, straw-colored wine has aromas of butterscotch, custard and vanilla. The palate is ripe with baked apple and caramel. The texture is very round and silky with a tropical fruit core including pineapple, guava and mango. The finish is supple with lemon zest, honey butter, Tahitian vanilla, and a hint of almond.

Crusher Petite Syrah 2010 Clarksburg/Bay Area with Braised Short Rib with Potato Cake Aromas of wild strawberry, boysenberry, dates and a touch of black truffle leap from the glass. It is incredibly fragrant and bright, a stark contrast to harder-edged, heavier Petite Sirahs. Double Gold at California State Fair

Crusher Rose of Pinot Noir 2010 Clarksburg/Bay Area with Seasonal Fruit Panna Cotta Rose petal pink in the glass, our 2010 Rosé has an expressive tropical and floral aroma backed by sweet strawberry and plum notes. The flavors are bright on the palate, with honeydew melon and wild strawberry. A splash of Viognier lends some body to the mid-palate and provides a nice contrast with the zesty, refreshing citrus nuances.

Project Paso Red Blend 2010 Paso Robles with Haystack Mountain Chevre Arancine A wide variety of secondary aromas come from the different grapes in this blend: hints of spice and bramble from Merlot and Zinfandel, and light floral notes from the Grenache, Syrah, and Tempranillo.    22% Grenache, 17% Petite Sirah, 16% Syrah, 15% Merlot, 9% Zinfandel, 8% Tempranillo, 7% Malbec, 4% Barbera, 2% Touriga Nacional Vinopedia rating 92 "Steal under $15" at Sunset Magazine's Savor the Central Coast.

B-Side Cabernet 2009 Sourced from Rutherford and Stags Leap, with Colorado Lamb Ragu this wine has an intensity of fruit flavor on the palate, beginning with black currant and dark plum and evolving into dark chocolate and cappuccino. Dried dark fruit and smoky oak nuances come through on the mid-palate, revealing additional layers of depth. The finish is rich with big, mouth-filling tannins and a firm core of high quality French oak. Three vineyards make up this small, distinctive vintage: the Cabernet Sauvignon comes from two separate vineyards in Rutherford and the Stags Leap District, while the remaining 10% of this wine comes from a Malbec vineyard in Rutherford WE 92 Points

Please Note: NO TICKETS WILL BE SOLD AT THE DOOR/NO WALK UPS!....sorry but we will have to turn away anyone who doesn't have an advance ticket as wine and food has been allotted based on the ticketed attendees and we do not handle money at the door for wine and food pairing events We expect 80-90 attendees with a wine maker flying in and it's difficult to check folks in and handle money. Our events sell out quick! Please see the Denver Wine Meetup for refund information. Our party area will be private (and blocked from the public) and we will turn away folks who do not have a ticket as we must provide the headcount to the chef and winemaker.

Mark Your Calendars!

Wednesday June 13, 2012 Our premier/signature event for 2012:

We are pleased to have Alexander Valley Vineyards Winemaker Kevin Hall on the Golf Course Patio at the Inverness Resort! Alexander Valley Vineyards is San Francisco Bay List's Sonoma Best Winery and we'll have several highly rated wines from their portfolio represented.  And you'll have a few hours to enjoy a "getaway" and de-stress from your workday at one of Denver's top resorts!

About our events: Denver Wine Meetup/UncorkedDenver.com events are a unique opportunity to socialize with other young/mid professionals and make new friends over at a wine and food pairing, with select wines paired with appetizers, sometimes with the winemaker visiting.

Our events differ from the many "happy hours" in a bar groups around Denver and high priced wine organizations, distributor/ festival type events as the events are a wine social with the opportunity to meet a winemaker or wine manager and focus on learning about a winery and/or a varietal.  Our events provide members a unique wine and culinary pairing event with the aspect of a social mixer at an affordable price.

Refund Policy http://www.meetup.com/denverwine/pages/Payment_and_Refund_Policy/

Event Terms and Conditions: http://www.meetup.com/denverwine/pages/Terms/
Assumption of Risk: http://www.meetup.com/denverwine/pages/ASSUMPTION_OF_RISK_-_WAIVER_AGREEMENT/