From a play, to a movie, and back to a play.
**A "PAY WHAT YOU CAN" PERFORMANCE**
Here is your opportunity to experience GREAT theater at GREAT pricing!
This will be a final dress rehearsal for the play at a tremendous discount before it opens. You pay what you can for the ticket with all proceeds benefiting the African American Museum. Tickets and seating are general admission and based on availability for this 8 PM performance. This event will most assuredly be widely attended so it is highly suggested you arrive early to purchase your ticket.
Arden Theatre Company, now celebrating its 25th Season of great stories by great storytellers, presents A Raisin in the Sun by Lorraine Hansberry and directed by Walter Dallas.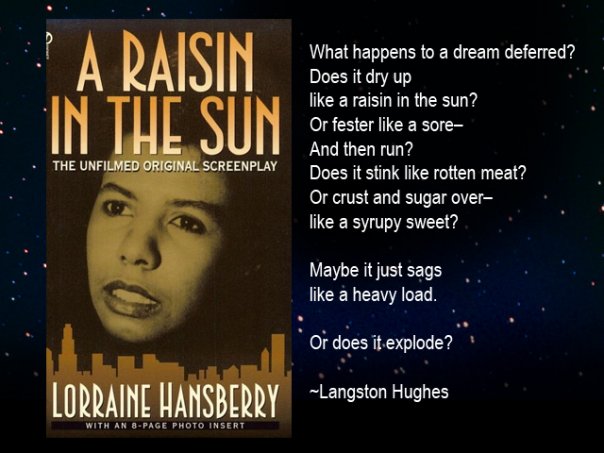 Dallas directs this classic drama that paved the way for the African American voice to be heard on stage. He is also known to Philadelphia audiences as the past Artistic Director of Freedom Theatre, Pennsylvania's first African American theatre.
Storyline:
In Chicago's South Side in 1959, a life insurance check sent to the Younger's home arrives with the promise of change. This African American family then considers buying a house in the all-white Clybourne Park, but conflicting aspirations and a neighborhood's intolerance threaten the dream's reality. The play's premiere in 1959 was the first time an African American female playwright was produced on Broadway, was nominated for four Tony Awards, and went on to become a film starring Sidney Poitier. A pre-Broadway try-out featuring Poitier ran at Philadelphia's Walnut Street Theatre, but since that time no major professional production has been produced in the city.
Each attendee will be responsible for the purchase of their own ticket. No online tickets are available for this performance. You must purchase your ticket the night of the performance in person at the box office. General Admission tickets are given out on a first come, first served basis, CASH ONLY!
To be seated together you must arrive by 7 PM to purchase your ticket and get your place in line. Tickets will sell out FAST!
For tickets and additional info please contact the Arden at[masked] or use link:
http://www.ardentheatre.org/news/2013_0131.html
Free parking is available on surrounding streets after 5 PM on Wednesdays.
Directions and parking info:
http://www.ardentheatre.org/visit/
http://www.ardentheatre.org/visit/parking.html