Dear Melissa,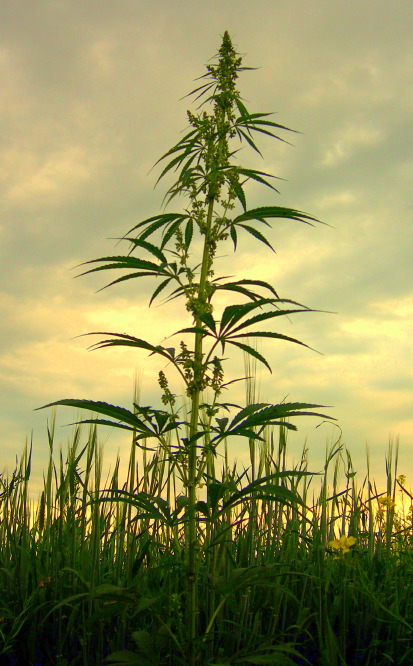 Male Hemp Plant at Sunset
The Farm Bill is currently being crafted once again in Congress after it failed to get passed last year. This means that we have the opportunity to get a hemp amendment in the Farm Bill once again!
Yesterday Eric Steenstra, executive director of the HIA and president of Vote Hemp, had a good meeting with Senator Mitch McConnell's senior staff members. Senator McConnell attempted to add our hemp bill as an amendment to the Farm Bill in the Agriculture Committee on Wednesday but it was blocked.
We need you to call your Senators in Congress and ask them to support & vote for the Industrial Hemp Amendment to the Farm Bill and let U.S. farmers grow industrial hemp once again.
Please click here and make the call now!
We have a short, easy to use script and phone numbers will be provided after you enter your Zip Code on our web site at:
http://votehemp.com/farmbill
Thank you very much for taking the time to call and sending us feedback on your call!
Calls are the most important thing to do now. If you can't make a call please click here to send an email.
We ask that you pass this information on to friends and family and ask them to call and write as well. Thank you so much for your support!
More Info
Hemp History Week
is the largest national grassroots marketing and public education effort to renew strong support for hemp farming in the U.S. and raise awareness about the benefits of hemp products.
Hemp History Week
seeks to:
Celebrate America's rich history with industrial hemp and educate the public about the barriers to hemp farming in the United States.
Advocate for a federal policy change while sending a strong, positive message to President Barack Obama and Congress to remove barriers to hemp farming and let farmers grow the versatile and profitable crop.
Engage consumers by showcasing the range of hemp products available and the nutritional as well as environmental benefits that they provide.
Please
forward
this announcement widely and get involved.
Save the Date: The 4th Annual Hemp History Week is June 3-9, 2013!