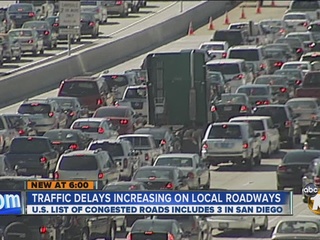 Our infrastructure is built to support a car centered culture. Freeways criss-cross the region and we collectively log 60 million vehicle miles per day on our roads. Morning and evening rush hour traffic has become common and it does not show any signs of letting up.
With alternate options such as The Coaster, North County Sprinter and San Diego Trolley that offers commuters an efficient rail system to get to work and the MTS buses that link these transit hubs to our neighborhoods, we still love our cars.
We spend billions on public transportation projects, such as: widening freeways and HOV lanes, extending trolley lines, park and ride transit hubs and parking lots. SANDAG is charged with reducing Vehicle Miles Traveled (VMT), however with population expected to grow by 1.3 million by 2050 our car miles will be a challenge to decrease.
Transit ridership in San Diego is approximately 7 million passenger trips a month. How can we make public transportation usage more convenient and appealing to San Diegans? How can grow our future, clean the air, and deliver a 21st Century transit system for our region?
Join us and our 2 special guests who are at the center of these future plans.
Speakers:
Jim Linthicum
Director of Mobility Management and Project Implementation
SANDAG
Paul Jablonski  CEO San Diego Metropolitan Transit System