The Twin Cities Pool Meetup Group Pages
The main purpose of this group is to introduce people to this great sport that we love - and help them to achieve their own personal goals. Whether it's to learn and become a better player, or to just enjoy a fun night out with others who share the same interest - and hopefully make some new friends along the way!

The Twin Cities Pool Meetup Group is sponsored by Shooter's Billiard Club, Cafe & Pro Shop in Burnsville, MN. Shooter's will be offering a variety of special deals along the journey that will be available to meetup members ONLY! Look for free instruction/lessons, food & drink specials, and deals on pool time, cues & cases - to name a few!

The Twin Cities Pool Meetup is also sponsored by MN Billiards Magazine | mnbilliards.com - the #1 source for pool news and information in the upper midwest! Grab a free copy of MN Billiards Magazine at Shooter's or your favorite pool table equipped establishment!
Check us out on MySpace and add us as a friend!
mnbilliards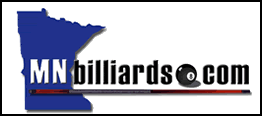 shootersbilliardclub