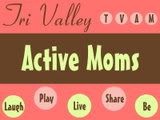 We are a group of moms and dads that like to get together for family fun. Our calendar is filled with events primarily for children 0-6 years. We have mostly daytime events with some evening/weekend events. Dads are always invited and seem to have fun playing on the playground equipment with the kids. We also have moms night out/in when it's our time to have "play dates" and enjoy some adult time without the kiddos.
Tri-Valley Active Moms is designed to provide a safe and caring support network for moms and kids. Members of TVAM support each other through friendship, encouragement and sharing of experiences. This is a laid-back, child-centered, friendly organization intent on enriching the quality of life for mothers.
GROUP DUES:
We collect annual dues of $6 per member to help cover the cost of Meetup and host group parties (Anniversary Party in April and a Holiday Party). Meetup costs $72 every 6 months. We are requesting that all members of TVAM help pay these costs since this group is for all of us to enjoy.
All funds are tracked and accounted for.
No refunds will be given if you leave the group or are removed.