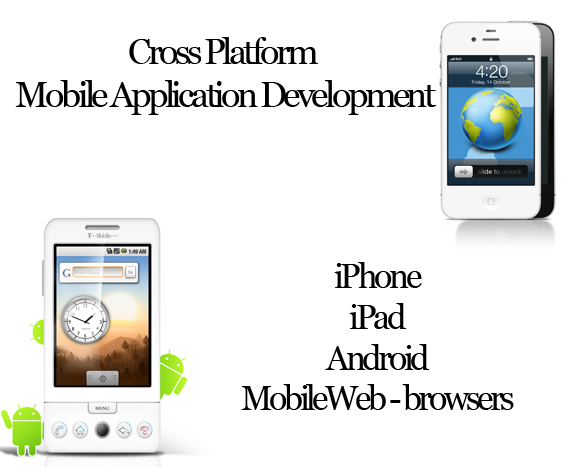 Introduction: The world of mobile application development is evolving very fast. A major driving factor behind these developments is the contributions made by the international community of developers in the form of open source platforms that enable the generation of native apps from a single code base.
---
The Cross Platform Application Development taught in this class enables the development of applications that can run on:
iPhone
iPad
Android
MobileWeb - browsers
---
Benefits
---
Access to all markets: The most valuable benefit of taking this class is that it covers multiple platforms in a single training
---
Mobile application development is here to stay: Smart phone companies have spent 100s of millions of dollars in research and development in order to deliver to the world a product that revolutionizes the way we live.
To add some numbers to this: Apple has spent 876 Million as of June 2012 on research and development.
The result of all this investment is that we now have smart phones with more computing power than many desktops. The ability to make a smartphone is not readily accessible to individuals however the ability to make applications that utilize these smartphones is.
---
Impossible to avoid: Businesses have to adapt to the smartphone revolution, there is no way around it. This adaption ranges form sending and receiving emails to mobile applications and internal mobile enterprise solutions.
As a result there is a demand for experts who can help companies adapt to this change. Having a smartphone integration strategy has significant implications for the sustainable competitive advantage of most companies.
---
Make more money: Smart phone application development rates range form $50 to $200 an hour. The global demand for mobile application developers is growing exponentially.
---
Building cross platform applications saves time and money
---
Do Not Wait: There has never been a better time to learn Mobile Application Development than now; this is empowering education that can translate into a prosperous career outlook.
---

About the class: This is a 2 day training with a commitment from 9:00 AM – 5:00 PM each day. The class prepares students on how to use JavaScript for making a Cross Platform Mobile Application.
Pre-Requisites:
Familiarity with JavaScript.

Please remember to bring your laptop

If you have a windows machine then your operating system should be Windows Vista or higher.

If you are using a MAC then please have the X-Code already installed on your machine.

Memory: your laptop should have at least a 2GB RAM

Java Runtime: Please have Oracle JDK (32bit version for Windows)

For Windows:
---
Topics:
Refresher on JavaScript
Overview of native application development and options for cross platform development
User Interface Fundamentals
Building Apps using Native UI Components
Working with Local and Remote Data Sources
Integrating Google Maps and GPS
Interacting with Native Phone Applications and APIs
Integrating with External Services
Integrating Web Content
Enhancing Apps with Audio, Video, and Camera
Creating Animations, Transformations and Drag-and-drop
Deployment and Distribution
Applying newly acquired skills to real projects
---