Would you like a little adventure and something new and exciting? Are you tired of the same old stuff? Are you up for visiting interesting areas around Long Island and using clues and puzzles to solve problems to accumulate points? If you answered YES then keep on reading!
We are going to gather at Field 6 of Heckscher State Park in East Islip at 9am. You can participate as a team or as an individual but it'll be more fun as a team. I will give instructions and hand each team a sealed envelope and at exactly 9:30am you will be allowed to open the envelopes to find a barcode that you need to scan with a smartphone. The game will commence as soon as the barcode is scanned and then you'll be able to see all of the activities that need to be done within a certain time period.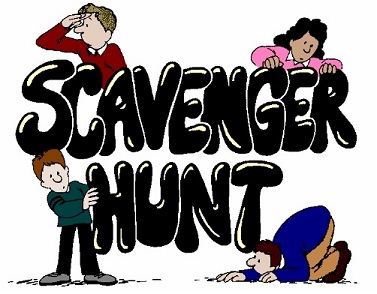 You and your team are going to have to answer random trivia questions, visit various local landmarks, bring back specified items, take photos of you and your team at certain places and more! Each requirement will have a different point value depending on the level of difficulty. For instance, answering a multiple choice question correctly might give you 5 points but taking a picture of you and your team at a local landmark might yield 50 points!

The activities do not have to be done in any kind of order so every team will be split up all across Long Island as they race each other to maximize their point totals. There will be around 100 different activities so the chance of bumping into another team is slim. Also, since there are 100 activities there is no way that you will accomplish each one within the time span of this adventure. It's up to you to pick the most rewarding activities to maximize your point total!

Now for some ground rules....
• At least one member from each team must have a smartphone and that will be the only one used to keep track of your team points and to enter the scavenger hunt information.

• That smartphone must have the Scan Quest app (It's free!)

• Envelopes are not to be opened until instructed or risk disqualification without refund

• Prizes will be awarded to the top 3 point totaling teams with the prize money based upon the number of entries. Total points calculated at the end of the day by Chris. In the event of a tie prizes will be distributed evenly. ie- If two teams tie for 1st then they each split the 1st place prize equally and so on for 2nd and 3rd place ties.

• You are responsible for your own equipment and cell phone signal problems and the like. These are your responsibilities and do not constitute a refund the day of the event.
• Yes, this is a race to gather the most points but please obey any and ALL traffic and safety laws.

Once you open your envelope the morning of the event you are going to have to open the Scan Quest app on your phone and select the Scan Code button below. The code will be contained inside the envelope.

After that you will be prompted to enter your unique team name. Remember, the game has already started so pick a team name before hand.

Once you input your team name simply click on the Challenges button and you'll see the next screen. The challenges button will display all the possible things you can do that day to accumulate points. You can also see the point value attributed to each event in the parenthesis. This is just a small sample of activities and come game day there will be around 100 to choose from. They do not have to be completed in any order and it's up to you to select which activities to do in order to earn the maximum number of points!


Clicking on the "Bike Drawing" link on the previous screen brings up the following page. Simply use the colored pencils to draw the image and then select save to complete the challenge and earn 5 points.

Click on the Total Bike Rides in 2015 link up above brings up this page. You're going to have to visit our website and count the number of bike rides we had in 2015 and give the answer below. Or you could save time and just guess an answer but you'll probably be wrong. :-)

Another fun activity is the requirement to take a team picture at a local landmark or of your team doing something funny or unexpected. This time the requirement is that you need to take a picture of one of your group members eating Taco Bell inside a KFC restaurant.

Again, this is just a small sampling of what you can expect and I don't want to give away too many clues or possible things you may need to do that day. Just show up, expect some unexpected things and have some good, clean fun!
This is a TIMED event and you can see the yellow box in the above images. That is the timer that begins as soon as you scan the barcode in the morning and you won't be able to edit your answers or answer any more questions once the timer is done!

TIPS- It is in your best interest to have a full gas tank since you will be driving around Long Island and have the capability to charge your phone during the event since you will be constantly using it for the various activities. A bicycle for EACH member of your team is probably a good idea for certain activities. (wink, wink) Lastly, reviewing and analyzing the Active Long Island website is a good idea. No more hints will be given so be prepared for anything! :-)