Thanks so muck to those who have already RSVPed for Westside 3rd Saturday Art Walk. Art meetup values your support. This walk is one of my favorite casual monthly art events. I look forward to meeting new members and seeing friendly faces.We will start out at Get This Gallery at noon. Notice that I have posted more media links with pictures for those wanting more information about the walk.

Join us. Lets Stroll and appreciate some fabulous art! And for those wanting even more art, I wil be continuing on to BURNAWAY Inaugural Fundraiser and Exhibition. Click to read more info on this event here.
Click here to RVSP for Westside 3rd Saturday Art Walk.
Dia Starr
Atlanta Art Meetup Organizer
Curator/Artist/Muse
[masked]
The Westside Art Walk is a presentation of the Westside Arts District and occurs on the third Saturday of every month from Noon to 5pm, unless otherwise noted. This art-centric event is intended to encourage public interaction and education of visual art in the emerging art district in Atlanta?s Westside neighborhood. There is plenty of free parking at each venue.
Atlant Art Meetup Donates its time and money to the arts!
We do not charge for most metups unless asked to do so by a venue!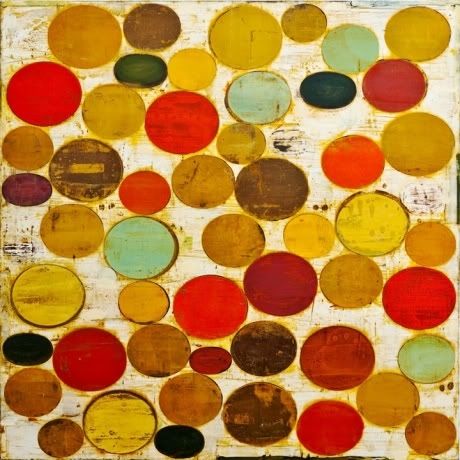 John Belingheri, Facades-Rumba, 2010, mixed media on canvas, 48" x 48" at Sandler Hudson Gallery
"People thought we were crazy for wanting to move here," says Robin Sandler, co-owner of Sandler Hudson Gallery. When the gallery relocated to the Westside in 2004, Sandler says they were mostly interested in being closer to the Contemporary, "We had no idea what it would become."
Six years later, the Westside Arts District has coalesced into an alliance of focused galleries (Saltworks, Get This!, Emily Amy and Kiang among them) that mixes international talents such as China's Chi Peng with recognized locals such as Fahamu Pecou and Jiha Moon.
The walks have put a fine point on the neighborhood's curatorial prowess, stocking the daytime schedule with artist talks and the occasional string quartet. You're more likely to find the audience here sipping one of Octane's lattes than a glass of wine.
Sandler credits the event's success to gallery owner Emily Amy, who spearheaded WAD in 2009. "When you've been doing this as long as I have, it's hard not to be cynical about getting more people interested in coming to a gallery," Sandler says, referring to her three decades of experience in Atlanta's art scene. "But the walk has never once struggled to find an audience since we started."
Not every gallery in Atlanta is connected with an art walk (Whitespace and Eyedrum come immediately to mind), but the trend continues to grow. Young Blood and Kibbee, both located in Poncey-Highland, have begun coordinating their openings to encourage walking between the two spaces. Axiom, a one-night-only event in Old Fourth Ward last fall, demonstrated how unoccupied retail space could be transformed into a new gallery district with relative ease.

Axiom organizer Danny Davis says the appeal is simple, "People need and want times to come and see artwork and be inspired without intimidation. Art walks are accessible. They're on the street. If you give people those opportunities, that talk will turn into walk."
Wyatt Williams, Creative Loafing
"Neighborhood art walks thrive in Atlanta"
Click Here to read the full write up!
Photo: Philip Trammell Shutze, Architecture Tourist (blog)
Click here to view more Photos of a previous Westside Art Walk
Featured Galleries
GET THIS! GALLERY
**Artist talk Noon to 1pm**
662 11th St NW. (678) 596-4451.
www.getthisgallery.com. Noon - 5pm.
Artist Andy Moon Wilson will give an informal talk about his current solo exhibition, Laserwarrior. The show consists of an installation of 550 original 4 x 4 inch drawings on paper.
SALTWORKS
**Final day of exhibition**
664 11th St NW. (404) 881-0411.
www.saltworksgallery.com. Noon to 5pm.
PREMA MURTHY // BREAKING THE GRID
SALTWORKS is pleased to present Breaking the Grid, a multi-media exhibition of new works by Atlanta-New York based artist, Prema Murthy. Breaking the Grid, is a play on the use of the ?grid? in 3D modeling graphics programs as well as its use in Modernist art as a stylistic device to perpetuate the idea of the monolithic and monumental.
SANDLER HUDSON GALLERY
**New Exhibition**
1009-A Marietta Street NW, (404) 817-3300.
www.sandlerhudson.com. 11am to 5pm.
John Belingheri: Bay Area artist John Belingheri explores repetition of form in his mixed media and oil paintings. Each painting features an intently mapped array of ellipses that guide the viewer?s eye around the canvas.
Pam Longobardi: In celebration of Pam Longobardi?s new book from Italian publisher CHARTA, Material Drift probes a step deeper into Longobardi?s obsession with the material detritus of contemporary disposable consumer culture.
TWIN KITTENS
**New Member Gallery**
1016 Howell Mill Rd. Unit 3208 (entrance on 10th St.). (404) 803-4316.
www.twinkittens.com. Noon to 5pm.
Charles A. Westfall // Gypsy Acid Queen. In his most recent body of work, Charles A. Westfall uses painting to engage with notions and archetypes of female aggression, power, and violence.
ADDITIONAL GALLERIES OPEN FOR VIEWING:
ASTOLFI ART
1170 Howell Mill Road, Suite P-16. (404) 307.0215.
www.astolfiart.com. Noon to 5pm.
In their second two-person show titled BOSQUE 2, artists, Anke Schofield and Luis Garcia-Nerey, explore the aesthetics of and the psychology behind the forest. In this exhibit, the two artists compare the social dynamics and the hierarchy within forest animals in relation to our own society.
TANNER-HILL GALLERY
1170 Howell Mill Road, Suite 111. (404)[masked]
www.tannerhillgallery.com. Noon to 5pm.
Artists: Jodi Hays, Peter Vaughn, Willie Young
ROTATION 2010 featuring the works of Jodi Hays, Peter Vaughn and Willie Young and is the first installation of a three part series featuring the most recent works of gallery artists.
EMILY AMY GALLERY
1000 Marietta Street NW, Suite 208. (404) 877-5626.
www.emilyamygallery.com. 11am to 5pm.
Re-Purposed: The Use of Everyday Materials in Contemporary Art. Emily Amy Gallery is pleased to present Re-Purposed, an exhibition of new works by Sara Cole, Will Corr, Clayton Santiago and Sherry Williams.
KIANG GALLERY
1011-A Marietta Street. (404) 892-5477.
www.kiang-gallery.com. Noon to 5pm.
Kiang gallery is proud to present In Significance, a collaboration in porcelain and light by Pandra Williams and Annette Gates.
OCTANE COFFEE BAR
1009-B Marietta Street NW. (404) 815-9886.
www.octanecoffee.com. 8am to 10pm.
Rotating exhibition of local contemporary artists.
Posted and Hosted By:
BombSheDevil/Dia Starr
Click My Links Below
Friend me on Meetup.com
Follow me on Twitter!
Friend me on Facebook!
Add me on Myspace!