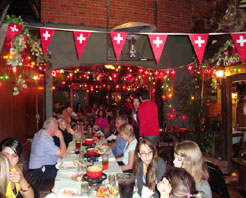 Hi Everyone, We have a few discounted tickets ($10, instead of $20 door price) for a Fondue Tasting event this Wednesday in Berkeley (while they last!). Network and make new business and personal connections while enjoying fondue in Berkeley at Fondue Fred's on Wednesday 10/24 from 6pm to 8:30pm. Use code "idea2" to on Eventbrite page http://www.berkeleynetworking.eventbrite.com.
Direct link is http://berkeleynetworking.eventbrite.com/?access=idea2
Full Details:
Enjoy Fondue and Network with 50-75 other people in the indoor brick courtyard at Fondue Fred in Berkeley. This Tasting and Networking Event is on Wednesday October 23rd, 2012 is from 6:00pm to 8:30pm at Fondue Fred in Berkeley.
Network and socialize with other professionals, successful business owners, attorneys, bankers, real estate developers, physicians, technology gurus, sales and marketing experts and other professionals who live or work around Bay Area while enjoying the experience of Fondue Fred, which has been a Berkeley institution for over 50 years.

Fondue and Networking is the perfect match, like Real Estate and Technology. Our featured sponsor of this event is 357 Estates (www.357Estates.com) who brings a unique approach to real estate, which enables real estate buyers the opportunity to not only educate themselves on the real estate purchasing process, but to increase their deal's efficiency and save thousands of dollars in the process. Visit www.357Estates.com to learn more.
Event Includes:
Friendly greeters and an overall environment that makes it fun and easy to connect with others
Networking while enjoying several fondue entrees and dessert samples from their catering menu such as:
Appenzeller –

Gruyere, Ementhaller and Appenzeller cheese with white wine

and ground nutmeg.

Ticines – 

Season mushrooms, tomato, green onions and Gruyere, Ementhaller

with white wine

Fiesta Time - Sharp Cheddar, Gruyere, Local IPA, mushrooms, fresh tomato salsa, jalapeno, and green onions.
The Goodie - Gouda cheese, Gruyere, Ementhaller, Local IPA, turkey bacon, hearable seasoning, and sun dried tomatoes
Chocolate Dessert Fondue - Mile Chocolate Fondue topped with sliced almonds; served with pound cake and seasonal fresh fruit.

and much more...
For their full menu visit www.fonduefred.com/menu.html
Event Location: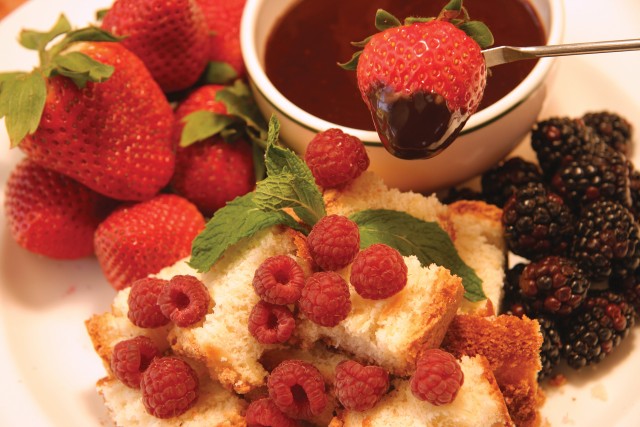 Fondue Fred (www.fonduefred.com)
2556 Telegraph Avenue, Berkeley






Telephone:[masked]
Conveniently located in the heart of downtown Berkeley inside the Village Mall on Telegraph Ave. Fondue Fred provides a culturally warming environment for networking events.
Timing:
This VIP event is held on October 23, 2012 from 6:00 pm-8:30 pm at Fondue Fred in Berkeley. It starts promptly at 6pm. Please arrive between 5:45pm-6pm for check in. The tasting experience goes from 6:00-8:30pm.
6:15pm-7:30pm Fondue Entree Samplings
7:45pm-8:30pm Fondue Dessert Samplings

7:30pm The Raffle (Bring your business card)
This event is $15 with an RSVP. RSVP NOW so we can add you to the guest list! MUST RSVP on Eventbrite at http://www.berkeleynetworking.eventbrite.com.
At this point you have all the information you need...
... However if you want even MORE information feel free to keep reading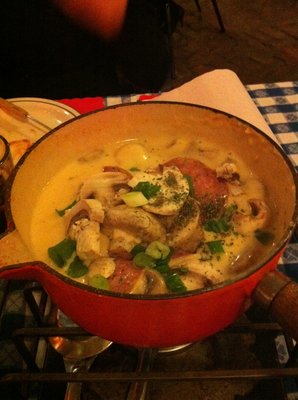 Who will be there?
Young Professionals who want to socialize, entrepreneurs, business owners, attorneys, bankers, real estate developers, physicians, technology gurus, sales and marketing experts and other professionals, along with others to socialize and meet new people.
How many people show up?
Our events have at least 50 people, up to 175 people depending on the venue. We make sure people are open and approachable, regardless of how many people show up... you will be able to meet and talk to anyone... our greeters will be there to make introductions and keep things moving.

What to Bring:
Bring your cards. Bring at least one card for Walnut Creek Events, so we can enter you in a raffle. Last time we gave out a $25 gift card to Fondue Fred. 

How to Dress:
This is an after work networking event, so even if you did not work...pretend and dress like you did! We all look good, when we dress professionally.
About Fondue Fred:
With over 50 years of crafting the art of FONDUE-ING, Fondue Fred (www.fonduefred.com) has strictly focused on quality and supporting their local businesses. The use of the finest and freshest ingredients to make their fondues is unique and unforgettable. Each handcrafted pot of fondue has been selected with only the freshest seasonal products in their local organic markets and farmer markets.
Event Featured Sponsor:
357 Estates: Beyond the Real Estate (www.357estates.com). Servicing the San Francisco Bay Area, we are a unique brokerage firm dedicated to matching our clients with their ideal Northern California lifestyle. By leveraging our superior local market expertise in popular communities from San Francisco to the East Bay, we create value beyond marketing brick and mortar real estate by linking each client with the nearby amenities, landmarks, neighbors and events that will define their daily lives for years to come. 357 Estates believes in using the newest technologies and introduces Magenta (www.beta.themagentaproject.com), which allows individuals seeking to purchase real estate to take control of the real estate process. CA DRE Broker #01318420.
About The Organizer:

David Mitroff, Ph.D. is a Connector, Master Networker and Entrepreneur. David is the Founder and Chief Consultant of Piedmont Avenue Consulting (www.PiedmontAve.com) a San Francisco Bay Area based business development and marketing consulting firm. David and his team work with clients across numerous markets and sizes to create brand awareness, strengthen customer loyalty and streamline business processes. David is an active member, on the executive board, or advisory committees for several organizations. He continually collaborates with several consultant groups, merchant associations, and charities to best serve the community.

Our goal is that upcoming events will meet the following Criteria:
Located around the San Francisco East Bay


Feature top notch Speakers and Experts

Emphasize Social and Business Networking

Amazing venues that can accommodate 200+ people

Mixture of Free and Paid Events (Help us get paid sponsors or sign up to be a sponsor to help us keep prices down)

Keep you informed - We will also let our members know about smaller events that are worth checking out that we think our members will be interested in.
Want to Volunteer?
We are looking for volunteers to help out at our events. Please introduce yourself to us or email [masked] and let us know how you would like to volunteer and we can then better determine if their is a good fit.
Greeters

Photographers

Social Media Promoters
Want to be a Sponsor?
Advertise and promote your business to our huge audience across emails, at events, and on our website and social media sites. Please contact us to learn more and to determine if their is a good fit.
Gifts and Donations

Raffle Items

Food and Drinks

Event Space Sponsor
RSVP Required on Eventbrite @ http://www.berkeleynetworking.eventbrite.com
Without an Eventbrite RSVP - If space is available you can purchase a ticket at the door for $20.