My family and I (10 of us) ate at
Spice Island Grill
last night. We tried a large variety of vegan options off their menu. Everything is made to order (which is great), so allow for a little additional time. We just sat and relaxed.
First, they'll bring out some
complimentary cornbread
with a sweet jam. They do make a vegan version, so be sure to specify. The nutmeg is a delicious addition to this homemade treat.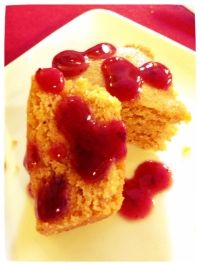 As an appetizer (or JAMMIN-'TIZERS as they call them), we tried their:
Fried Ripe Plantains
Tofu Fries
Island Sweet Potato Gems
They were all very good. It was difficult to pick a favorite.
From their great entrée selections, we had:
The Brown Stewed Tofu
(awesome and delicious with brown rice and sautéd cabbage)
The BBQ Tofu
(tasty!)
The Tofu and Chick Pea Curry
(great flavor!)
The Asparagus-Tofu Salad
(the dressing has a nice spiciness to it)
On the side, we requested some hot sauce. Their version is tangy and spicy...really good!
Their newest meat substitute offered on the menu is ACKEE. It's a jamaican fruit that they sauté and mix with a variety of veggies. Like tofu, it will take on the flavor of spices you cook with. I wish we would of tried it but I guess it's just an excuse to go back.
Soon to be added to their menu are fresh juices. They are about to launch their facebook page where you can follow them and be alerted to special events, including the launch of these healthy, power packed juices! Very exciting!
This family owned restaurant takes pride in their cooking and service. You won't be disappointed. Also, if you plan to head to veg fest, bring your appetite, as they'll be preparing some of their great dishes (both days).
Thank you, Spice Island Grill (Claudette and her family), for being so nice, accommodating, vegan and vegetarian friendly!