This trip will take us to visit and explore two Portuguese historic villages: Cascais and Sintra. We will cycle and walk along the seaside, learn to cook a traditional Portuguese meal visit a castle, a palace and a convent as well as magical gardens, waterfalls and wells. We set our feet on the most Western point of Europe and try the best sweets Portugal has to offer! 

We will stay and explore the beautiful and picturesque Cascais. 
Getting to know Cascais is like living in all times. A magical place of Portuguese society with its palaces by the seashore, its churches and chapels, stories of spies and conspiracies, Roman and Visigoth ruins, its many forts erected for the defence of Lisbon and manor houses of the old Portuguese nobility who, after the 19th century began to use the coast as summer resort! Adding to all that, Cascais is one very cool village with glorious beaches and a vibrant nightlife for us to explore! 
We will cycle along the seaside, visit Cabo da Roca (the most western point of Europe) and learn to cook with a local chef the best of the local cuisine dishes the famous "Seafood Rice Stew".
We will also try more of the local seafood cuisine in a restaurant right over cliffs at the famous Boca do Inferno (the Hell's Mouth)! We will explore the vibrant atmosphere of Cascais-by-night with its great diversity of very cool bars and cafes just 5 minutes down the road from our hostel, in the Center of Cascais village! 
Sintra will be the first and last destination of this adventure. This is my favorite place in the World! With its rippling mountains, dewy forests thick with ferns and lichen, exotic gardens and glittering palaces, Sintra is like a page torn from a fairy tale.
This Unesco World Heritage village, is dotted with pastel-hued manors folded into luxuriant hills that roll down to the blue Atlantic. Celts worshipped their moon god here, the Moors built a precipitous castle and 18th-century Portuguese royals swanned around its dreamy gardens. Even Lord Byron waxed lyrical about Sintra's charms: 'Lo! Cintra's glorious Eden intervenes, in variegated maze of mount and glen', which inspired his epic poem Childe Harold's Pilgrimage. Extravagant and exquisite, Sintra has ivy-clad Rapunzel turrets, nature-gone-wild botanical gardens and forests strewn with granite boulders.  
Beneath is a bit more about a few of the places we will visit. Check it out! 

Boca do Inferno 

Boca do Inferno is located on the West coast of the Town of Cascais. The name "Boca do Inferno" (Hell's Mouth) was attributed to this place due to the morphological analogy and to the tremendous and frightening impact of the waves which can be felt there. With unique characteristics, it is a place for leisure, where it is possible to enjoy a divine landscape and magnificent sunset. Nowadays, the sea with violent and ruthless shocks, is elevated in white and deadly foam over dozens of meters, wearing out the millenary rock, thus increasing the spectacularity and size of the Boca do Inferno. 

Cabo da Roca

Cabo da Roca (Cape Roca) forms the westernmost extent of mainland Portugal and continental Europe. The Cabo da Roca Lighthouse is a beacon/lighthouse located 165 meters above the Atlantic Ocean. It is situated on a promontory that juts out into the ocean, made up of granite boulders and interspersed limestone. It is a third-order lighthouse, which originally began operating in 1772. It was the first new purpose-built lighthouse to be constructed in the country: the older lighthouses in existence at that time, were constructed on existing platforms or from pre-existing beacons.
Quinta da Regaleira   

This magical four hectare villa and gardens is a neo-Manueline extravaganza, dreamed up by Italian opera-set designer, Luigi Manini, under the orders of, António Carvalho Monteiro, a know Freemason. The villa is surprisingly homely inside, despite its ferociously carved fireplaces, frescos, Venetian glass mosaics, its enigmatic buildings, parks and tunnels  laden with symbols related to alchemy, Masonry, the Knights Templar, and the Rosicrucians.
Quinta da Regaleira's Initiation or Initiatic Well represents a journey of rebirth and self discovery. The 27 meter deep well, resembles an inverted tower, and depending on the direction you choose, either a journey down into the depths of the earth, or a climb out of the darkness into the light, the journey through the earth is like a rebirth through mother natures womb, from where all things come and where one day all shall return. 
There are obvious Hermetic/Rosicrucian connotations in the well "That which is Below corresponds to that which is Above, and that which is Above, corresponds to that which is Below, to accomplish the miracles of the One Thing" Hermes Trismegistus. 

The well is divided in nine platforms reminiscent of the Divine Comedy by Dante and the nine circles of Hell, the nine sections of Purgatory and the nine skies which constitute Paradise. At the base of the well you will find a Rosicrucian Cross, which also happened to be the coat of arms of the owner Antonio Carvalho Monteiro.
Convento dos Capuchos  
Hidden in the woods is the bewitchingly hobbit-hole like Capuchos Convent also known as the Convent of the Holy Cross. It was built in 1560 by Don Álvaro Xavier de Castro, the State Counselor of King Sebastian, fulfilling the wish of his father, who wanted to build a Christian temple on the site. It is said that Don João de Castro, the fourth Viceroy of India, made that promise after a divine revelation he had when felt asleep after getting lost, chasing a deer.
The Capuchos Convent was handed over to the Order of Friars Minor and occupied by eight friars, who covered the walls and ceilings with cork, preventing humidity. Austerity and poverty are its main characteristics. It contrasts with the world famed monumentality of Sintra.
It's often nicknamed the Cork Convent, because its tiny cells are lined with cork. Visiting here is an Alice in Wonderland experience as you squeeze through to explore the warren of cells, chapels, kitchen and cavern.
It does give you a sense of spirituality as you slowly walk through this setting.
Friar Honório was the most famous member of the order. He lived the last decades of his long life – some say he lived to 100 years old – in a small hole inside the convent, obeying penance. The Friar was buried on the grounds of the chapel. 
Friar Honório is also the protagonist of another legend: During a walk the Friar found a beautiful girl. As he was virtuous he didn't dare to face her. However the girl made him stop, for she wanted to confess her sins. Friar Honório told the girl to go to the convent but she insisted. So the Friar turned to her. But he covered his face with a hand and made the sign of the cross with the other. The girl, who was the devil in disguise, screamed and disappeared for ever. However, Friar Honório believed he almost fell in temptation. Therefore he withdraw into a cave of the Capuchos Convent for the rest of his life, surviving only with bread and water.
The Order remained on the convent until 1834 when the liberal government decreed the prohibition of the religious orders in Portugal. By then the friars were expropriated from their lands. Later on in 1949 the convent was bought by the Viscount of Monserrate and today it is managed and being recovered by the Sintra Parks Sierra of the Moon. 
The wood that surrounds the Capuchos Convent is one of the most significant examples of the native forest of Sintra. It mainly comprises oak trees, ferns, moss and climbing plants.
Castelo dos Mouros 
Soaring 412m above sea level, this mist-enshrouded ruined castle looms high above the surrounding forest. This 9th-century Moorish castle's dizzying ramparts stretch across the mountain ridges and past moss-clad boulders the size of small buses. When the clouds peel away, the vistas over Sintra's palace-dotted hill and dale to the glittering Atlantic are – like the climb – breathtaking.
Pena Palace 
Rising up from a thickly wooded peak and often enshrouded in swirling mist, Palácio Nacional da Pena is pure fantasy stuff . The wacky confection is a riot of onion domes, Moorish keyhole gates, writhing stone snakes and crenellated towers in pinks and lemons. Ferdinand of Saxe Coburg- Gotha, the artist-husband of Queen Maria II, commissioned Prussian architect Ludwig von Eschwege in 1840 to build the Bavarian-Manueline epic (and as a final flourish added an armoured statue of himself, overlooking the palace from a nearby peak).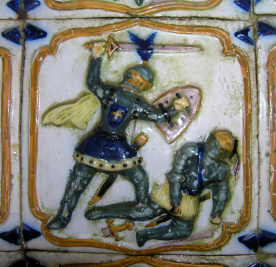 The Triton is a mythological Greek god, the messenger of the sea. He is the son of Poseidon and Amphitrite, god and goddess of the sea respectively, and is herald for his father. He is usually represented as amerman, having the upper body of a human and the tail of a fish, "sea-hued", "his shoulders barnacled with sea-shells".
Like his father, Poseidon, he carried a trident. However, Triton's special attribute was a twisted conch shell, on which he blew like a trumpet to calm or raise the waves.
According to Hesiod's Theogony, Triton dwelt with his parents in a golden palace in the depths of the sea.
The Pena Palace Gardens..
Our very cool and neat Ljmonade Hostel: 
Better than writing about Cascais and the Ljmonade Hostel is giving you a little taste of the place where we will stay. in the video you will be able to see the dorms we will be staying on, the hostel Kitchen and the pretty lady in the video is Julia, the hostel manager who will lead our cycling trip to Guincho and show us around! Check it out: http://vimeo.com/77429696 
Price: 
Early bird price for this trip is £220. It only applies if you pay the full amount before 1st March. If you pay the full price between 1st and 31st March, it will increase to £240. After 31st March the price will raise to £265.
The places are limited, so grab yours quickly to avoid disappointment. 
Deposit: Paying the non refundable deposit of £100 (+paypal fees) on RSVP will secure your place. Please note that until the deposit is paid your place is not confirmed. 

The final payments have to be in Kat's account 2 weeks before the trip the latest. Please put this date on your diary now as no reminders will be sent and if you have not paid by then your RSVP will be removed and your deposit will not be refunded. Please take the paypal fee into account when calculating your totals. If you pay the deposit via paypal and the reminder into bank account, the paypal fees will be £3.80 (as set up on the page). So your respective figures will be £223.80, £243.80 or £268.80. If you chose other ways to pay it - you will have to cover the fees incurred.  
To proceed with the payment please follow the link: 
http://www.meetup.com/Curious-Kat-Adventure-Club/pages/Bank_account/ 
What's Included: 

* Accommodation @ the beautiful Ljmonade Hostel (dorms will be shared by 7 people) 
* Breakfast Saturday and Sunday (make it yourself - see full list of ingredients / food provided beneath on breakfast notes) 
* Portuguese Seafood Workshop & Meal (Friday night dinner - full meal including soup, main dish, wine / drink and coffee) 
* Bicycle Hire 
* Entry to the Sintra Historic Sites: Capuchos Franciscan Convent, Mourish Castle, Pena Palace and Quinta da Regaleira. 
* Private Minibus Transfer from the airport and back. 
* Private Minibus Transfer to and from Sintra. 
What's not included: 
* Flights  
* Meals other than breakfasts and the Friday Seafood Workshop Dinner  
* Drinks
* Taxi return to Cabo da Roca (around €15 return so €3.75 if sharing by 4 people) 
And the plan for our adventure is… 
Day 1 - Friday 11 April 2014 
14:35  Arrive at Lisbon airport 
14:35 – 15:35 Collecting luggage and going through customs 
15:35 – 16:30  Private minibus transfer to Sintra Quinta da Regaleira (transfer included) 
16:30 - 18:30  Visit Quinta da Regaleira. There is a café inside Regaleira where we can get a grab a light bite (entry ticket included; food not included) 
18:30  - 19:00 Private minibus transfer to Ljmonade Hostel in Cascais (transfer and  accommodation included) 
19:00 – 20:00 Check in and relax. 
20:00 – 23:00 Workshop on Portuguese Seafood Stew and a Vegetarian Option (for the vegetarians) + dinner = you will eat what you cook [full dinner included: main meal; 1 soft drink / a portuguese beer / 1 bottle of wine for 2 people (the wine is an Excellence Wine: Herdade Monte da Ribeira from the Vidigueira Region of Alentejo Portugal); for desert a traditional portuguese recepy Pears cooked in Red Wine; and the typical Portuguese coffee shot to seal the deal!)
23:00 – Late  Drinks in the picturesque village of Cascais (drinks not  included) 
Day 2 - Saturday 12 April 2014 
"Make it yourself breakfast" available from 8am (included + extra sandwich for the trip) Please read the Breakfast notes bellow for further details and a full list of food / ingredients provided. 
10:45  Meet in the lounge ready to collect bicycles. 
11:00 - 12:00 Cycle along the coastline to Abano Beach in Guincho -  5miles[masked]yd (bicycle hire included) 
12:00 - 14:00 Short walk on the rocky coast with a stop on the Guincho Fort for a snack (alternatively, after the cycle, you can stay and relax in Abano beach if the weather is good and you prefer it rather than doing the walk) 
14:00 - 14:20 Taxi to Cabo da Roca (not included - approximately (around €15 return so €3.75 if sharing by 4 people)  
14:20 - 15:20 Visit Cabo da Roca - the most Western point of Europe 
15:30 - 15:50 Taxi back to Guincho (not included - approximately €[masked] way so €2.5 per person if shared by 4 people)  
16:00 - 19:45 Cycle back with several stops for sight seeing at the Cresmida Sand Dunes and Boca do Inferno (Hell's Mouth) where we will also have a meal in a local restaurant over the cliffs and have visit a small local handcraft fair where we can shop for souvenirs (souvenirs and meal not included. Meals approximately €20 for a Fresh Seafood Meal)  
20:00 Back to Hostel -  free time to relax and go out and explore the Cascais vibrant nightlife, with its many cafes, bars and clubs (not included). 
Day 3 - Sunday 13 April 2013 
"Make it yourself breakfast" available from 8am (included + extra sandwich for the trip) Please read the Breakfast notes bellow for further details and a full list of food / ingredients provided. 
10:45  Check out (luggage will stay on our private minibus whilst we visit Sintra). 
11:00 - 11:50  Private Minibus Transfer to Capuchos Convent (transfer included) 
11:50 - 13:20 Free time to visit Capuchos Convent (entry included) 
13:20 - 13:40 Private Minibus Transfer to Castelo dos Mouros / Palacio da Pena (transfer included) 
13:40 - 16:40 Free time to visit the Mourish Castle and / or Pena Palace (entries included) 
16:40 - 17:00 Private Minibus Transfer to Sintra (transfer included) 
17:00 - 18:00  Visit the cafes in Sintra Village and grab a bite. I would suggest trying the traditional Sintra pastries "Travesseiros" and "Sintra Queijadas". I suggest a Sintra café called Piriquita, which makes the Travesseiros there and then - we should be able to eat them still warm, just coming out of the oven. (food not included) 
18:00 - 19:00 Private Minibus Transfer from Sintra to Lisbon airport (transfer included) 
19:00 Arrive at Lisbon airport for check in 
21:00 Flight departs 
Flights:  
http://www.edreams.co.uk/engine/ItinerarySearch/filter  
I suggest the following flights:  
OUTBOUND  
 TAP flight  
Friday 11/04/2014  
Departure: 11.55am Heathrow Airport  
Arrival: 14.35am Lisbon Airport  
RETURN  
Easyjet flight  
Sunday 13/04/2014  
Departure: 21.00 Lisbon Airport  
Arrival: 23.40 Luton Airport  
Price:[masked] GBP  
Important Notes:  
On Flights, Times and luggage
The above prices are for (in your outbound flight with TAP) 1 checked in bag + 1 hold bag; and (in your return flight with easyjet) 1 hand bag only. If you take checked in luggage with you will need to add that to your easyjet return flight and pay the extra fee. But for a weekend you might not need more than hand luggage.  
You are highly recommended to book these flights so that we can all get to Lisbon airport at the same time.   
If you do book a different flight, make sure your Outbound flight is scheduled to arrive at Lisbon airport either at the same time or earlier than the flight that I am suggesting, as we wont be able to wait for anyone on later flights. This is because we have a private minibus transfer scheduled for a specific time and a packed scheduled of interesting activities we don't want to miss!   
Also, if you do book a different flight, make sure your Return flight is scheduled to depart from Lisbon airport either at the same time or later than the flight that I am suggesting. This is because our private minibus transfer from Sintra is scheduled to drop us at the airport by 7,30pm. If you book an earlier return flight, in case there are delays of any kind, I wont be able to assure you that you will have enough time to board your flight.   
The Minibus will pick us from the airport and takes us directly to Sintra without passing through the hostel. We will be able to leave our luggage in the minibus with the driver, whilst we visit Sintra. After the visit we it will pick us up and take us to the hostel in Cascais.   
On Breakfast  
The kitchen is fully equipped with all you need to cook your own breakfast. You can also make yourself an extra sandwich to take on Saturday and Sunday as a light meal. Coffee and Tea are free and available all day at the Ljmonade Hostel. Breakfast ingredients include: Fresh daily bread, various jams, butter, cheese, yogurts, tea, coffee, milk, cereals, eggs, muesli, fresh fruits, lemonade. Also the hostel has toaster, a small oven, water kettle, stove, and all the usual kitchen facilities available. On our request, ingredients can be added to the breakfast menu.  
On Sight Seeing 
You are strongly encouraged to bring walking shoes and waterproof jacket in the event of rain during the cycling or exploring the sites. 
You are strongly encouraged to bring with you a light meal (such as a sandwich, an energy bar and some water) as some of the sites might not be appropriately supplied for lunch. This might be the case for the Sintra Attractions and the Cascais - Guincho - Cabo da Roca circuit.  
The order in which we visit Sintra's attractions (Capuchos, Regaleira, Pena Palace Gardens and the Mourish Castle) may differ from the plan, depending on the weather conditions. As you can make the most out of some of these sites with sunny weather whilst others would benefit from a gloomy romantic atmosphere, I will juggle them on the dates, so to give you the best experience of these magical places. Every single one of them is all about the feel...  
On Cash 
Please make sure you bring enough cash with you from a cash machine in Cascais Village, as card payments might not be accepted for small payments for snacks. Some of these places are in remote locations and you wont be able to reach a cash machine - perhaps not even in Sintra Village - so make sure you come prepared.  
On Seafood Workshop Dinner
You must make sure you are not allergic to seafood and shell fish to take part on the workshop and dinner. 
The workshop is included in the price of the trip. We will learn how to and make a traditional Portuguese Seafood Stew which we will eat afterwards. A vegetarian option is also available and both dishes will be taught at the same time. If you decide not to take part on the workshop, you can take the time as free time but you will then be responsible for your own meal -  in that case, dinner wont be supplied
Other Useful Information 
For a light meal (latte and a sandwich or pastry) you would normally pay €3. 
For a cocktail drink you would normally pay between €3-€5. 
For a beer you would normally pay €1.25. 
For a fish / seafood meal with appettisers desert and a couple of glasses of wine per person you would normally pay between €20 and €30. 
For other meal options like burgers / steak, chips, salad and a couple of beers you would normally pay €10. 
I am looking forward to meet you all and share with you these magic places! I will be waiting for you all at the Lisbon airport right after you pass the security / passport checks. I will be wearing curious Kat t-shirt. But I will give you my number nearer the date so that you can call me when you get there. We will have a magical time! 
XO 
Tania Gil Horta 
Cancellations:
Please note that unless the trip is cancelled the payments are non-refundable as the costs need to be paid in advance. However you may be able to sell your place to your friends or other group members if you follow this procedure;http://www.meetup.com/Curious-Kat-Adventure-Club/pages/What_to_do_if_you_can_no_longer_attend_an_event/.