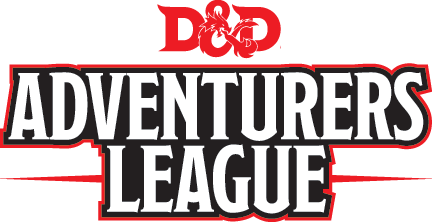 Get started by reading the D&D Adventurers League Player's Guide.
Click here
to get it.
Access all my D&D Adventurers League resource pack by
clicking here
.
What is D&D Adventurers League?
The D&D Adventurers League is an ongoing official organized play campaign for Dungeons & Dragons. It uses the fifth edition of the Dungeons & Dragons rules, and features the Forgotten Realms setting. You can play D&D Adventurers League games at any place that features adventures bearing the D&D Adventurers League logo. You can create a character and bring that character to games anywhere D&D Adventurers League is supported.
Most D&D Adventurers League games are public, in-person play events. Typical venues for these events are game and hobby stores, conventions, and public- accessible game day events.
---
Different Ways of Playing
D&D Adventurers League play has been developed to promote in-person and public play. Some opportunities exist for players participating at home or online to get involved in the D&D Adventurers League. You can purchase any official adventure and run it at home using the D&D Adventure League player's guide. Simply record your play using an adventure logsheet as you would any other public game. Your experience and rewards earned are valid for public D&D Adventurers League play.
In addition to home play, there are three play programs through which adventures are distributed. Each program simply defines a play format; you can play adventures from any or all of the play programs in the order in which you choose. The only limitations are where you can participate and your character's level.
Two play programs (D&D Encounters and D&D Expeditions) are available to game stores through the Wizards Play Network and featured on this site. If your local store is not present, ask them if they're participating, and if they can schedule play. (Make sure to tell them about DnDMontreal!)
D&D Encounters.
This program involves playing weekly, short sessions set in the Sword Coast at a local game store. It uses a special complimentary digital edition of an existing for-sale adventure product for the entirety of the storyline season (available to participating stores). Play typically starts at 1st level, and after finishing a few levels of playgroups can purchase the remainder of the adventure product to finish their story.
D&D Expeditions.
This program centers on playing episodic adventures set in the
Moonsea region
at a convention or a local game store. I played during and adventures debut, players have an opportunity to provide feedback to shape the events of the Moonsea region. Each adventure is usually two to four hours long, and specifies the character levels appropriate for play. These digital-only adventures are complimentary to any organizer of in-person, public play events. They are not available for purchase.
•
View a list of the D&D Expeditions
D&D Epics.
This program focuses on a big, multi- table event, providing an evening of play exclusive to large conventions. These adventures might be set anywhere within the Forgotten Realms, and serve as an important story point for the campaign.
---
Getting started
First and foremost you should really sit down and read the D&D Adventurers League Player's Guide. Download it by
clicking here
.
You will also need a Player's Log and other resources that I have collected. Find it by
clicking here
.