Funny, highly original… a howl of protest at the way dyslexia has been regarded for the past 65 years.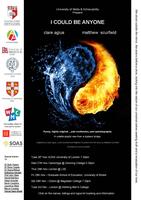 Book your tickets here, if the 3rd December is not convenient for you then please go to this link for other dates http://www.eventbrite.co.uk/org/4540759365?s=16848747
 Given the curricular flagship of academic excellence, held up as the only way to survive the adult market place, dyslexia, or learning difference, is riddled with negative connotations. The experience of those whose needs stand out as being different at school, so often has clear and demonstrable damaging effects on their self-esteem and quality of life, particularly in adult years. These research findings are very eloquently brought to life through this autobiographical performance."Having devised a piece of theatre, which sprang to life from the pages of a book I wrote about growing up as an undiagnosed dyslexic in the midst of academia, in post- , I started out by doing a couple of performances in Malta, with the Maltese actress and television presenter Clare Agius. 
In acting out this autobiographical drama the crippling lack of esteem is revealed and purged.  And when a good part of the audience is mixed in with those who have found their own way,despite the so-called learning disability they grapple with, or, if they're lucky, celebrate, a revealing debate kicks in. There were moments when individuals in the auditorium were so engaged they began expressing their own very personal stories. Without realising it, the audience was contributing and taking part in an aesthetic act within a theatrical tradition,performance ethnography." Matthew Scurfield 2013 When I COULD BE ANYONE played the DYSPLA festival in London 2011, the artist and teacher Katherine Hewlett and Dr Ross Cooper, from the charity AchievAbility, were inspired enough by what they saw to set up a showing at the House of Commons in Portcullis House, by way of the chairperson of AchievAbility Barry Sheerman MP. Thus began an encouraging and intriguing collaboration. Both Katherine and Ross have been instrumental in setting up the performance in the UK 2013.