Below are safety protocols and practices for enjoyable and sane group riding. Please read through so you are familiar with them. As you will hear us say many times, this is not a race or a solo ride ... it's a group ride. Ride lead and Road Marshals (volunteers) will guide the group. These guidelines will help keep you and others safe:
• The global pandemic is with us. Coronavirus is out there in search of new hosts. Assume everybody, including yourself, are carriers of the bug. Don't become a host for this bug, and don't pass it to your riding buddies. Let's take the following precautions so that we may continue to enjoy our time exploring the amazing roads here, as safely as possible:
1) Please get your vaccine shots and wear a mask covering your nose and mouth when interacting with fellow riders at the start of the ride, during breaks, at lunch, and at the end of the ride.
2) Please keep full length of a motorcycle from your fellow riders when getting off your bike ...... Length of Honda Grom doesn't count :-)
3) Carry hand sanitizer with you and use it often!
4) Risky behavior will get you a friendly warning. Repeating it means the rider will be invited to leave the group.
• Pace: pace will vary depending on individual ride. Pay close attention to the recommended experience level for a given ride.
• Recommended Reading: >>>
THE PACE
By Nick Ienatsch.
• Gear: Head to toe, please.
• Motorcycle: Bring one, or bring a scooter .... your choice ;-)
• Meals/Snacks/Drinks: If you can, bring water, snacks and meal so you don't have to rely on restaurants or delis. Post Covid19, there are fewer places that are open, and if they are open, expect slower and longer lines.
Other Words of Wisdom:

- Please review Liability Release statement at
THIS LINK
- Proper gear, a working machine and gas in the tank is highly recommended.
- Ensure you and your motorcycle are in good working conditions.
- Ride within your comfort zone and leave room for bad karma.
- Ride staggered in straights. In twisties single file and 2-3+ seconds apart.
- Lead may pass slower traffic when it's safe. You don't have to. Remember, someone will wait for you at turns, so just relax and have fun.
- Leads will maintain The Pace according to road conditions with safety of all riders in mind. Be mindful of others in the group. Let faster riders get ahead of you by moving to the right and signaling them to pass you. And if you want to pass the rider(s) who are in front of you, make sure to do so safely and without startling them.
- Do not make unsafe passes, or pass from the right.
- Gas/Rest/Meal Stops: When we stop at gas stations, fill up. That may be the only gas stop of the ride. Also, be sure you know when you must return, helmet-on, ready to roll. It's rude to make others wait for you, and if you are late, the group may not wait long.
- If you need to leave early, be sure to tell the lead and sweep. Be in the back of the group when leaving so no one follows.
- It's a good idea to have road side emergency and towing service membership (e.g., AAA). If you don't have roadside service call Jacob at Motorcycle Mover (650) 941-2190 or (844) MOTO-111.
- Must have CURRENT auto/moto liability insurance. Be sure to carry your proof of insurance card with you in case you get pulled over or get into an accident.
- Getting a flat tire in not uncommon. Carry "Stop & Go" tire repair kit. GroupRides gets a group discount. See
­THIS LINK
for more info.
- Carry water and snacks.
- Please keep an eye for the rider(s) behind you so they won't take a wrong turn. If they get lost, we all have to go look for them: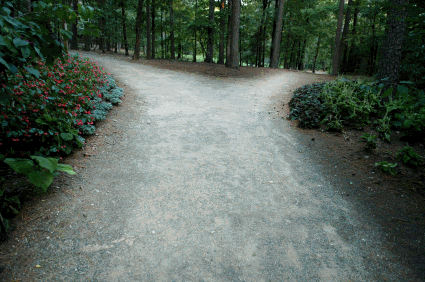 ######################################­#######################
~ LEADS:
Hold a pre-ride discussion. Explain to riders how many groups there will be, leads/sweeps for each group, the pace (spirited, mellow, etc) and when/where you will regroup. Some riders will fall behind. Keep a slow and steady pace in the
straights
so they can catch up.
When stopping to regroup choose a safe spot. Ask the sweep if he/she has observed anything worth noting. Ask riders how they feel about the pace, the ride, and the other riders. Discuss issues with all involved. Safety first is first. Fun is second.
~ RIDERS:
1- If you are new to group riding, start in the slower spots.
2- Ride at less than 70% of your ability and don't try to keep up with faster others. Leave room for bad karma.
3- In straights ride in staggered formation. When negotiating turns single file please.
4- Never pass from the right side. And only pass when it's safe for you and the other riders.
5- Do not fixate. Focus on the road ahead.
6- To make s turn or stop, use blinkers and hand signals whenever possible. Familiarize yourself with commonly used signals.
7- Before each ride, conduct a Safety Inspection Program I.C.E. into your cell phone (in case of emergency contact number) and invest in a roadside assistance coverage (AutoClub or similar) in case your vehicle breaks down.
**
AMA's tips to ensure everybody has a great day.
**
Motorcycle Hand Signals:
(see all 5 slides)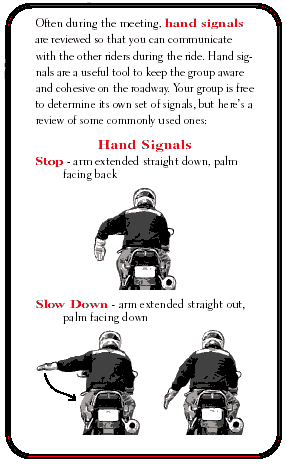 Be sure to check the weather ahead of time
:
https://weather.com/w...
­
If you would like to support GroupRides, here's how:
­ LINK