"What then is freedom? The power to live as one wishes."

"For he (Cato) gives his opinion as if he were in Plato's Republic, not in Romulus' cesspool."

"In a republic this rule ought to be observed: that the majority should not have the predominant power."

Marcus Tullius Cicero
Roman constitutionalist & Republican Statesman (106 - 43
BC)



---
"I predict future happiness for Americans
if they can prevent the government
from wasting the labors of the people
under the pretense of taking care of them."
Thomas Jefferson
Author, Declaration of Independence
3rd US President (1743 - 1826)
---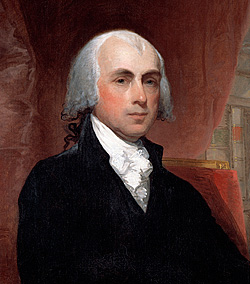 "The advancement and diffusion of knowledge
is the only guardian of true liberty."
~
"Do not separate text from historical background. If you do, you will have perverted and subverted the Constitution, which can only end in a distorted, bastardized form of illegitimate government."
~
"Religion flourishes in greater purity,
without than with the aid of Government."
James Madison
Author, Constitution & Bill of Rights
4th US President (1743 - 1826)
---
"A right, such as a right to free speech, imposes no obligation on another, except that of non-interference. The so-called right to health care, food or housing, whether a person can afford it or not, is something entirely different; it does impose an obligation on another. If one person has a right to something he didn't produce, simultaneously and of necessity it means that some other person does not have right to something he did produce. That's because, since there's no Santa Claus or Tooth Fairy, in order for government to give one American a dollar, it must, through intimidation, threats and coercion, confiscate that dollar from some other American."
Walter E. Williams
Professor of Economics
George Mason University
---
"Mystical references to society and its programs to help may warm the hearts of the gullible but what it really means is putting more power in the hands of bureaucrats."
Thomas Sowell
Rose and Milton Friedman Senior Fellow on Public Policy
Stanford University
---
"I would not place at the disposal of men whose sole qualification to rule me was their capacity to spout the fraudulent generalities that got them elected to the privilege of enforcing their wishes at the point of a gun."
"Throughout the centuries there were men who took first steps, down new roads, armed with nothing but their own vision."
Ayn Rand
---
"I'm walkin' here! I'm walkin' here!"
Rat Rizzo
Midnight Cowboy