People active or interested in the work of Transition will gather in Portland Maine from across New England to share stories, strategies and practices for doing the work of creating the future we want to see.
Don't know what Transition is?  Haven't heard of Transition Towns and Initiatives?  Check out more info here and here and here.
At this third convening of such a New England network, we will dig into the big questions as well as the practical strategies, such as...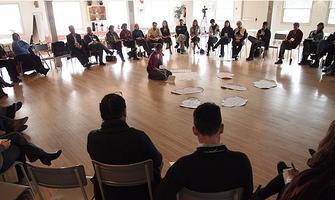 • Why have all of us connected to do this work of Transition? 
• Why would others want to engage with us? 
• Why would we want to connect or align regionally?
• What responsive structures could be put in place among us for transition? 
At this event you will hear stories of best practices, lessons learned and responsive structures that build resilience. There will be multiple resource sharing opportunities throughout the day, copious opportunities to deepen our connection, collaborate, network, and enjoy delicious locavore food. Learn more about this event here. Want to speak at this event? Click here.
Space is limited and this event is likely to "sell out" even though there is no cost to attend. You can certainly RSVP here but you must officially register via this Eventbrite page so that we are building an attendance list from all around the region!  
Join us the night before to hear Rob Hopkins, co-founder of the Transition Network and John Rooks of The SOAP Group speaking at Ludcke Auditorium at UNE, starting at 6pm. Register for that event here. Note: If you have room in your home for folks that are traveling from out-of-town, please let us know here.
The hosting group for this gathering is a mix of helpers from various New England States and a consortium of Maine transition initiatives, all volunteering to design a good event make it a success! So far it looks like there will be great resource sharing opportunities, lots of creative learning and activities, space for real dialogue and great food! Homestays can be organized for folks coming in from out of town.