I started organizing this group in October, 2007. Every April Fools' Day since then I've sent out a joke email to all the members. Consider yourself warned.
-Dave
---
April 1, 2008
Family-Friendly Dinner
As we approach 100 members, there are a number of people in the group with family who are not vegetarian. So I decided to set up an event that will accommodate them, as well. Prime Quarter Steak House has a great salad bar and baked potato for $8.95. And their grill-your-own steak is just $19.95. They agreed to let us use their banquet room for free if we have at least 20 people. This is a nice opportunity to introduce us to those non-vegetarians in your life.
April 31, 2008 at 6:30 pm
Prime Quarter Steak House
3520 East Washington Avenue
Cost: $12 veg / $24 non-veg (includes soda, tax, and tip)
More Info/RSVP
I hope you can make it.
-Dave
---
There really was an article about the group in the newspaper right before April 1st. For many new members who signed up after reading that article, my April Fools' Day email was their first contact from me (besides the automatic welcome email). I felt bad about that -- but not bad enough to skip sending out this email.
April 1, 2009
Welcome For New Group Members
We had a great response to the
article in last Sunday's paper
, with over 30 new people signing up for the group in just a few days. For those who are new to the group, I think you'll find us to be welcoming and fun.
To commemorate the influx of new members, I contacted the owners of the vegetarian Dandelion Food Cart to prepare a special dinner for us that accommodates the diets of as many people as possible. So, in addition to being completely vegan, the menu for this meal will be free of gluten, wheat, peanuts, strong spices, sugar, and salt...
Appetizers
Dried Lentils with Brown Rice
Steamed Cauliflower Bits on Flaxseed Crackers
Soup
Pressed Celery in Salt-Free Vegetable Broth
Entrees
Rotini Rice Pasta Mixed with Thinly-Sliced Carrots
Steamed Mini Tofu Squares with Fresh Bean Sprouts
Dessert
Homemade Cabbage Sorbet with Puffed Rice Wafers
Beverages
Ice Water with a Hint of Brewer's Yeast
April 31, 2009 at 6:30 pm
Goodman Community Center
149 Waubesa Street
Cost: $14.00
More Info/RSVP
I hope you can make it.
-Dave
---
April 1, 2010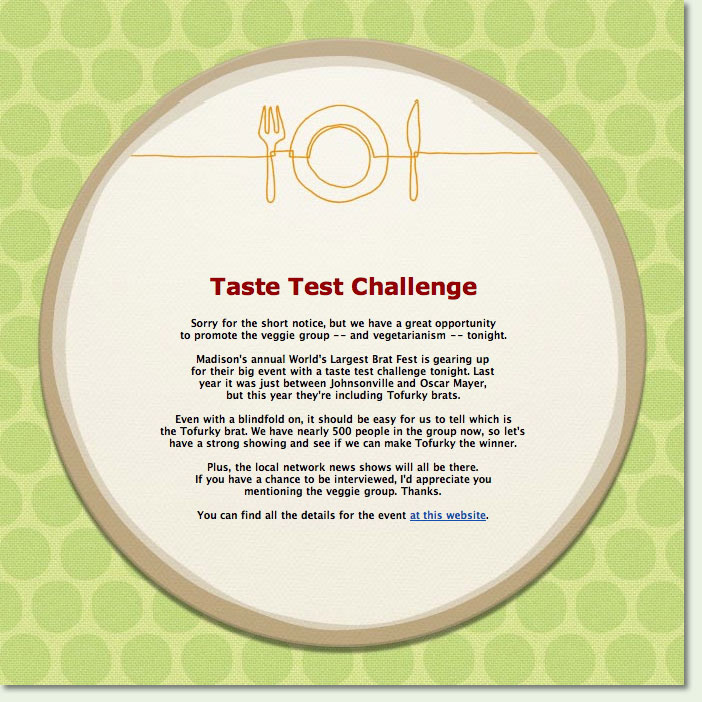 The text says...
Taste Test Challenge
Sorry for the short notice, but we have a great opportunity to promote the veggie group -- and vegetarianism -- tonight.
Madison's annual World's Largest Brat Fest is gearing up for their big event with a taste test challenge tonight. Last year it was just between Johnsonville and Oscar Mayer, but this year they're including Tofurky brats.
Even with a blindfold on, it should be easy for us to tell which is the Tofurky brat. We have nearly 500 people in the group now, so let's have a strong showing and see if we can make Tofurky the winner.
Plus, the local network news shows will all be there. If you have a chance to be interviewed, I'd appreciate you mentioning the veggie group. Thanks.
You can find all the details for the event
at this website
.
---
April 1, 2011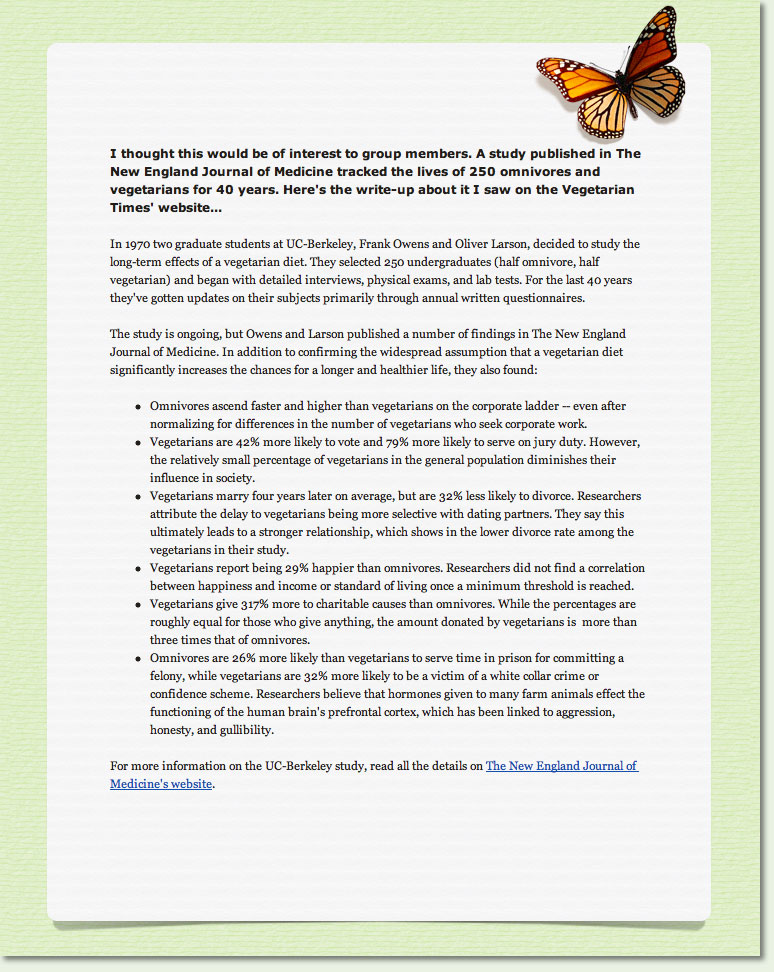 The text says...
I thought this would be of interest to group members. A study published in The New England Journal of Medicine tracked the lives of 250 omnivores and vegetarians for 40 years. Here's the write-up about it I saw on the Vegetarian Times' website...
In 1970 two graduate students at UC-Berkeley, Frank Owens and Oliver Larson, decided to study the long-term effects of a vegetarian diet. They selected 250 undergraduates (half omnivore, half vegetarian) and began with detailed interviews, physical exams, and lab tests. For the last 40 years they've gotten updates on their subjects primarily through annual written questionnaires.
The study is ongoing, but Owens and Larson published a number of findings in The New England Journal of Medicine. In addition to confirming the widespread assumption that a vegetarian diet significantly increases the chances for a longer and healthier life, they also found:
Omnivores ascend faster and higher than vegetarians on the corporate ladder -- even after normalizing for differences in the number of vegetarians who seek corporate work.

Vegetarians are 42% more likely to vote and 79% more likely to serve on jury duty. However, the relatively small percentage of vegetarians in the general population diminishes their influence in society.

Vegetarians marry four years later on average, but are 32% less likely to divorce. Researchers attribute the delay to vegetarians being more selective with dating partners. They say this ultimately leads to a stronger relationship, which shows in the lower divorce rate among the vegetarians in their study.

Vegetarians report being 29% happier than omnivores. Researchers did not find a correlation between happiness and income or standard of living once a minimum threshold is reached.

Vegetarians give 317% more to charitable causes than omnivores. While the percentages are roughly equal for those who give anything, the amount donated by vegetarians is more than three times that of omnivores.

Omnivores are 26% more likely than vegetarians to serve time in prison for committing a felony, while vegetarians are 32% more likely to be a victim of a white collar crime or confidence scheme. Researchers believe that hormones given to many farm animals effect the functioning of the human brain's prefrontal cortex, which has been linked to aggression, honesty, and gullibility.
For more information on the UC-Berkeley study, read all the details on
The New England Journal of Medicine's website
.