Saturday, May 4, 2013 from 10:00-4:00 in Puyallup WA – A Great Pre-Mother's Day Gift!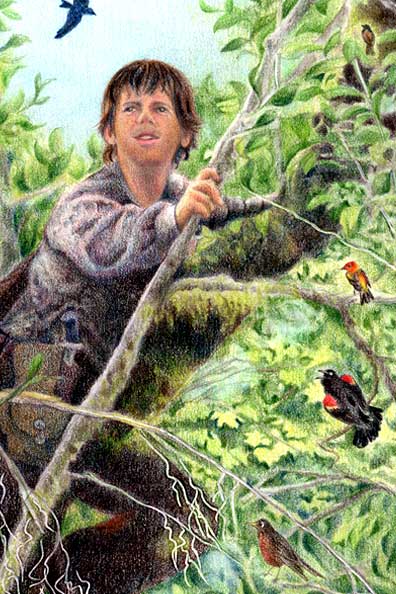 Explorer of Air by Joanna Colbert Powell, depicting workshop instructor Chris Chisholm.
Join instructors Kim & Chris Chisholm for a great day together. Kim holds a Wildlife Science degree from the University of Washington, where she studied crows and other corvids with the famed John Mazrluff. Chris has been studying Bird Language since 1988, starting with Loons while attending the University of Wisconsin, and expanding to song birds in 1992 when he moved to Western Washington and began tracking wildlife professionally.
In addition to receiving a great overview of visual bird identification today, but you'll also learn to distinguish birds by their voices. In fact, when you understand the language of birds, you'll know where animals (including predators) are hidden, plus other secrets. You'll learn the meanings of bird songs, companion calls, alarm calls, and calls of aggression, among other vocalizations. It's easy to do, and you can learn it all from robins, then extrapolate to other bird species which will tell you about raptors flying overhead, owls perched in trees, bears lumbering along trails, bobcats stalking through the brush,  and weasels sneaking under downed logs.
Awesome Birding by Sight & Sound
Learning today will include Kim's system for quickly scanning birds with and without binoculars to find the most important identification clues, then using Chris' great system for knowing exactly where to look in your field guide to pinpoint the species.  We'll also talk about habitat as an indicator of identification, and help you develop a "baseline" knowledge of common bird songs and calls from which it will be easier to determine the identity of birds by ear. Finally, we'll give ethical recommendations for attracting the widest array of birds to your yard for enjoyment and study, while also keeping them healthy and safe.
A Backyard Birding Paradise
The workshop takes place in a birder's paradise, with a plethora of resident songbirds and accipiter hawks in the neighborhood, common yellowthroats and marsh wrens in wetlands, red-tailed hawks and bald eagles patrolling fields, great blue herons and belted kingfishers stalking the local fish hatchery, dabbling ducks galore in the public pond, and dozens of migrant birds now nesting throughout the DNR lands around us.
Cost:

• $65 general.
• $55 for a second friend/family member, or if you attended one of our introductory afternoon or evening wildlife classes.
• $45 for a third friend/family member, or if you attended a previous wildlife tracking workshops with us.
• $35 per additional friend/family member, or if you attended two previous wildlife tracking workshops with us.
• $25 if you attended this workshop with us in the past, or if you covered this subject at one of our camps/expeditions.
Register:
Check/Mail Registration Option: Send payment in full or a minimum $25 per person check deposit payable to the Wolf College,[masked]th St. SW, Puyallup WA 98371 with participant name(s), phone number, email address, age of any minors, and any allergies or health restrictions we should know about. Balances will be due upon arrival at the workshop.
Credit/Debit Card Registration Option: Just call us at[masked] or[masked] and we will run your card securely over the phone.

Or RSVP here and Use PayPal to register online securely with a credit/debit card or via direct withdrawal from your bank account: