Hey yall, I'm cross posting this with OTA and UCF for an event going on downtown tonight. Short notice, but it's going to be good so whatever plans you have, toss them!
There's still time to get your tickets for Lean Startup Pioneer Jerry Engel.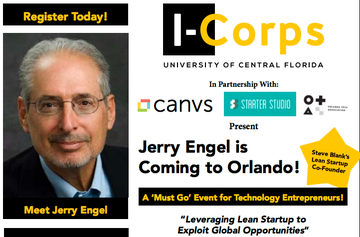 Orlando Tech, in collaboration with UCF, Canvs and Starter Studio, are honored to host an interactive learning session with Lean Startup Pioneer Jerry Engel. Jerry is a veteran of Silicon Valley - a venture capitalist, a startup executive and a visionary thought leader of the Lean Startup movement.
Jerry collaborated closely with Steve Blank to develop the Lean LaunchPad, which is now the foundation of nationally recognized entrepreneurship programs at Stanford, Berkeley, Columbia and the National Science Foundation's I-Corps program. He has trained thousands of entrepreneurs, students and faculty across the globe on leveraging Lean Startup to build growth companies.
Please join us from 5:30PM - 8PM on Thursday January 29th at Canvs to learn how you can leverage Lean Startup to exploit global market opportunities. This will be a highly interactive session with lots of Q&A. The cost is $10/person if you register before January 15th, and includes one drink ticket.