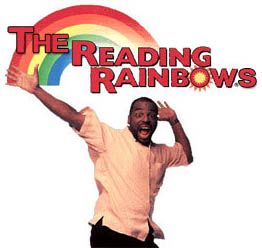 The LA Graffiti Run is coming!  On this fun run/walk/crawl/bunny hop 5k (3.2 miles) we'll pass through four "Graffiti Zones" where we'll get doused with color to become "beautiful, jogging pieces of art". Afterwards we'll visit the air blow color cleaning stations and then walk to Dr. Bob's Hand Crafted Ice Cream!
Our team name is The Reading Rainbows! Dress up with a rainbow theme if you're up for it.  And each team member gets an awesome rainbow temporary tattoo! Remember Reading Rainbow from PBS? :) Reading Rainbow Theme Song, The Doors Sing Reading Rainbow on SNL (Jimmy Fallon), Unplugged, Hip Hop Remix 1, Remix 2, and Remix 3.
This fun run is for everybody! Kids welcomed.  No need to be in amazing shape. Our heat begins at 10am (arrive at 9am). Click here for a map of the run. The powder is a non-toxic starch-based product that is "100% natural and safe".  They say there will be no bag check or lockers, unfortunately.
---- REGISTRATION OPTIONS ----
- Register here for the 10am heat under "The Reading Rainbows" 
- And print/sign this waiver to save time
---- ARRIVAL TIME/LOCATION ----  
Arrive by 9am to check in.  We'll be meeting at 9:30am near the check-in line.  We'll have a large black flag with us!  Early packet pick up will be available Sat 11/23 at the same location.  Parking Directions: LA Fairplex 1101 W McKinley Ave, Pomona, CA ($10/car)

---- WHAT TO BRING ----
You'll want to wear a white shirt, and I would recommend wearing sun glasses and a bandanna so the powder doesn't travel where it shouldn't.  Also, bring money for ice cream afterward as well as a towel for your car ride home.
---- MORE INFO ---- 
More info can be found at the race website here: LA Graffiti Run 11/24/2013 and FAQ