Book clubs are wonderful (we're clearly big fans)! But let's be honest, it would be nice to have an excuse to get together and make new friends that doesn't come with quite so much prep-work. If you find you aren't always in the mood for your book club, but you still want an opportunity to gather as a community around a shared activity (and maybe even meet new people!), try one of the following instead:
1. Wine & cheese club
There are two types of people in this world: people who attend book clubs for the book and those who are really there for the wine, snacks, and conversation. If you're in the latter camp, consider skipping the pretense and straight to the charcuterie board with a wine & cheese club.
Each meeting, pick a few wines to taste and pair with some well-matched cheese (or another food item for those diary-sensitive folks out there). You can create custom scorecards for your guests to rank their favorites or just host an open discussion about what everyone likes/dislikes about each. Take it a step further by creating a unifying theme or activity, such as picking an ultra-specific type of wine and tasting varietals from different regions, or have your guests test their skills as a sommelier with some blind taste tests.
2. Houseplant or gardening club
If you're someone who entered the pandemic with only a few houseplants and now find yourself living in what is essentially a jungle of leafy friends, this is definitely the club for you! Meet with fellow plant parents to introduce your plant babies (and share any pun-tastic names they may have), discuss care instructions for the more temperamental in your collection, and troubleshoot any persistent or common issues. For those whose green thumbs extend outside, start a gardening club to compare notes on best times for plantings during different seasons within your region or to rotate helping with one another's yard work. Learn more about how Meetup can help grow your plant passion with this recent Community Matters blog post.
3. Crafting club
Crafty Meetuppers unite! Whether you're a novice knitter or have spent hours stringing together pieces of jewelry, organizing a group for crafting is a great way to gain inspiration for your next project while also making new friends! Create a group either around an existing hobby or one you're looking to start, just be sure to set expectations by making the goal of the group clear in the description. Maybe you want to casually learn how to embroider a pillow or dress, but others might want to crochet 100 blankets by Christmas.
4. Subscription box club
If you've ever received a subscription box (monthly or quarterly boxes themed around hobbies and intrests such as beauty, food, entertainment, home decor, etc.), you almost certainly know the struggle of attempting to figure out what to do with all the leftover products you have no use for. It's wasteful to just throw them out, but it's not always immediately apparent where they can be donated or who might want them. Rather than relegating these products to a lifetime of storage in a closet or basement, organize a group to swap and exchange subscription box products you have no need for.
As an organizer of a subscription box group, you get to decide if you want to limit members to a specific type of subscription box (such as just those for makeup or tea and coffee), or if you'd prefer to open it up more broadly to any type of product from any type of subscription box. Not only does this help clear up clutter in your home, but it's just one more way to be more environmentally conscious.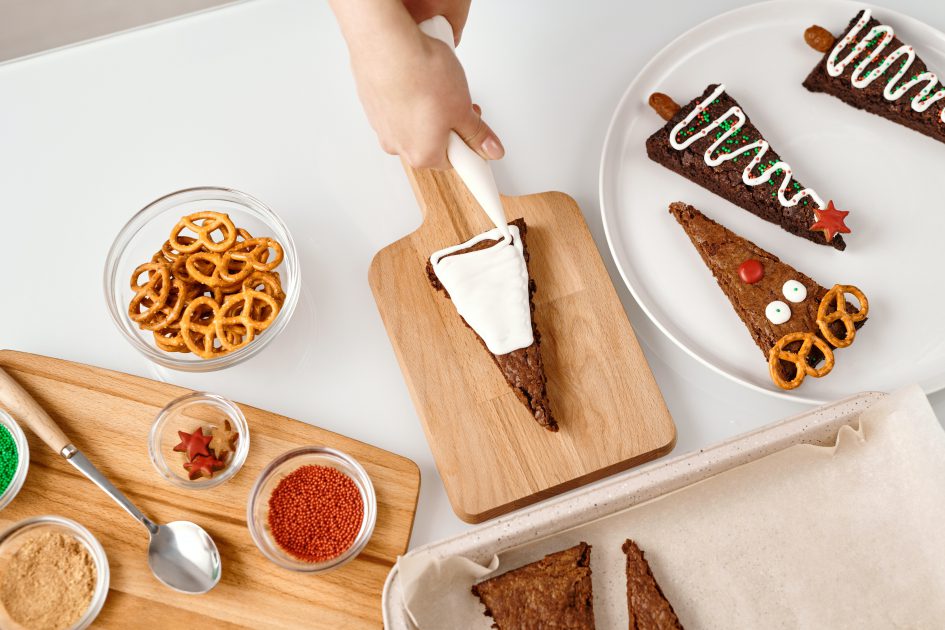 5. Dessert (or sweet & salty) club
Whether you're an expert baker or just someone with a serious sweet tooth, it's hard to go wrong with a club organized around anything as decadent as desserts. Simply ask members to bake or buy a dessert related to a theme. Themes can range from a type of dessert (think ice cream sundae building or cookies from around the globe), a set of ingredients (like chocolate or pumpkin spice), or something topical and culturally relevant (such as spooky desserts for Halloween). Let your imagination run wild and have fun while eating delicious treats.
Not a sweets person but find the idea compelling? Why not bring the best of both worlds together by making it a sweet and salty club?
6. Mutual aid club
The world can feel a bit intense right now. Try channeling some of that anxious energy into something that is not only productive and beneficial, but also helps foster a real sense of community with a mutual aid club. Never heard of mutual aid? It allows people to come together in order to meet each others' needs in a mutually beneficial, reciprocal exchange of resources/services. If you've ever lent sugar to a neighbor or offered to grab lunch for a co-worker, knowing full well that they'd do the same for you in the future if needed, you're already familiar with the basic concept behind mutual aid.
Other mutual aid initiatives include clothing swaps, parents forming learning pods when the pandemic forced schools to go virtual, or a sou-sou savings club. The best way to start is to figure out what service or resource your community could benefit from that you can offer to others and then build from there. This Ioby article is especially helpful for more tips and tricks on how to get started.
7. The "catch-all" club
If you can't decide what sort of club you want to start, but you know you want to start gathering around some sort of shared experience or interest, it sounds like a "catch-all" club (also sometimes referred to as a "little bit of everything" club) is the goldilocks solution! Rather than organizing a group around a single topic or activity, each meeting is a new and different shared experience to enjoy together. Rotate through the ideas shared above or something entirely different, the possibilities are endless.
As you may have gathered from these seven suggestions, the activity that you choose for your group can be as creative as you want! You don't have to be an expert on a topic to bring people together to have a good time. Start a Meetup group to gather your community today.
Mary Garcia (she/her) is Meetup's Content Manager and editor of the Community Matters blog. When she's not writing, Mary organizes a swamp fiction book club on Meetup. Find her on LinkedIn.
Last modified on October 3, 2023