As part of our continuing series about how Meetup groups are staying connected by hosting online events, we chatted with Jill, organizer of the Greater Long Island Divorce & Separation Support Group.
Founded in 2011, this community hasn't let online events slow them down—even with the learning curve of mastering the Zoom call. Learn more about starting an online group on Meetup.
How did your group operate when you could meet in person?
We normally meet every other week roundtable style and share our current situation and receive feedback and support. Most meetings consist of 12-18 people. Sometimes we break into smaller groups of 4-5 for more intimate discussions and then regroup towards the end to share the highlights.
Meeting attendance is critically important when someone is going through a separation or divorce because it gives you a chance to be with others who are going through similar experiences, and you build new social networks.
How have your events changed since moving online?
The challenge for me as a facilitator is to quickly get a pulse on the members and see how everyone is coping with being quarantined and where everyone is in their stage of the separation and divorce process. Sometimes people need to be among friends and laugh and have some levity. People are really struggling with being quarantined as it magnifies their feelings of isolation and loneliness.
Online events have opened new opportunities for us. Long Island is, well, long. So when we met in person we would schedule our Saturday and Thursday meeting strategically to make sure members from Queens to Suffolk County had an opportunity to attend. But online meetings remove that factor.
I see our attendance at online meetings is growing. If attendance continues to grow, I love that I can use breakout rooms on Zoom to replicate the small group work that we were doing when we had larger in-person meetings.
The con is that we tended to be huggers. I suppose virtual hugs are here to stay whether we meet online or in person moving forward.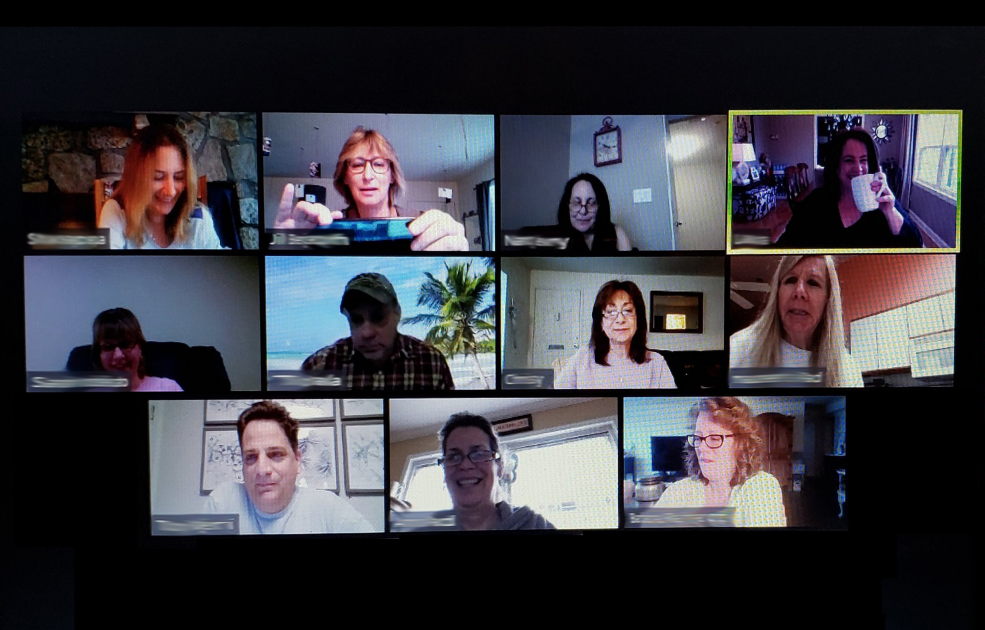 What advice would you give to a support group transitioning online?
I offer myself up for tech support an hour before each meeting to help anyone who is technologically challenged. As a divorce and separation support group, the majority of our members are a little older so their computer skills and comfort level are not necessarily the same as if we were a group of millennials.
People are sometimes embarrassed that they can't figure it out for themselves. I try to make it as painless as possible. We also started collecting dues to help with Meetup costs and it now pays for our Zoom costs as well.
Why do you think the world needs support groups of all kinds right now?
Support groups, like ours, offer an immediate circle of people who really understand what you're going through. Our group also offers social activities where friendships are formed and weekend activities are planned abating loneliness and feelings of isolation.
Divorce is considered one of the top stressors of a person's life and very often family members don't understand what you're going through or how long the process takes. Many members, including myself, have described the group as life-saving or altering, at the least.
What else helps keep your group connected?
In addition to our Meetup group, which is the cornerstone of our group, we also have a secret Facebook page (not visible to anyone other than group members) where activities and events are posted, and also a messenger chat group.
Tools like our Meetup group really help members stay buoyed and connected, and our chat group and social activities provide much-needed support between meetings.
Every single day my phone starts dinging early in the morning with members wishing other members a good morning, support for a legal meeting later in the day, following up on the condition of an ill relative, or a number of other topics.
Getting an uplifting or funny message from another member of the divorce support group helps members get through the day. Likewise, a good Meetup event, whether it's online or in-person, can turn a bad day or week into a better one.

Learn more about starting an online group on Meetup.
Last modified on June 23, 2021