People from London to Los Angeles have turned to Meetup to meet like-minded locals, share experiences, and build lasting friendships. To celebrate Pride, we're showcasing amazing stories of some of the LGBTQ+ groups on Meetup that are building inclusive and supportive local communities. Pride is a month-long celebration, but these Meetup groups are fostering supportive communities year-round. Read on for stories of inclusion and celebration.
Brooklyn Queer Happy Hour | Brooklyn, New York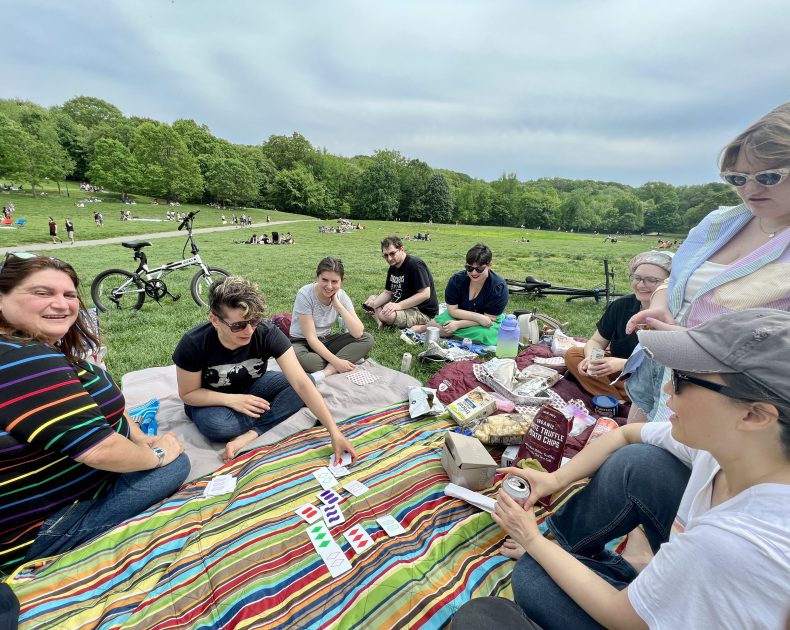 Founded by two millennials, the Brooklyn Queer Happy Hour group launched in 2022 to bring queer women and non-binary Brooklynites together for evenings of socializing and fun. The community is less than a year old, but co-organizers Dana and Rebekah have been hosting at least one event each month to build the group's following. By hosting frequent events, their community members can make attending Brooklyn Queer Happy Hour events a regular part of their schedule—and social lives!
Another key to the group's success? Accessible venues. Prioritizing public parks for picnics and neighborhood bars for happy hours makes it easy for members to pop by an event, coming and going as they see fit.
"I enjoy going to queer bars and those types of places, but I wanted something more relaxed and easygoing that allowed more space for conversation," said Rebekah, one of the group's co-organizers.
DC Black Queer Women | Washington, DC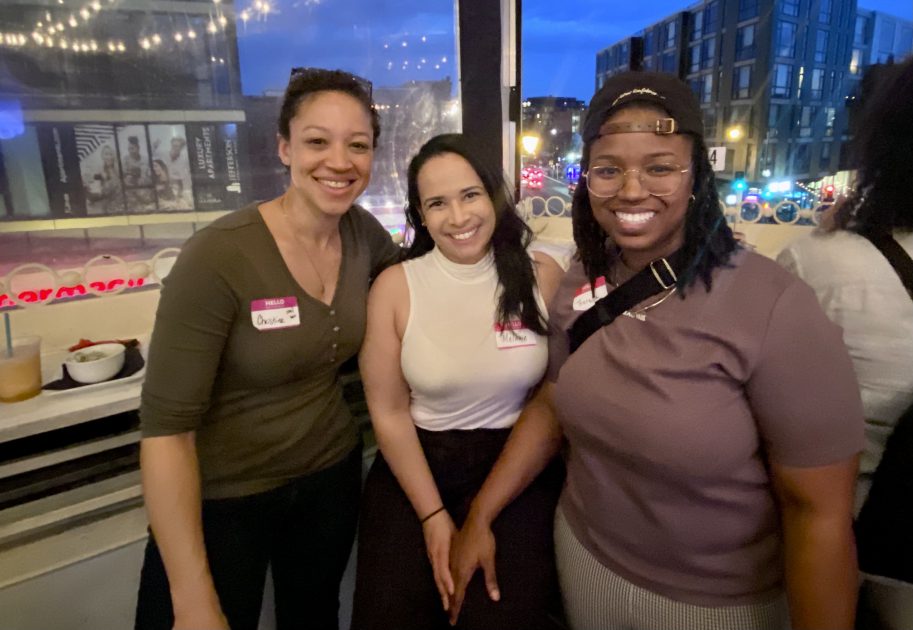 After moving to Washington D.C. from Oakland, California, Donielle (Doni) Burton was having some trouble finding her social scene. The queer spaces she had found after moving were less diverse and more party focused than she was used to in the Bay Area. Doni took matters into her own hands—by starting the DC Black Queer Women group on Meetup.
The group is designed to create a safe space for queer Black women, welcoming trans and non-binary members as well. One way that Doni has made it a more inclusive environment is by getting creative about the types of events she hosts. Instead of concentrating on happy hours, the group plans outings at sporting events, game nights, and more so events don't always have to be centered around partying.
"People who came to my first event now regularly come and tell me things like, 'I'm hanging out with these other people that I met [through DC Queer Black Women].' And so people are starting to recognize that there are options for queer women to meet other than nighttime dance parties," said Doni Burton.
Queer Sober Social | Chicago, Illinois (and online)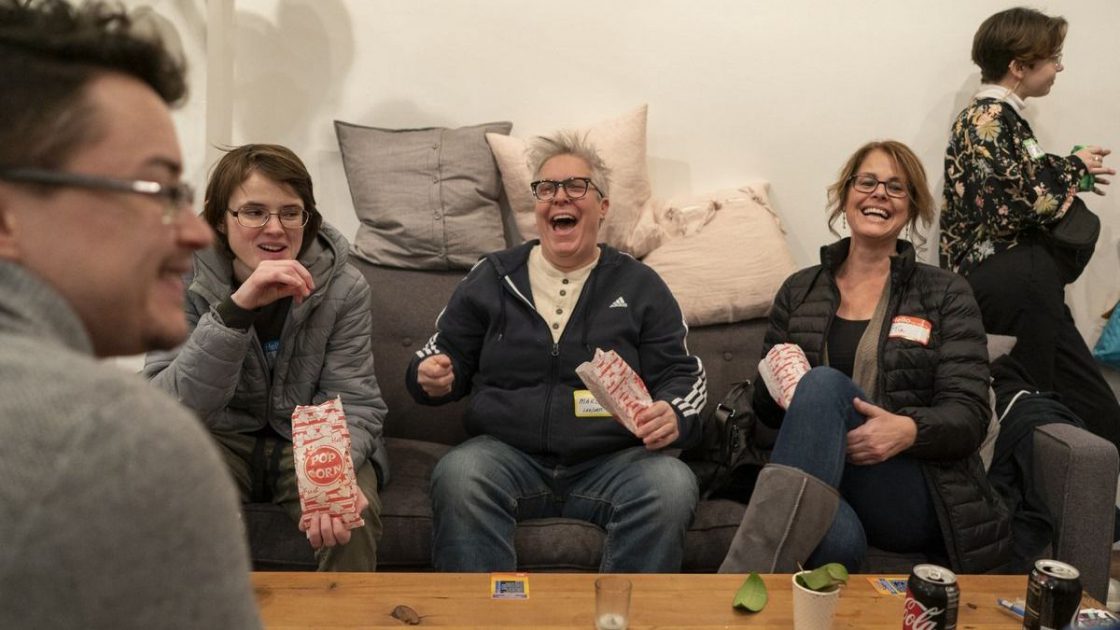 Finding new friends in a new city is notoriously difficult. One way people find their crew is by joining socializing groups, like happy hour socials. Unfortunately, the emphasis on the cocktail component of traditional happy hours can alienate some sober community members. Luckily, there are groups on Meetup specifically for sober socializing.
Carly Novoselsky saw a need in her Chicago. The sober group she had joined to meet people had had many of its straight members couple up and leave the group. In January 2020, she and her friends decided to start their own sober social group for queer people in the city.
100 people registered for the first Queer Sober Social event, an impressive number for a brand-new group. Clearly, the community was meeting a need that many people felt. Since then, they've been having weekly and monthly events online and in person. Carly's group has become a safe space for people to come together to have fun without the pressures of substance use.
Carly keeps it simple by keeping inclusivity top-of-mind for every event she hosts. The group's vision is clear: "Come be with your people. Come and have a good time. Come take an hour away from the world where it's just fun and stress-free and we're just hanging out," said Carly.
Zig Zag Pride | Los Angeles, California (Online)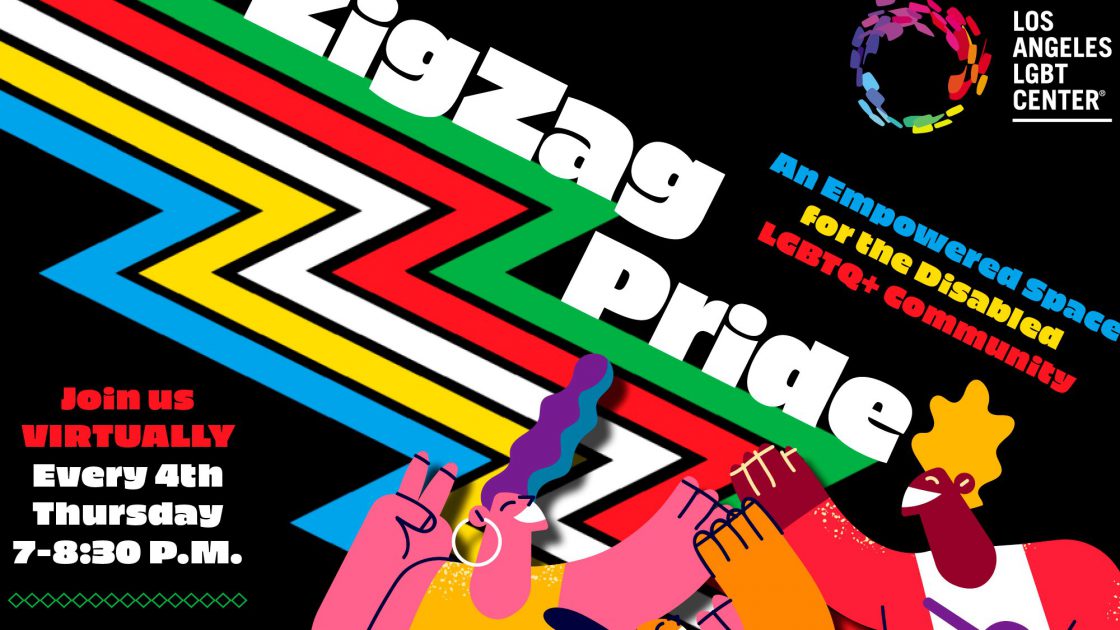 Founded as part of the Los Angeles LGBT Center, Zig Zag Pride is a social group that provides a safe space for all disabled, chronically ill, and neurodivergent LGBTQ+ folks seeking community, support, and great conversation. The "zig zag" in the group's title comes from a 2019 version of the Disability Pride Flag, with bright blue, yellow, white, red, and green stripes in a distinctive zig-zagged pattern.
The structure of the group is key to its success. The group started during the pandemic with the goal of creating an empowered space for the Disabled LGBTQ+ community. Today, it has more than 100 members and meets solely online to be as accommodating as possible. Organizers Althea and Alex able to foster a safe space by keeping open lines of communication between members and organizers while incorporating feedback and changes when it's necessary. By listening to their group members, Althea and Alex have been able to create a community built on trust.
"We do monthly virtual events over Zoom, which, from the beginning, was really important to me in forming the group, because it sort of speaks to accessibility. A big problem for the community is not having events, in general, be accessible," said Alex, one of the group's organizers.
---
For more stories of the fantastic LGBTQ+ groups on Meetup, follow us on Instagram, TikTok, Facebook, and Twitter. Want to feature your own group? Tag @Meetup and share your Pride story with the hashtag #MeetupPride365!
Last modified on May 30, 2023