In 2020, the virtual conferencing platform Zoom was so popular it became a verb. While we continue to love Zoom for keeping groups connected, it's also nice to shake things up! Check out the following reviews of up-and-coming virtual gathering tools to bring some pizzazz to your next online Meetup event.
1. Clubhouse: A Platform to Hear the Talk of the Town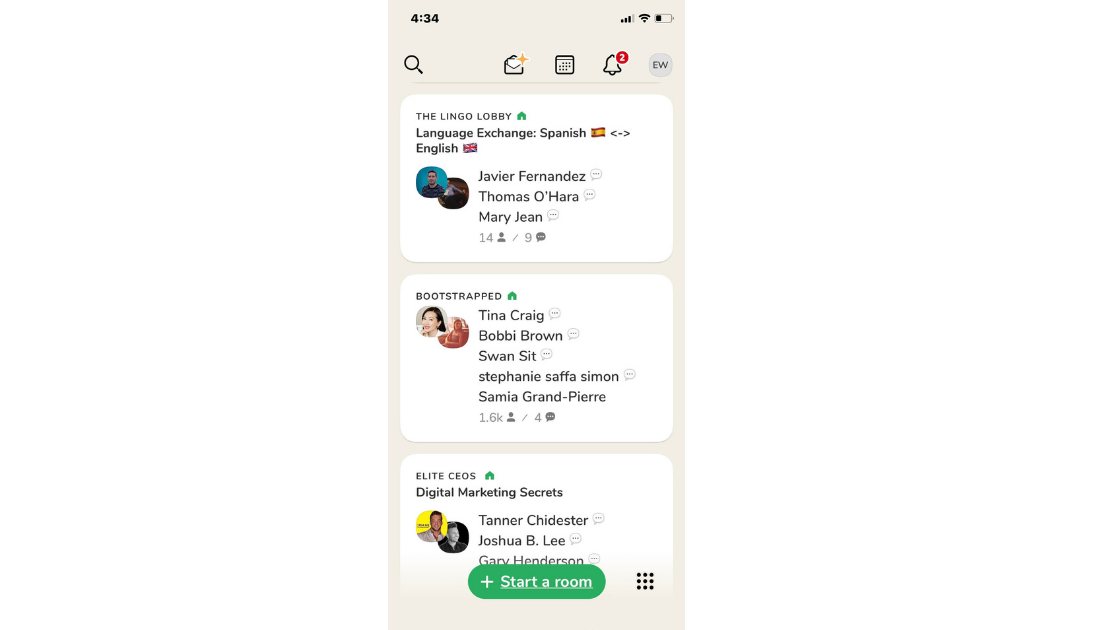 Clubhouse is a new social app that has everyone talking. Literally. The audio-only virtual gathering tool has drawn some big names, from Elon Musk and Mark Zuckerberg to Malcolm Gladwell and Oprah. Part talk radio and part conference call, Clubhouse allows users to gather in chat rooms organized by topic. Listeners can join and leave the virtual rooms without disrupting the conversation. Some describe Clubhouse as a way to listen to your favorite podcasts with friends in real-time.
The main appeal to the app is the ability to tune in to a topic and partake in the conversation at different levels of engagement: as a moderator, speaker, or listener. Moderators curate the discussion topic and select people in the room to step up onto the virtual stage. Speakers can join in on the conversation, while listeners stream the live audio conversation. The app is best suited for an event where a panel of speakers shares information with a larger audience.
Pros
Works well for hosting large group events
Works well for long-duration events
Works well for free events
Cons
Clubhouse is by invitation only at present and is only available for iOS users.
It's audio-only, not suitable for events that require visual content
2. Gather.Town: Meet People in Your Virtual Village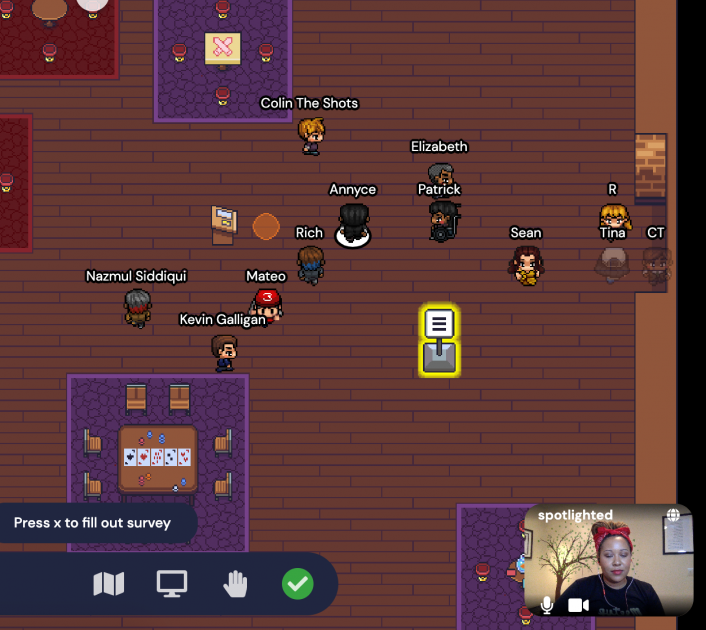 Joining an event on Gather.Town feels like entering a retro video game that's come to life. Like an in-person event, on Gather.Town attendees wander through the pixelated space and have video conversations as they encounter each other. Attendees can sit at tables in the virtual space and play games, chat with one another in a video or text conversation, and even share their screens. The virtual gathering tool's exciting features and video game-like environment make it a great option for hosting a socializing event.
New Gather users should be aware of the learning curve for getting used to the platform. Be sure to give ample time for participants to get acclimated. It's easier to get started on a desktop or laptop than it is on a mobile device.
Pros:
Easy to have one-on-one conversations
Participants can share their screens
Works well for large or small events
Cons:
The learning curve for getting used to the product is significant.
Not great on mobile devices
Free rooms top out at 25 attendees. Two-hour events start at $1/attendee.
3. Icebreaker: A Cool Way to Socialize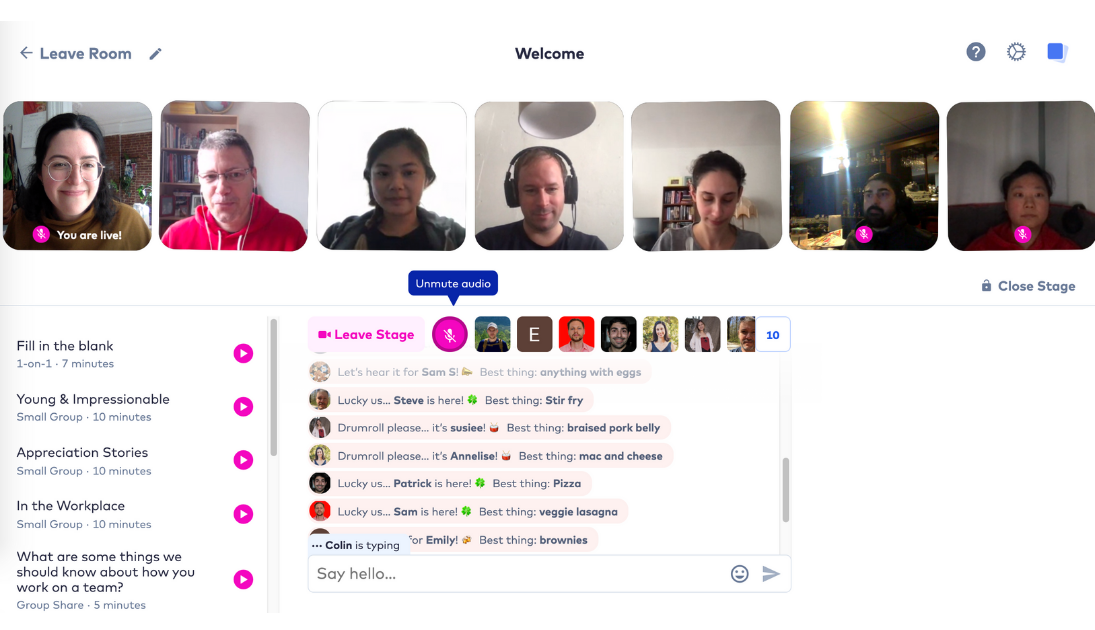 Icebreaker is a virtual gathering tool for groups to connect, chat, and play games to "break the ice." Each game is a series of questions designed to get event participants to chat and learn about each other. As the host, you can select your games from one of Icebreaker's many templates like "Virtual Happy Hour" and "Mentor Networking," which have questions and activities suited for different types of events. Hosts can preview these questions ahead of time and add their own to the mix.
When the event starts, participants enter the main chat window. The host can welcome everyone with some short remarks, or even play a pre-recorded message. When the host kicks off the games, participants move to smaller rooms (similar to Zoom's breakout room feature) for timed gameplay, answering questions with one or several other people. Icebreaker is also working on a new feature that will allow for icebreaker games to be played with all participants, but that feature has not yet been released at the time of this blog's publication.
Pros:
The platform's questions are a fun and effective way to get to know people
Allows up to 40 users in an event for the free account
Good option for one-on-one chats and small group conversations
Has a "stage" feature for panel discussions (up to 8 people)
Cons:
Less useful for larger group discussions – a group icebreaker option is being developed
All users must sign in with a Google account
Users can't share their screen

4. Remo: A Convention Center with Virtual Seats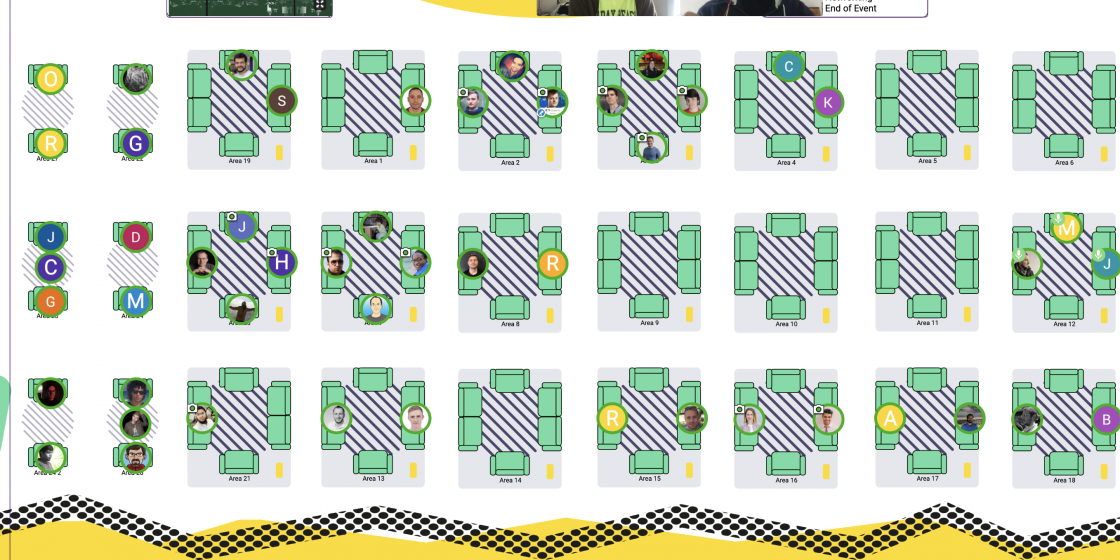 If you host large-scale events, Remo is the virtual gathering tool for you. Remo is a video chatting tool that is excellent for larger events, including professional gatherings. Companies like Google have used Remo for conferences, and it's best suited for events where one or two people will present to a larger audience.
If you're interested in hosting an event with networking opportunities, Remo has a feature that automatically matches attendees with each other for a one-on-one meeting, similar to ChatRoulette. The benefit of the random match is that it takes the pressure off attendees to find each other and set up a meeting. The downside is that attendees have less control over the types of people they meet, so it's hard to network with a specific person. Remo also has an option for event attendees to join a small table discussion and chat as a group.
Pros:
Very intuitive to use
Good for large events
Has options for one-on-one or small group discussions
Cons:
The networking feature is randomized; harder to choose who you meet.
5. SpatialChat: A Fun Sense of Space in this Virtual Room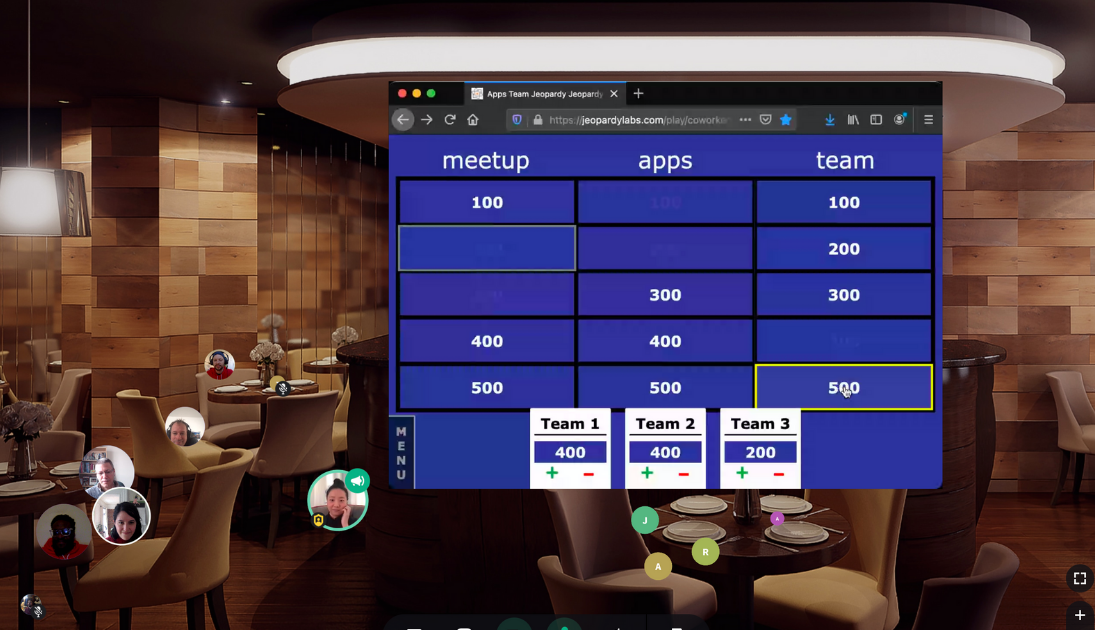 SpatialChat is a website that allows users to create a room-like space. Event attendees move around within the virtual space, having conversations with people as they meet, mimicking gatherings in real life. When two people separate in the room, the other person's image and audio fade. Attendees can join and leave spontaneous conversation clusters freely by moving their avatar around the virtual space.
The strength of this virtual gathering tool is in how simple it is to use and how quickly it is to set up virtual space. It also works smoothly on both computers and mobile devices.
Pros
Works well for small gatherings and private events
Works well for screen sharing and collaboration
Works well for sharing videos and images on the platform
Works on web, iOS, and android
Cons
Freemium plan caps attendance at 25 people
Not suitable for large gatherings (50+)
Not suitable for very long events (2hrs+)
Hosting your next Meetup event on any of these platforms is a straightforward process. Simply create your event or room on Clubhouse, Gather.Town, Icebreaker, Remo, or SpatialChat. Then add the link that the platform generates to your Meetup event. Voilà! Event attendees will receive the link when they RSVP. With Event Chat, you can communicate with your group members in real-time before, during, and after events. Happy hosting!
Mary Garcia (she/her) is Meetup's Content Manager and editor of the Community Matters blog. When she's not writing, Mary organizes a swamp fiction book club on Meetup. Find her on LinkedIn.
Last modified on November 15, 2023