What
:
Workshop: Mastering Tarot, Intuition & Psychic Sight
for beginners and experienced readers
When
: Sunday, October 24 & 31,[masked]:30 AM - 4:30 PM
Where
: NYC - Location Provided Upon Registration
(
Pre-registration required
)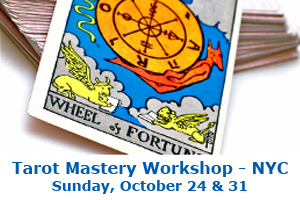 What do you want to know about the future? Do you wish to divine the answers to your deepest questions? Do you aspire to know and align yourself with the signs and symbols of destiny? Learn to access your extraordinary gifts of spiritual seeing in this powerful workshop! Mastering Tarot, Intuition & Psychic Sight will show you how to engage your intuitive and psychic abilities to give exceptional and spiritually powerful readings both
with and without the tarot
. Whether you want to become a professional tarot reader, intuitive, or psychic, or if you just want to explore the tarot for personal reasons, you will learn to harness the mystery of the mind, soul, and tarot to see beyond the veil of time and space.
The Mastering Tarot, Intuition & Psychic Sight Workshop will teach you to:
Give extraordinary readings that empower people.

Use tarot masterfully to speak and understand the language of the soul.

Connect deeply with your intuition, psychic sight, and inner wisdom.

Master the cornerstones of extracting maximum information from each reading.

Go beyond the surface symbols of the cards and into the deeper meanings.

Recognize subconscious patterns and karmic issues revealed by the tarot.

Much more...
View Workshop website for details, tuition, and registration information
.
Register for this Workshop:
http://bit.ly/tarw