We're a very laid back group of gals of ALL ages (anywhere from early 20's to 60's+ and everywhere in between) from the North County San Diego area who love to read!
We're not your typical book club, that's for sure! After all, this isn't high school English class, and though we definitely talk about our book selections at our meetups, we're FUN and chatty too! Please don't expect to have to give a book report!
We read a new book each month, to be voted on by all of our members. We also might do a few movie nights, as well as dinners and maybe even a few plays or musicals. And, of course, some cocktail/happy hours are in order as well! :)
We have two meetups/discussions per month, since our group has gotten so BIG. One is set more toward the West/Coastal areas(Oceanside/Carlsbad/Vista), and one is set more toward the East parts of North County(Vista/San Marcos/West Escondido). We meet for our casual book discussions mostly on Tuesdays, Wednesdays, and Thursdays, at 6:45pm, but we have fun events every once in a while on the weekends too. We meet mostly along the 78, from Escondido to Carlsbad.
Also, Join Our Group On Facebook to stay in touch between meetups!
So if you're a hip chick looking to share your love of reading, this is the place for you!
These are the books we are currently reading:
Our October Book Selection is: The Silent Wife by A.S.A. Harrison
Our November Book Selection is: The Truth and Other Lies by Sasha Arango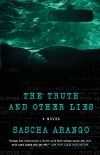 Our Dec./Jan. '17 Book Selection (To be discussed in Jan.) is: American Gods by Neil Gaiman
For a full list of what we've read in the past, please click here.
*INCOMPLETE APPLICATIONS, AND THOSE WITHOUT PHOTOS MAY BE DENIED* (This is a safety measure)
**IF YOU ARE AN AUTHOR, PUBLISHER, OR BUSINESS, PLEASE DO NOT TRY TO SELL THIS GROUP, OR ANY OF IT'S MEMBERS, YOUR BOOK/PRODUCTS. THIS GROUP IS NOT HERE FOR SELF-PROMOTION. PLEASE KNOW THAT ANY BOOK SUGGESTIONS/OFFERS WILL NOT BE CONSIDERED. WE DO NOT READ BOOKS WHOSE AUTHORS ARE MEMBERS OF THE GROUP EITHER, AS WE HAVE FOUND IT CAN BECOME AN AWKWARD SITUATION FOR EVERYONE. THANKS FOR UNDERSTANDING.**
<a href="http://s244.photobucket.com/user/mdrath/med..."></a>