The Pittsburgh Vegan Meetup Pages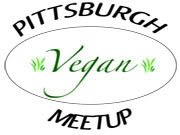 Welcome to The Pittsburgh Vegan Meetup!

This group is open to all vegans, vegetarians, their friends, family and and anyone interested in learning more about vegan food and lifestyles. You will find an open welcome regardless of your current diet and no pressure to make changes you aren't ready for. Our only mission is to feed everyone delicious vegan food, so rsvp for the next meetup and make some new friends.

Vegan food is defined for this group as no meat, fish, fowl, eggs, dairy or honey. This includes the obvious meat, cheese, milk etc., but also not so obvious ingredients like whey, casein and gelatin.

This is especially important when attending potlucks. If in doubt, feel free to email the organizer or post a message on the message board regarding a particular ingredient. It is also good practice to bring a listing of the ingredients to the potluck for your dish. This not only helps ensure everything is vegan, but helps our members who have food allergies identify what they can eat.

We also meet often at restaurants that serve non-vegan food. When you attend these meetups, please choose from the vegan menu options. Even if you aren't vegan, this is a good opportunity to sample the best of Pittsburgh's vegan offerings.

Hope to meet you soon!
`Michael Hobson, Organizer

P.S. Don't miss the Messages section to see what's up in our world.