The Spanish Mexican Period (1776 - 1846)

1776 - Mission Dolores and the Presidio are founded by settlers from New Spain (Mexico)

1791 - Mission Dolores building, existing today, is finished.

1821 - Mexico wins independence from Spain

July 4, 1823 - Mission San Francisco Solano founded - 21st & last mission. Named for: St. Francis Solano, missionary to the Peruvian Indians. It is in the town of Sonoma, 20 miles north of San Francisco. It is the last and northernmost California mission, and the only mission founded after Mexico's independence from Spain.

The priest led mission system was a complete failure because of their racial beliefs. They believed that full blooded native American Indians were like children, incapable of being civilized and making rational decisions, though they believed that mixed raced, part European, people could be civilized. At that time the white Anglos in the USA were more backward. Even the Union military officers who fought to free the black slaves thought that the Indians were subhuman and should be exterminated.

1834 - Mexico orders the secularization of the Missions. This begins the great era of the ranchos, many giant land grants that cover California. Raising cattle for hides becomes almost the only industry in California. Most of the settlers spoke Spanish and called themselves "Californios."

1834 - Richard Henry Dana, Harvard college student becomes sailor for 2 years on ship from Boston to California engaged in trade of Yankee goods for California cattle hides. Then he writes the famous popular book Two Years Before the Mast to reveal the bad conditions of the sailors. More importantly for today, he also reveals California in the rancho days where he met Californios such as Juan Bandini.

1835 - Pueblo (town) started around Portsmouth Square, present downtown SF, near today's Chinatown and it is called Yerba Buena. Pueblo called Sonoma is started around a square plaza by General Mariano G. Vallejo next to Sonoma Mission.



Mission and pueblo (town) of Sonoma in the early days

1841 - John C. Fremont marries Jessie Benton, a daughter of Missouri's Senator Thomas Hart Benton. Jessie takes a big interest in politics and is encouraged into it by her father because his first four children are all girls and Jessie becomes the senator's substitute son. Women then did not have the right to vote or run for office. At first the Senator disapproved of Fremont as a husband for such things as not having any money, family, or position, but they both supported American expansion to the West coast and opposed slavery. The couple ran off and got married in secret which infuriated the Senator, but finally the Senator relents and Jessie has a husband who might get her into the White House with her help, the help of her father, and their powerful friends in Washington DC.

1843 - Jasper O'Farrell, surveyor, arrives from Ireland to reside in a new town, North of SF, Sebastopol.

1844 - Fremont begins first of two expeditions into California. Jessie's great writings build him up into a national hero. He is promoted in the press back East as a "Trailblazer" or "The Great Trailblazer." However, all the trails to the West had already been blazed 20 years before, and he would have died without having seasoned frontiersmen such as Kit Carson with him. In one purported incident Fremont saved Kit Carson's life by having his horse stomp an Indian to death who was about to kill Carson. This story is probably true because Carson later acted like he owed Fremont something. The real reason Fremont went to California was to promote himself for US President by being the conqueror of California. Back then the easy way to become President was by being a war hero.

The Early American Period (1846 - 1906)

1846 - Before news of war between the USA and Mexico is received John C. Fremont, who has the US Army military rank of Lieutenant Colonel, brings 63 heavily armed men and a cannon into California under the ruse of a survey mission. The Army sends a military communique to Fremont ordering him to not take the cannon, but Jessie intercepts the communique and prevents it's delivery. Fremont in California proceeds to steal horses and arrest the Californio military commander General Mariano G. Vallejo and his brother Salvador Vallejo who lived in the town of Sonoma and had an almost non-existent army. Fremont makes sure that the Vallejo brothers are treated badly in a jail at Sutter's Fort (Sacramento) and they almost die there. Fremont also aids the "bear flag revolt," Americans who try to set up a separate country as was done in Texas. Fremont while in San Rafael, June 28, 1846, orders his aide Kit Carson and others to murder 3 unarmed captured Californios. Carson did not want to do it, but relented after Fremont repeatedly ordered it. Jasper O'Farrell was a witness. Kit Carson later says that it was not the only time that they had done that.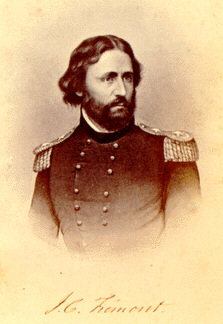 John C. Fremont

1846 - May 13, USA declares war on Mexico. Californios and American military officers in California want California to be free from the fighting. Most Californios wanted California to join the United States partly because they knew that Mexico was too weak to hold on to California and other countries such as England or France might seize California. However, Fremont needed to have a war to have a shot at the White House. He and naval commodore Robert F. Stockton managed to outrage the Californios in Southern California enough to get battles started there. At the same time General Stephen Kearny was leading a cavalry column to California through New Mexico to take control of California by order of the President. Kit Carson on his way to tell the USA that Fremont conquered California ran into the General going in the opposite direction, and told General Kearny the fighting was over. Then the General sends back all but 100 of his soldiers and compels Kit Carson to join him going to California. At San Pasqual California General Kearny is met by an army of Californios who badly maul his forces, and he is wounded.



General Stephen Kearny

1847 - After a few small battles, on January 12, the last significant Californio military group surrenders and the next day the Treaty of Cahuenga was signed. War ends in California, but continues in Mexico. On January 28, Army lieutenant William Tecumseh Sherman, of later Civil War fame, and his army unit arrive in Monterey, California on the warship Lexington; while approaching the shore they are told of the fighting and mistakenly think they are going into immediate battle. The fighting had already ended in California, and Sherman and his unit feel bad about not being in the real war in Mexico far to the South. He changed his feelings before the Civil War started. He was famous for saying, "War is hell." Navy Commodore Stockton, who lacks proper authority, appoints Fremont military Governor of California. General Kearny claims rightful authority over California. Fremont sides with Stockton. In August 1847, Kearny ordered Fremont arrested and charged with insubordination.

1847 - January 30, pueblo Yerba Buena is renamed San Francisco. Jasper O'Farrell surveys the streets in the area of today's downtown SF, and he also names many streets. We should praise him for letting the streets go straight despite the impossible grades which resulted in the streets becoming public parks. W T Sherman meets John Fremont and Kit Carson and he is unimpressed with both of them.

1848 - January, gold is discoved in Northern California and the news goes first to San Francisco. The locals including Americans and Californios rush to the gold fields. In those days news traveled very slowly, taking many months to reach the USA. Sherman talks California's military Governor Mason into having the both of them inspect the gold fields to see if the gold strikes are for real and to send a report on it to Washington DC. January 31st, Fremont was found guilty of mutiny by a court martial and subjected to penalties, including removal from the army. However, the Fremonts had many friends and allies in high places in DC so he got a presidential pardon from President James K. Polk. American soldiers in California and the Californios such as the Vallejo family got along great and had many things in common such as a mutual hatred of Fremont.

1848 - February 2, The Treaty of Guadalupe Hidalgo, is signed marking the end of the Mexican-American War. In that treaty, the United States agreed to pay Mexico $18,250,000; Mexico formally ceded California (and other northern territories) to the United States, and a new international boundary was drawn. General Grant later denounced the Mexican American war as a scheme to advance slavery into new territories. He said, "The Southern rebellion was largely the outgrowth of the Mexican war. Nations, like individuals, are punished for their transgressions. We got our punishment in the most sanguinary and expensive war of modern times." February, the first boatload of Chinese arrives in San Francisco. General Kearney becomes a national hero from his military successes and receives a brevet promotion to Major General, but he catches a disease in Mexico and dies in October in St. Louis, Missouri. December 5, President Polk announces to Congress that there is a massive amount of gold in California which starts the gold rush.

1849 - 250,000 men begin to arrive in California in what is called the gold rush. Most of the men are white Americans and finding themselves in the majority they are driven by greed to run off all other miners who don't look or sound like them which means racial minorities and even the Californios who were here first. Their numbers swamp the Californios who may have numbered as few as 7,000. Politicians now courted the miner vote over the Californio vote. John Geary was elected San Francisco's last American alcalde in August.

1849 - San Francisco quickly surpasses Los Angeles as the largest town in California. The city goes from about 500 to 25,000 residents and all of them are men except for a few hundred women and two-thirds of them are prostitutes. Besides a lack of women, there is a lack of law and order. The city is a frontier wild west town and it keeps that reputation long after the reality is gone. Even politicians and newspaper editors are shooting each other and that practice goes on for decades. Sailors, even those in the US Navy, jump their ships for the gold fields and 500 ships are abandoned in the bay. The reputation of the Barbary Coast begins. Captains needing crews for their ships hire people to knock out sailors and drag them aboard. The Barbary Coast was centered on Pacific Avenue and Montgomery Street and the main attraction was prostitution. Jessie arrives in San Francisco on her way to live in Monterey. Her father, Senator Thomas Hart Benton, declares himself "against the institution of slavery," putting him against his party and the popular opinion in his state of Missouri, which resulted in him losing elections and getting smaller political offices.

1849 - Bennett Riley, the last military governor, called a constitutional convention to meet in Monterey in September. Its 48 delegates were mostly pre-1846 American settlers; 8 were Californios including General Vallejo. Operating from the Fremont house in Monterey Jessie lured the delegates inside with cooked food to get to persuade them to outlaw slavery. They then unanimously outlawed slavery and set up a state government that operated for 10 months.



Photo of Jessie Benton Fremont

1850 - California gets official statehood by Congress on September 9, 1850 as part of the Compromise of 1850. Fremont was one of California's first two elected senators, and had that position Sep. 9, 1850 - Mar. 3, 1851. Back then California's senators were elected by the legislature and not the voters. John Geary became the city's first mayor May 1, 1850.

1851 - Thousands of white anglo businessmen form the first vigilante group because of the city's lawlessness and rampant corruption.

1852 - Ex-Mayor John Geary leaves San Francisco for the East Coast, and gives San Francisco the land that becomes Union Square. When the Civil War starts he is made a General.

1853 - October 25th, first telegraph service in California begins. The line stretches from San Francisco to Marysville with other major Northern California cities/towns in between such as San Jose and Sacramento.

1854 - Four of the highest generals of Union Army in the Civil War are in or close to San Francisco by coincidence, 7 years before the war: Grant, Sherman, Halleck and Fremont. Also living in and around San Francisco are future top Generals of the Union Army, Joseph Hooker, and the Confederate Army, Albert Sidney Johnston. Also, at nearby Mare Island was David Farragut the highest ranking officer of the U.S. Navy during the Civil War. He was the first rear admiral, vice admiral, and full admiral of the Navy. He is remembered in popular culture for supposedly saying "Damn the torpedoes, full speed ahead!" Missouri's Senator Benton has lost his last public office. He no longer can be elected because of his stand against slavery.

1855 - The Fremonts move to New York. Fremont had established a reputation as an outspoken abolitionist.

1856 - On June 17, the Republican Party nominated Fremont as their first presidential candidate. Jasper O'Farrell is disgusted by seeing Fremont trying to get the Californio vote and he writes letters to newspapers about the killing of the 3 Californios and says Fremont is a coward and murderer. Fremont loses the presidential election to the Democratic nominee James Buchanan. He loses in California by a giant margin placing a poor third place, and it is supposed to be his home state. His father-in-law, Senator Benton, votes for Buchanan because he is a loyal Democrat, and U.S. Grant says he voted for Buchanan because, "I know Fremont."

1856 - Meanwhile, back in San Francisco all hell breaks loose as thousands of white anglo businessmen revive their vigilante group. It happened in response to James Casey who was a corrupt politician and newspaper editor shooting dead James King of William who edited a rival paper called the "Bulletin." King printed papers in May showing that James Casey had once been sentenced to the State penitentiary at Sing Sing. Casey takes great offense and threatens to kill King which he does on May 14th. Casey then turns himself in to the Sheriff.

1856 - A group known as the Law and Order Party, which has many men of Irish ancestry, forms to stop and arrest the vigilante leaders. They recruit Sherman, who is then a San Francisco banker, to do it by leading the state militia. However, nobody knew how many of the state militia were on the side of the vigilantes, perhaps most. Sherman gets a promise from General Wool who is the military commander for the region to give Sherman some of the military's guns and cannon. Then Wool denies he even made the promise. Sherman is angry over the General's betrayal and over some of the Law and Order Party leaders unwillingness to work with others who are trying to reach a deal between the two groups. Sherman then quits in disgust vowing to stay out of politics in the future and goes back to being an unsuccessful banker. The vigilantes with their large numbers and weapons rule San Francisco until they decide to stop after 3 months. They end with a military style march through San Francisco of almost ten thousand armed men. The vigilantes then form a political party called The Peoples Party which controls the city for many years.

1858 - A young Henry George, who becomes a world famous and influential political economist, arrives in San Francisco to work in newspapers. April 10, Senator Thomas Hart Benton dies.

1859 - September 13, David C. Broderick, U. S. Senator from California and an anti-slavery activist is mortally wounded in a duel outside of the city limits of San Francisco with David S. Terry, formerly Chief Justice of the Supreme Court of California, and pro slavery man. He is moved to Black Point, sometimes called San Jose Point, which is in Fort Mason San Francisco where he dies from his wound 3 days later.

1860 - The Fremont family moves into a new house at Black Point inside Fort Mason, San Francisco. During the Civil War that house and the neighboring houses and land were taken over by the military because of its military strategic position facing the bay to install cannons. The Fremonts lost that house and were never compensated for their loss for which they were later very bitter. Telegraph service between San Francisco and Los Angeles begins. However, there is still no telegraph system between California and points East so a system of delivering mail fast through a system of fast horses in relay called the Pony Express begins April 3, 1860 between San Francisco and Missouri.

1861 - April 12th, the Civil War starts with Confederates firing on the Army's Fort Sumter in Charleston Harbor, South Carolina.

1861 - October 24, the first transcontinental telegraph system is established. The Pony Express ceased a month later. The Fremonts leave San Francisco for St. Louis, Missouri, where John Fremont is made a Major General (2 stars) in the Union Army and put in command of the newly created Western Department from May to November. Fremont spends most of his efforts on corrupt activities designed to get government money into his pocket. Once again Fremont exceeds his military rank and issues orders freeing the slaves in Missouri and taking Missouri out of neutrality and into the Union side. President Abe Lincoln, fearing the order would tip Missouri and other slave states in Union control to the south, asked Fremont to revise the order. Fremont refused and sent his wife to plead his case. Jessie gets into a heated argument face to face with Lincoln. Lincoln then revoked the proclamation and relieved Fremont of command November 2, 1861.



Some of our members posing at Black Point Battery's Civil War cannon right below site of the Fremont house

1861 - Liar and thug Lafayette Baker leaves his job as a bouncer at a San Francisco Barbary Coast dive to get into the Civil War as a spy. By being a great liar he is able to quickly bamboozle General Winfield Scott, Secretary of War Stanton, and even President Lincoln into supporting him as the head of the Intelligence Services of the USA. The only person who he was not able to fool was Jefferson Davis, President of the Confederacy, who realized that Baker was a liar and ordered him locked up.

1862 - In March Fremont was placed in command of the Mountain Department of Virginia, Tennessee and Kentucky, Fremont proves to be incompetent in fighting against Confederate Gen. Stonewall Jackson. In a reorganization move, June 26, Fremont was placed under General Pope, but this was not acceptable to Fremont because he outranked and did not like Pope. Fremont then quit his command and went to live in New York where he waited for another offer of command which never came.



Former San Franciscan William Tecumseh Sherman during Civil War, 2nd highest US officer.

Below is a link to a detailed time line of the city's history:
http://www.zpub.com/s...