Join us June 6 as we welcome Adam Lashinsky, a Senior Editor at Large for Fortune, to the Startup Grind stage as we talk about and analyze Apple, its founder, culture, and the psychology that led to the company it is today.
Adam Lashinsky covers Silicon Valley and Wall Street for FORTUNE. He has been on the magazine's staff since 2001. In addition, he is a weekly panelist on the Fox News Channel's "Cavuto on Business" program on Saturday mornings. He also co-chairs FORTUNE's annual technology conference, Fortune Brainstorm Tech, and is a seasoned speaker and panel moderator.
This event is co-sponsored by the Psychology Book Club. The book club led by Jenny Lin and is for people who love reading and are fascinated by psychology. Topics covered will range from behavioral economics, neuroplasticity, decision-making, to positive psychology. Make sure to check it out.
COST
THIS IS A PAID EVENT
Purchase your tickets, here.
AGENDA
6:00 - Networking and Pizza
7:00 - Fireside Chat
8:00 - Questions and More Networking
WHAT IS STARTUP GRIND?
Startup Grind is an event series and website designed to help educate, inspire, and connect local entrepreneurs. Each month we welcome an amazing speaker who shares their story with our community and tells us what worked, what didn't, and what they'll do differently next time. It's an amazing opportunity to learn from the best, network with other members of the startup community, and improve your chances of entrepreneurial success.
For more information visit www.StartupGrind.com or follow us on twitter @StartupGrind.
HOSTED BY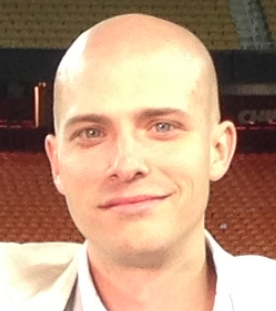 Christian will be interviewed by Startup Grind founder Derek Andersen. Derek worked at Electronic Arts on games like The Godfather, Burnout, and Mirror's Edge. He left in 2009 to found Vaporware Labs, a company that has launched products like Startup Grind, Commonred, and Steve Young Football. He's also a contributing author for Techcrunch and Business Insider.
THANKS TO OUR AMAZING SPONSOR!

Interested in sponsoring a Startup Grind event? Contact us.