Meetup Pro's standout features help businesses of all sizes and industries execute a marketing strategy that cultivates loyal brand ambassadors. Pro's effective tools give you the power to engage with audiences based on interest while building a sales funnel that attracts prospects, generates qualified leads, and, ultimately, wins customers.
The sales funnel explained
A sales funnel is a visual representation of the buyer's journey, starting from initial contact to becoming a customer. There are four stages of a sales funnel: awareness, interest, decision, and action or conversion. As prospects travel from the top to the bottom of the funnel, companies nurture leads with targeted content that provides value, builds relationships, and nudges them closer to making a purchase.
In part one of our series, we discussed how awareness turns cold prospects into warm leads through discovery and educational materials that spotlight your key differentiators. In parts two and three, we explained how to create interest, foster relationships, and promote tailored offers that influence the decision. Eventually, prospective customers are ready to enter the final stage of the sales funnel: conversion.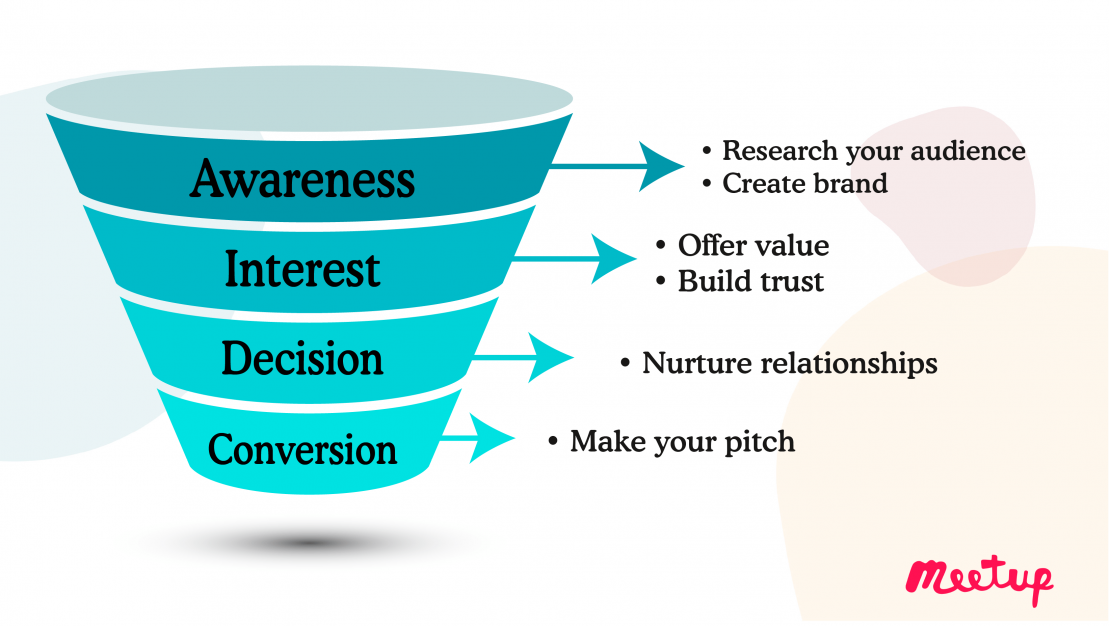 Stage four of the sales funnel: conversion
All of your marketing efforts have led members to this point—the conversion phase. Now, it's time to make your final pitch.
This is the most important step of the funnel and where you present members with an offer they can't resist. What makes your company unique and the top choice for customers? The conversion phase is your chance to reinforce those key messages throughout your marketing activities and prove to members that you have their best interests in mind.
Highlight your key differentiators throughout your content
The following are suggested tactics to help convince prospective customers that your product or service is the best option on the market:
Remember your use of video in the awareness and interest stages? Expand your content library to include explainer videos, webinars, and one-on-one demos that address frequently asked questions and concerns.
Share customer testimonials. Invite brand ambassadors to tell their success stories on your Meetup group pages and on customer panels at Meetup events.
Use language prospects will know and understand. What are their biggest frustrations and how can you meet those demands? Weave those talking points into your core messaging and throughout your content.
Build personalized drip campaigns that nurture members with compelling offers, including coupons, VIP events, and expert workshops. Create a sense of urgency with "limited-time" and "can't-miss" wording that drive conversions and, ultimately, purchases.
Wherever possible, ensure your company brand and visuals align across your various touchpoints, from your website to your Meetup Pro network and event pages.
Converting members into customers with Meetup Pro
Meetup Pro has a wealth of tools to help you drive conversions. Consider using these features to bolster your customers' Meetup experience:
Use Meetup's advanced filtering to identify members with criteria such as join date, RSVP count, and last visit to a group in your network.
Leverage your Pro dashboard's network analytics to understand the types of events driving the most customers. Meetup automatically collects feedback following each event, so use it to inform the format and topic of future events.
Once you've accessed event participants' email addresses, send personalized messages to recurring attendees. Encourage them to leave positive reviews on your group page or provide targeted product offers that drive them toward a sale.
Share news and details about your sponsors on your group and event pages. This feature allows brands to showcase their products or services to audiences on Meetup. For example, a yoga network sponsored by a yoga clothing company can use the sponsor section to link to a sales page for Meetup members to purchase yoga gear.
With the above tools, you'll not only learn more about members who are converting to customers, but you can also curate future events for this target audience that boost sales.
Transform your community into repeat customers
You've converted a member into a customer (congrats)! While you might think your work is over, retention should remain a focus from conversion and beyond. Customers often become a company's biggest cheerleaders. Don't neglect the chance to delight them by creating a one-of-a-kind experience.
Ask for feedback about your products and services, and create special incentives for customers who leave online reviews and participate in referral and loyalty programs. With regular communications and offers, you'll create opportunities to build trust and provide value to your community.
Optimize your sales funnel for Meetup success
Make Meetup Pro a valuable part of your marketing strategy, from crafting segmented email lists to scaling a community that can turn into lifetime customers. Building an effective sales funnel is an ongoing process, and, most likely, you'll need to tweak and change your approach as your business evolves.
For a look back at the entire sales funnel and how Meetup Pro can play a pivotal role in your marketing and communications planning, check out our articles on the awareness, interest, and decision phases.
________
Learn more about Meetup Pro, Meetup's premium subscription offering.
Last modified on May 23, 2023