United States Surgeon General Vivek H. Murthy issued a grave warning in a New York Times op-ed on Sunday. His message was simple but serious: we're facing a loneliness epidemic in this country. A new advisory indicates that more than half of U.S. adults (58%) are lonely. Think about that for a moment. More than half of the people you know feel lonely.
What people don't realize about loneliness is that it can happen to anyone. Dr. Vivek H. Murthy describes his own battles with loneliness after becoming Surgeon General in 2014. Landing your dream job or moving to a new city may be something you have worked toward for years, but major life changes—even positive ones—can leave you feeling uprooted and isolated from others.
Loneliness is far more than just a feeling and its consequences are severe. Studies show that loneliness can lead to anxiety and depression, heart disease, dementia, and stroke. The prevailing wisdom is that loneliness is as harmful to health as smoking 15 cigarettes a day.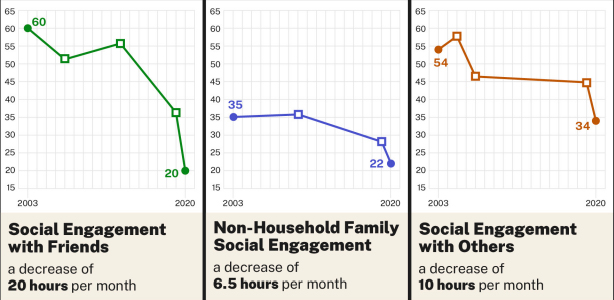 At Meetup, these facts aren't news. We know that people are craving connection. Adults are spending significantly less time with friends and family. I'm heartened to see the highest-ranking medical officer in the United States has taken a clear stance on this issue. This grave epidemic isn't going to change without a dedicated effort from all of us. 
Meetup's role in ending the loneliness epidemic
Meetup's roots are in human connection. When our founder Scott Heiferman was living in Manhattan in the days after the 9/11 attacks, he saw neighbors come together and offer support for the first time. He recognized that connection was essential for us all and that technology could play a role in this healing.
Since Meetup launched in 2002, we've helped 60 million members use technology to log off technology and connect in real life. We're in more than 190 countries helping people with shared interests—be it hiking, book clubs, technology, you name it—find one another and, of course, foster lasting friendships.
Since day one, Meetup has helped people connect over the things that matter—and group organizers have been key to our mission. Organizer Omar Acosta has brought thousands of locals in Dallas together to shake up their weekends and try new adventures. Alysia Allen used Meetup to carve out a space for Black women who love to read. Today, Mocha Girls Read has more than 10,000 members in book clubs across the country. David Good credits Meetup with being a major boon to his own history of working through isolation. He started the International Friends Connection network, which has the remarkable goal to help 1 million people connect by 2030.
We've put together resources for making Meetup a part of your mental health journey. There you'll find advice from therapists, Meetup members, and organizers, as well as blog articles and podcast episodes on developing your social life. We share the work of outstanding organizations who are working in their own way to chisel away at the loneliness crisis we're facing.
Let's end loneliness, together
In light of the Surgeon General's message, it's clear that Meetup's mission is more urgent than ever. Here's how you can get involved in this urgent work.

Reconnect with someone you know
Send a text to a friend or family member and make a plan to meet. It's okay if it's been a while. Suggest a concrete plan like getting coffee, catching a movie, or going on a walk. Avoid vague plans to ensure you actually get together; suggest a specific time and a place.

Meet new people, make new friendships
Friendship can happen anywhere. Start with the people closest to you. Suggest an after-work drink or coffee with a coworker you like. Invite a neighbor on a walk. Ask for the name of someone you see at the dog park every day.
Commit to doing one social activity each week. Volunteer. Play trivia. Host a dinner party. There are thousands of events happening on Meetup every day. Download our app to see what's happening near you. Keep your promise to yourself. RSVP to an event and make sure you go, you won't regret it.
I'm grateful to each and every member, organizer, and employee at Meetup for their help in this urgent cause to end loneliness for good. Remember, the only way out is together!
Last modified on May 4, 2023